What 19 Of The Most Terrifying Horror Movie Villains Ever Look Like IRL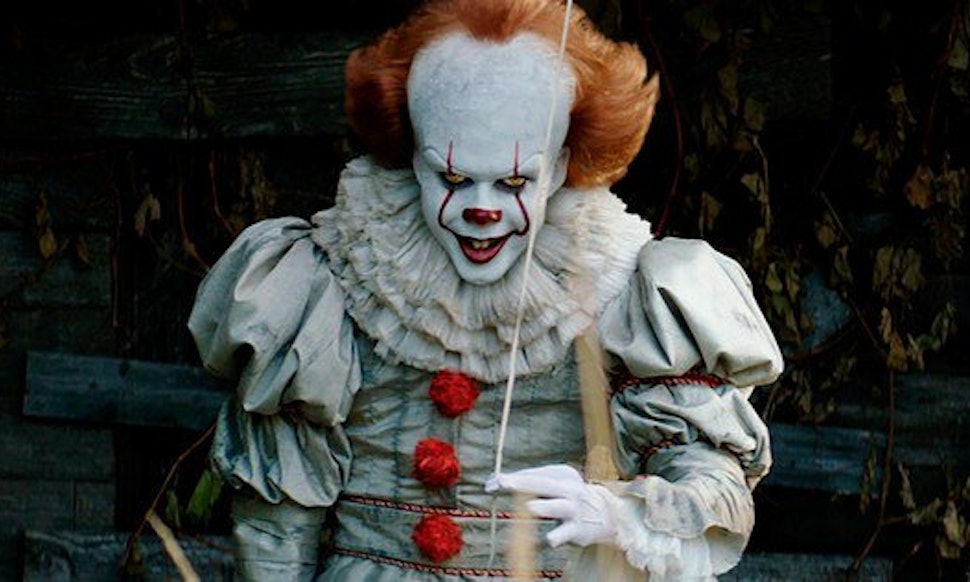 Warner Bros. Pictures
There are many different types of horror films. Some rely on realistic threats, like a home invasion or serial killer, to sow terror, while others go for a more fantastical approach. Supernatural horror films often feature some sort of imaginative monster as their antagonist, and these terrifying creatures come in many forms. They can be undead serial killers, demonic clowns, or possessed dolls, but in every case, there is a well-disguised actor bringing them to life. And it can be quite surprising to see what the most terrifying horror movie villains look like in real life.
The following list takes a look at the actors behind many of the most iconic and frightening movie monsters out there. From the '70s and '80s slasher icons, to the scariest creations of the 2000s, to the monsters haunting today's horror film renaissance, you'll discover the often shocking — and very normal-looking — actors behind the makeup and prosthetics. For instance, who would have thought that the evil witch from The Conjuring was portrayed by a man? Or that the actor who played the iconic drowned ghost girl in The Ring is a model who voiced a beloved Disney character? So take a look below and discover what 19 of the scariest horror movie villains ever actually look like in real life.
1

Robert Englund — Freddy Kreuger, A Nightmare On Elm Street Series
Maybe the most iconic actor when it comes to being defined by one's horror movie role, Englund portrayed the wise-cracking walking nightmare in all eight of the franchise's installments from 1984 to 2003, before hanging up his claws for the 2010 reboot starring Jackie Earle Haley.
5

Bill Skarsgård — Pennywise, 'It'
The Swedish actor went through a total transformation to become the evil clown in this 2017 remake, and he's set to do it again for the upcoming sequel.
7

Linda Blair — Regan MacNeil, The Exorcist Series
Blair was just 13 when she was cast as the demon-possessed child in what would go on to be regarded as one of the scariest films ever made.
8

Daveigh Chase — Samara, The Ring Series
In addition to appearing as the evil long-haired girl who lives in a well, Chase also voiced the decidedly-less creepy Lilo in Lilo & Stitch.
9

Jonathan Breck — The Creeper, Jeepers Creepers Series
Breck is completely unrecognizable without wings and a mouthful of sharp teeth.
11

Tobin Bell — Jigsaw, Saw Series
Bell doesn't look much different than he does in the Saw franchise, but that's what happens when your character doesn't hide behind tons of makeup and prosthetics.
12

Sid Haig — Captain Spaulding, House Of 1000 Corpses Series
This foul-mouthed low-rent clown from Rob Zombie's films isn't nearly as frightening out of costume.
14

Joseph Bishara — Bathsheba Sherman, 'The Conjuring'
When he's not playing evil witches, Bishara is a composer, and even composed the score for The Conjuring. As an actor, he's also appeared as demons elsewhere in the Conjuring, Annabelle, and Insidious franchises.
15

Sofia Boutella — Princess Ahmanet, 'The Mummy'
The Mummy may not have kickstarted the Dark Universe franchise the way Universal had hoped, but don't blame this breakout star who has also appeared in Kingsman, Star Trek Beyond, and Atomic Blonde.
16

Gary Oldman — Dracula, 'Bram Stoker's Dracula'
There have been many Draculas over the years — Bela Lugosi, Christopher Lee, etc. — but perhaps none were less recognizable in the role than the Oscar-nominated Oldman in his 1992 incarnation.
17

Warwick Davis — The Leprechaun, Leprechaun Series
Davis is known for going incognito for roles, whether it be as Wicket in Return of the Jedi or Griphook in the last two Harry Potter films, but his most grotesque disguise was definitely this Irish fairy.
19

Brad Dourif — Chucky, Child's Play Series
Dourif (pictured left) has voiced the evil doll in every installment of the franchise, from the 1988 original through this year's Cult of Chucky.
It's safe to say that none of these actors are nearly as scary in person as they are on screen, and doesn't that help to make the movies they're in just a little less scary?