What A Month Without Dating Apps Is Teaching Me About Dating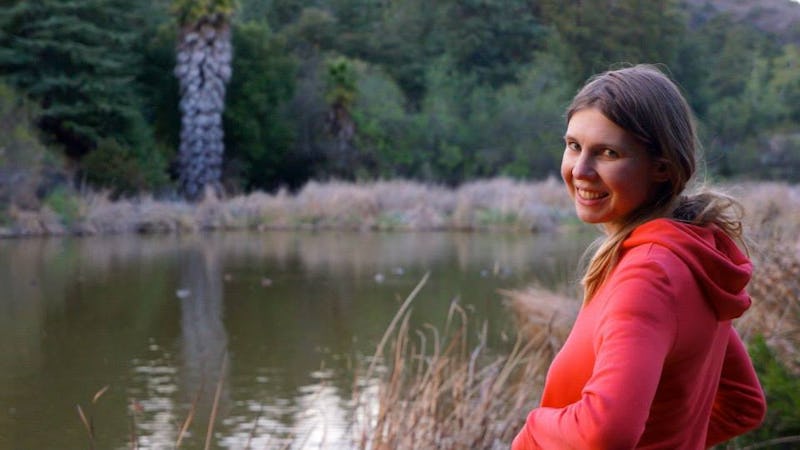 Author's own
Even though dating apps are most popular among Millennials, according to a recent SeatGeek survey of 1,000 singles, 95 percent would rather meet people IRL versus online or on an app. That's why for the second year in a row, Bustle is deeming April, "App-less April" and encouraging our staff and readers to delete their dating apps for 30 days and meet people the old-fashioned way: offline. With participants tracking their progress and tricks and tips from dating experts, we'll be helping you feel empowered to meet people IRL all month long.
Now that I've been dating-app-free for over two weeks for Bustle's App-less April challenge, I've learned a lot so far. From being more present to not being glued to my dating apps (or curious about what some stranger is writing to me, and when). Plus, even if ~I~ was into using my dating apps to actually find dates, not everyone shares that sentiment. Even a recent LendEDU survey found that many Millennials — 44 percent of the 9,761 Millennial college students they surveyed — use Tinder for "confidence-boosting procrastination." Crazy, right?! But I guess everyone's been there at some point, swiping left and right as more of a game versus focusing on finding Mr. or Ms. Right.
"I'd say taking a break from dating apps is essential, whether you're on a dating break or actively dating," Camille Virginia, Founder of Master Offline Dating, tells Bustle. "Dating apps aren't reality — lots of people don't even look like their photos, or completely lie about themselves, their interests, their relationship status, what they're looking for, etc. I say go for as long as you can without reinstalling the apps. Make it a challenge."
Like Virginia says, it's a challenge, all right, and one that I enjoy more and more as the days go on. Sure, a few times, I've picked up my phone to check my dating app messages — only to remember, Right, I don't have any dating apps on my phone right now. That said, here's what App-less April is teaching me about offline dating.
Remember the olden days, when you'd go to a party and meet a friend of a friend at the makeshift bar your friend had set up in their living room? Then, you and said person would hit it off and make plans to go out a few days later. Yes, the pre-dating-app addiction days. Now, with App-less April in full swing, this is how I'm meeting people again, and it's pretty wonderful.
Now, with App-less April, gone are the days of hiding behind my phone screen and messaging possible future dates. After all, people can be on their best behavior when typing away on a dating app, but in-person interactions are a whole other story, as I'm sure you know from your own online and app dating experiences.
As for where to meet people in person, Thomas Edwards, founder of The Professional Wingman, has advice. "The best real-life situations are ones you already regularly experience," he tells Bustle. "From the moment you wake up until when you go to sleep, there are countless opportunities for you to meet someone. Taking public transportation, at the coffee shop, at work, the bookstore, out at lunch, in the gym, at the bar for happy hour, getting groceries — the list goes on. All you have to do is take advantage of the opportunities that are already there." Exactly! A mystery, like I said, but one that can result in a pleasant and unexpected surprise.
Isn't it ~the worst~ when you and someone on a dating app message back and forth 101 times — only to realize you have no chemistry in person? Perhaps you had GREAT messaging chemistry, if there is such a thing, but something's missing when you meet in person. And to think of all those hours you spent messaging...! Time you will never get back. But, when you meet someone in person, you usually know right away whether or not you're attracted to them, mentally and physically, so it saves a very time-consuming step.
"The biggest advantage to meeting potential dates in real life is getting to experience their vibe right away, which is something no online dating platform can deliver," Edwards says. "This increases your odds of making good choices on who to go on a date with. There's no better way to gauge attraction and chemistry than to be physically present with someone."
No matter how uncomfortable you may be at an event IRL, your dating apps cannot save you. So, instead of staring at your phone and reading messages from strangers, you start to chat with someone in the room, and then that person introduces you to a friend of theirs across the room — who becomes your date for this weekend.
Since dating apps take up so much of someone's time whenever they need a distraction, without having them, it's as though a part of you has been removed. Though it may be tough at first — and it was, trust me — this ends up being a very good thing.
Yes, dating is fun and great and insert-other-positive-adjectives-here. But, since being off dating apps, I'm realizing it's also not dire. When I had the apps, like I said before, they're time-consuming. Without them, however, there's no pressure to meet or talk to a potential date IRL, and certainly not every day. It not only leaves you a lot of free time for others things, like friends and hobbies you neglected when you were obsessed with your dating apps, but also makes you realize there's more to life than dating. And, like some people say, it'll happen when you least expect it, right?! Meeting Mr. or Ms. Right.
As you can see, App-less April is teaching me a lot about offline dating, as well as myself. Without the apps, there's not the same degree of dating urgency that I felt with the apps — message these people Monday and have dates set up for the weekend. When you focus on meeting people IRL, it all seems more natural, more carefree, and less forced. Since April is only half-over, you still have time to see for yourself!
Join the campaign and share your stories with #ApplessApril and ​by ​tagging @Bustle.