Herbal Essences Just Redesigned Its Bottles To Be More Inclusive For Blind Customers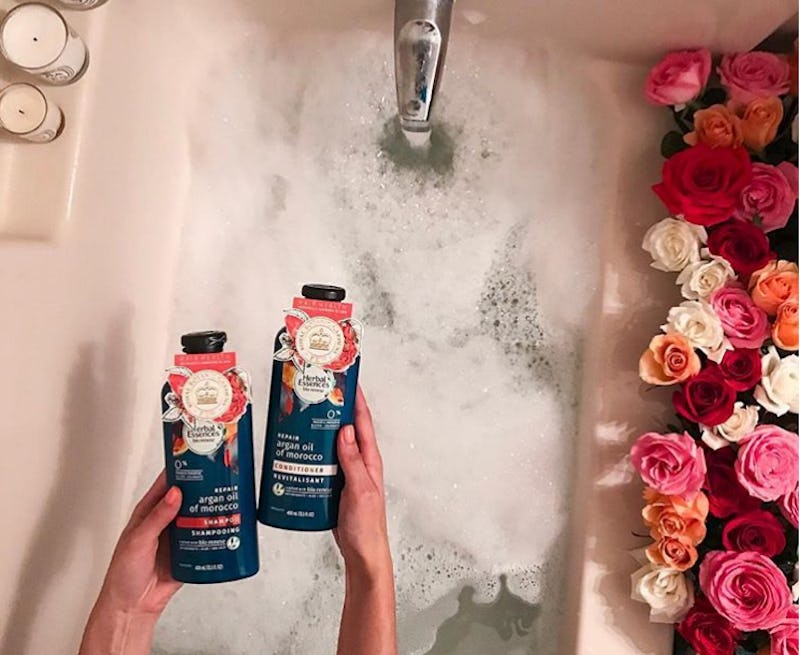 October 11 is World Sight Day and, to commemorate it, Herbal Essences has announced the release of inclusive hair care bottles designed for blind and low vision customers. For those with low or no vision, tasks such as using shampoo and conditioner can be overwhelmingly difficult, though often overlooked. That's exactly why Herbal Essences' latest venture, simply adding raised dashes and dots to bottles to help identify them through touch, is so exciting.
The product's launch comes on World Sight Day, which was created in 2000 by the World Health Organization as an annual day of awareness about the strides that need to be made for those who are blind and low vision. With that goal in mind, this newly designed bottle definitely is an upgrade for the community.
So, how did Herbal Essences start making a more inclusive product? Enter Sam Latif, the Special Consultant for Inclusive Design at Procter & Gamble, Herbal Essences' parent company. Latif has lived with low vision since the age of 16, and she's intimately aware of how difficult tasks such as showering without sight can be.
"When I used to come home from the supermarket with my shampoo and conditioner bottles I needed to always find an elastic band, or some sellotape, or a sticky dot to "mark" the bottle," Latif tells Bustle. "And I needed 'a pair of eyes' to help me put the right marker on the right bottle. It would typically take me a few hours to mark the bottles. However, if I didn't have someone around to be my 'eyes' and help me, this process could take me days."
In her role as the Special Consultant for Inclusive Design, Latif works to ensure P&G products, packaging, and advertising are inclusive of the 1.3 billion people worldwide living with a disability. Having worked at the company for the past 11 years, she was the perfect person to spearhead this new product launch.
While Braille may seem like the obvious way to go, Herbal Essences quickly learned that a limited amount of people who are blind or live with no vision actually know Braille today. When a focus group was brought in, the sentiment was echoed, with customers being delighted that the company was opting for an alternative method.
So, how will the bottles be labeled? Proving that sometimes the smallest changes can make the biggest impact, the bottles are differentiated by shampoos having raised stripes and conditioners having raised dots. P&G found that placing this distinction on the back of the product toward the bottom was, best as that is where a person is most likely to look for clues about the product.
With such a minor adaptation, lives such as Latif's are changed.
"The sense of joy I now feel when I myself without any help can touch and tell the stripes are shampoo and the dots are conditioner — it is overwhelming," Latif says. "I get so emotional. Knowing for the rest of my life I will never experience this challenge again makes me feel so independent...It is a small but very meaningful step towards independence and increased confidence, which I absolutely love."
Latif knows that the need for accessible products is only increasing, and she believes it's time for companies to listen to consumer demand to provide more inclusive products.
"I also think nowadays businesses are prepared to listen — and perhaps people like me are prepared to talk," Latif says. "For a long time I would overcome my daily challenges in my own way. I would not share with companies the problems I had using their products.
"I think it's a good time to start the dialogue," she continues. "We need to open the eyes of businesses to let them understand that people like me struggle with certain aspects of their products. By starting the dialogue, we can help companies understand and work with people to find more accessible products."
According to Latif, everything changed once she decided that she didn't have to sit idly while the world didn't take her into consideration. Now that she's used her voice, she knows countless people will benefit from advocacy.
"In this journey I have brought my authentic insights and passion to the forefront, channeling them into something truly positive," she says. "I have spoken up about just one of the daily challenges people with disabilities experience every day, and am so delighted the Herbal Essences really 'got' the problem and wanted to solve it.
"I hope this helps to create a conversation so that other companies will realize how much of a difference small changes can make for millions of people."