You Have To See What Bernard The Elf From 'The Santa Clause' Looks Like Today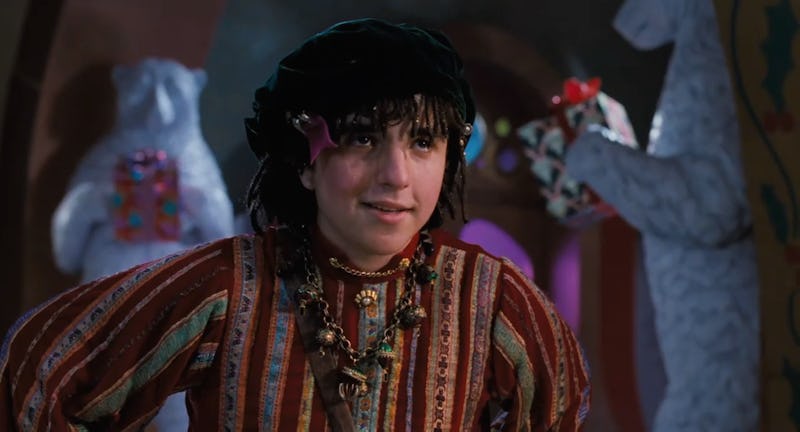 Buena Vista Pictures
If you are a '90s kid, David Krumholtz is a familiar face to you. He was in everything from 10 Things I Hate About You to being Bernard the Elf in The Santa Clause. As The Santa Clause is one of the movies featured in Freeform's 25 Days of Christmas, you likely won't be able to escape him — well, as long as you have cable — for the whole holiday season. Yet, grumpy, old Bernard has been on TV in some other roles this year and even if you are pretty up on what Krumholtz has been doing since the 1994 film came out, what Bernard the Elf is doing in 2017 will still blow your mind.
Krumholtz only had a handful of roles before The Santa Clause with the most notable being another Freeform staple, Addams Family Values. But after appearances in several movies, the child actor successfully transitioned into a working adult actor. He was featured in two Judd Apatow shows, Freaks and Geeks and Undeclared, before reprising his role as Bernard in The Santa Clause 2 in 2002. He wisely didn't return for a third time for the critically-panned The Santa Clause 3: The Escape Clause in 2007. By that time, he was starring in the CBS show Numb3rs.
Since then, he has been in plenty of movies and TV shows that are wildly removed from the childlike innocence that's in The Santa Clause, like Harold & Kumar Go to White Castle, The Playboy Club, and Sausage Party. But it's his recent 2017 role that just might take the cake when it comes to depravity. Well, actually, there might not be anything more depraved than 2016's Sausage Party. Especially when you consider that one of the directors told Gizmodo that Krumholtz's character Lavash almost got the film a NC-17 rating because of his pubic hair. (They removed it to achieve an R rating.) However, because it's an animated film, it's not as completely distressing since you don't have to see Bernard's face on screen.
But I digress since in 2017, Krumholtz stars as Harvey Wasserman in HBO's new show The Deuce. The Deuce is an unflinching look at the rise of the pornography industry in 1970s New York City with Season 1 heavily focusing on prostitutes and pimps. So brace yourself — because nowadays, Bernard the Elf is directing porn.
OK, to be fair, Bernard isn't really directing porn — Krumholtz's character Harvey works closely with Maggie Gyllenhaal's character as she tries to move from prostitution to the production side of the porn industry. And since The Deuce is on HBO, the sex he films is graphic. Yet, the show comes from David Simon of The Wire, so its depiction of the budding porn industry is also realistic in how unglamorous it is. Regardless, it's a far, far cry from his time as Bernard the Elf.
If you grew up with The Santa Clause and feel like your world is crashing down on you (what would Charlie say?), take heart knowing that Harvey is a fairly decent guy. He wants to see Gyllenhaal's Eileen succeed and is pretty business-minded about the whole filming people having sex thing. Plus, Krumholtz has continued doing kid-friendly fare. He provides the voice for Timo in the Netflix series All Hail King Julien, which is a spin-off from the Madagascar movies. Season 5 of All Hail King Julien just premiered on Dec. 1.
Krumholtz also had a role in Difficult People Season 3 this year and he's currently on the big screen in Woody Allen's Wonder Wheel. And he also doesn't mind looking back on his old Santa Clause days since his current pinned tweet is him acknowledging Bernard's stylish look.
So while you may never be able to look at Bernard and his bizarre hair and accessories the same way again, at least you know that Krumholtz has continued to thrive since his days of bossing around Tim Allen's Santa Claus.