Why Jade & Tanner's Baby Might Not Have A Name Yet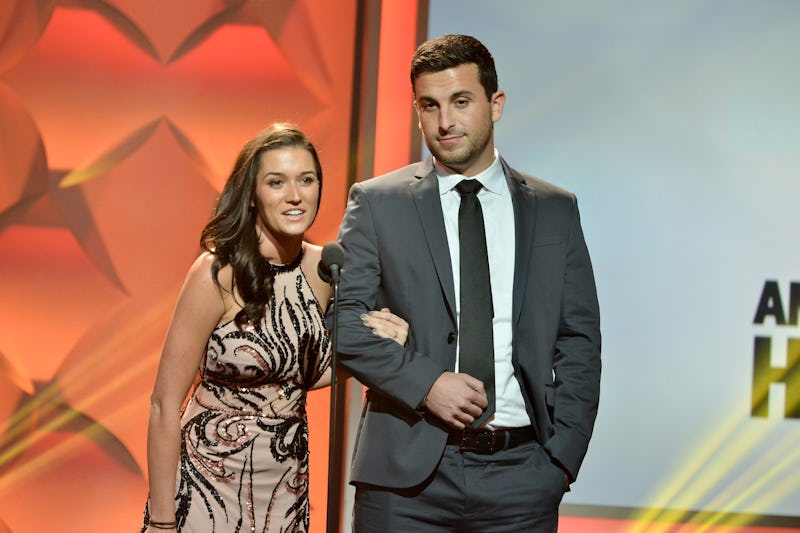 Araya Diaz/Getty Images Entertainment/Getty Images
Exciting news broke in Bachelor Nation on Thursday. Jade and Tanner Tolbert welcomed a baby girl as reported by E! News, along with a photo of their new little girl. So, now that the picture is out of the way, what fans are surely wondering next is what Jade and Tanner named their baby.
In a statement provided exclusively to E!, the Jade said:
"She's here, our little sweetheart! Tanner and I are very proud to announce the arrival of our baby girl this Thursday morning. There's truly no words to describe the feeling holding you in our arms for the first time and looking into your eyes. We love you, precious girl."
Unfortunately, their newborn's name has yet to go public. According to E!, Thursday's birth of the couple's first child happened a month before the expected arrival, so that could explain why a name for their baby girl hasn't been shared. It's also a possibility that Jade and Tanner could be trying their hand at the whole incognito celebrity thing — à la Beyoncé and Jay-Z — and keeping the name on the hush for a while longer.
Either way, the anticipation to be in the know is brewing, and people are itching to find out. (Bustle reached out to the couple's rep for an answer, but did not receive a response in time for publishing.)
The former Bachelorette and Bachelor contestants met onscreen in 2015 on the set of Bachelor In Paradise, Season 2, and got engaged shortly after. Married in the beginning of 2016, Jade and Tanner join the ranks of a few other Bachelor couples who managed to turn their 15-minutes of fame into an actual happily ever after. Bachelor Nation's Sean and Catherine Lowe from Bachelor Season 17 share one child, Bachelorette Season 1's Trisha and Ryan Sutter have two kids, and Bachelorette's Season 7 Ashley and J.P. Rosenbaum have two.
Goes to show that the Bachelor franchise is a lot more than gorgeous faces and extravagant dates. Because if lucky enough, there's a possibility that future contestants could find their "forever" on the romantic game show, too.