Lace & Grant Are The Next Jade & Tanner On 'BIP'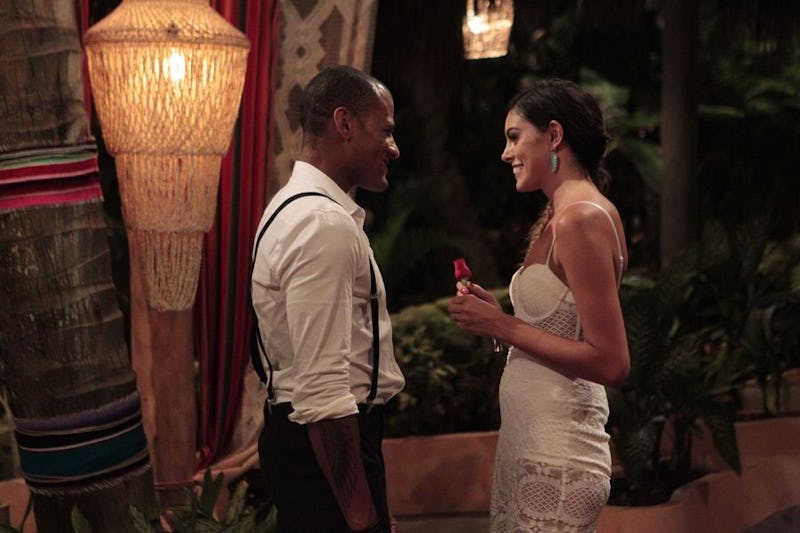 People are always so quick to judge the contestants on reality dating shows, but I get why people go on The Bachelor, The Bachelorette, Bachelor in Paradise, and similar shows. Just like a lot of relationships that happen away from reality show cameras, most of the couples who meet on TV do not end up working out. But it's the couples who actually have worked out that inspire people to join the cast. Case in point, Jade Roper and Tanner Tolbert found love during the second season of Bachelor in Paradise and now they are happily married, which I'm sure a lot of the Season 3 cast members are hoping happens to them. In my opinion, one couple already is the Jade and Tanner of BIP 3: Lace Morris and Grant Kemp.
I get that Amanda Stanton and her romance with Josh Murray are the star attraction of this season, but I think we need to look beyond that. Their relationship is so full of scandal, from the implied love triangle with Nick Viall to the love square when Evan Bass asked Amanda out literally while she was mid-make out with Josh. There is just way too much controversy there.
Everyone is overlooking the smooth sailing love story that is blooming between Lace and Grant. Just like Tanner and Jade, these two hit it off right from the beginning. No, I'm not counting anything that happened with Chad Johnson in the hot tub, but even if I was, Grant was saying that he was still into Lace during that whole thing. Not only that, but Grant helped her recuperate from the weirdness of that situation, so it all comes out in the wash really.
And just like Jade and Tanner have a super cute couple name — Janner — Grant and Lace have a catchy couple name as well: Grace. I don't see what Amanda and Josh's couple name would be. Jamanda? Janda? Aosh? Yeah, nothing really catchy there.
Jade and Tanner were just as into each other during their season of BIP as Lace and Grant are during this one. They obviously like each other, but they are not about the constant PDA, unlike some other couples who have graced the BIP screen.
A lot of people enjoy poking fun at Lace, but the person who was (unfairly) hit with that "crazy" label way too many times is actually in the most stable BIP relationship. You might be blinded by the other couples who are more in your face on this show, but mark my words, Grant and Lace are the real deal. Grace is the next Janner.
Images: ABC/Rick Rowell (2)