Britney Had Nothing To Do With Her Lifetime Movie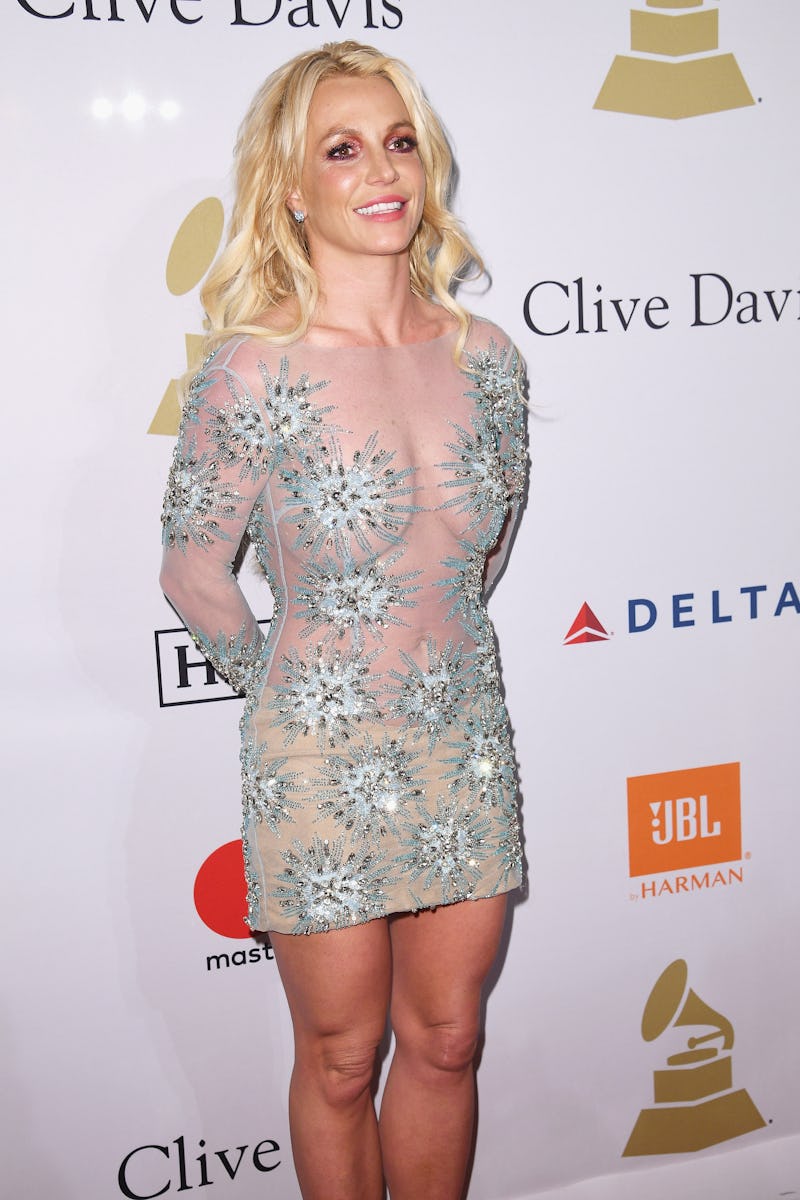 Kevork Djansezian/Getty Images Entertainment/Getty Images
It's almost inevitable that Lifetime biopics will be controversial on some level since the movies frequently incorporate tabloid stories and don't typically receive any official endorsement. So, if you're looking forward to the Lifetime original movie about Britney Spears, you'll unfortunately discover that just like the movies about Aaliyah and Whitney Houston before, Spears' camp has not given its official stamp of approval to Britney Ever After. Of course, a major difference here is that both Aaliyah and Houston had died before their Lifetime movies were created and Spears is very much alive. That means the singer has the ability to speak out about her feelings, so fans may wonder what Britney Spears thinks about Britney Ever After.
(Bustle reached out to Spears for comment on what she thinks and to Lifetime about the accuracy of the movie but has not yet received a response.) But, back in August 2016, right after the network had first announced the project, Spears' representative told Entertainment Weekly, "Britney Spears will not be contributing in any way, shape, or form to the Lifetime biopic ... nor does it have her blessing." At the end of the movie, the network aired this disclaimer: "Although based on a true story, some characters are fictionalized composites, and some events have been compressed, reorganized or fictionalized for purposes of dramatization.
From the outside, Spears' life seems like the perfect fodder for a Lifetime movie. After her Mickey Mouse Club days, she was a pop sensation at a young age with the fabulous (albeit ellipses-heavy) hits like "...Baby One More Time" and "Oops!...I Did It Again." Her fame led to her two marriages and struggles with mental health, all of which received extensive coverage from the media. And, through it all, she's still an icon — thanks to her Las Vegas residencies and comeback albums like Femme Fatale — after being in the spotlight for nearly 20 years.
The trailers hint that the movie will delve into some of the public breakdowns Spears has had. Pretty much everyone knows about Spears shaving her head and the paparazzi umbrella incident, both from 2007. And, since Lifetime original movies need drama to survive, I get that Spears' personal struggles will be a major part of the film, but I also understand why Spears would be displeased about her life story being portrayed in a television movie without her consent.
With Britney Ever After premiering on Feb. 18, Spears and her rep haven't appeared to change their tunes about it. I could not discover another statement from her rep and none of Spears' recent social media posts refer to the film. She certainly has had bigger things to worry about, though, with her niece Maddie (Jamie Lynn Spears' daughter) tragically being hospitalized after an ATV accident. Thankfully, Maddie has recovered after previously being in critical condition and she even returned to school on Feb. 14
However, despite this serious family incident, that hasn't stopped the media from speculating that Spears has spoken out about other drama — unrelated to the Lifetime movie — on her social media. Most recently, she posted a Bible verse, which was interpreted as a subtle response to Katy Perry referencing Spears' 2007 breakdown (not once, but twice!) as a cruel joke on the Grammys red carpet. (Spears' reps have not yet responded to Bustle's request for comment about Perry's comments or speculation about what Spears' tweet means.)
While Spears hasn't spoken out herself about Britney: Ever After, if you believe that posts like the one above are her way of throwing shade, then perhaps she'll have a classily cloaked response to the Lifetime movie on social media.
Yet, even if she doesn't, the Australian actress who portrays Spears in the movie, Natasha Bassett, has been saying about how she hopes that Spears will watch Britney Ever After and appreciate it. She told Us Weekly, "I can only hope she watches it and knows how much respect and admiration I have for her."
Whether you interpret Britney Ever After as an homage to this dancing diva or an exploitation of Spears' past dramas will be up to you when it premieres on Lifetime on Feb. 18.