Here's What Tonya Harding Really Thinks Of 'I, Tonya'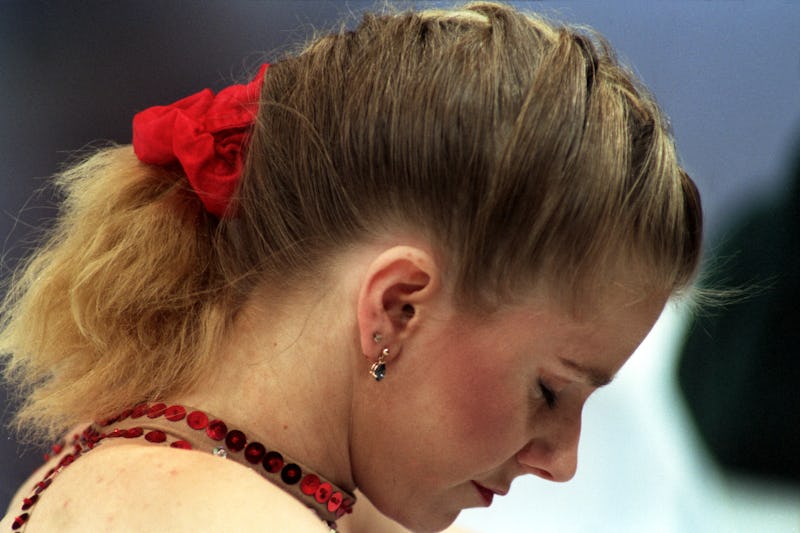 Chris Cole/Getty Images Sport/Getty Images
Biopics about living people are almost always a little uncomfortable. Especially if the subject is alleged to have committed a crime, and doubly so if that person still disputes her role in said crime. Such is the case with the new film I, Tonya, which tells the story of former figure skater Tonya Harding's life. But what does Tonya Harding think of I, Tonya? Predictably, the films spends a lot of time on the most notorious aspect of Harding's life: her alleged role in the 1994 crippling of her then-skating rival, Nancy Kerrigan. One would think that Harding wouldn't be crazy about this movie being made, but the ice skater has a history of not doing what's expected of her.
Before getting into Harding's reaction to the film, here's a little background. The movie deals with the athlete's entire life and is very much a biopic, but the main focus is undoubtedly the instance with Kerrigan. At the U.S. Figure Skating Championships in Detroit's Cobo Arena on Jan. 6, 1994, Kerrigan was attacked shortly after stepping off the ice after practice. A man approached her in a hallway and struck her right knee with a telescoping baton in an attempt to break her leg and remove her from upcoming Olympic competition. Her leg didn't break, and Kerrigan recovered quickly, going on to earn a silver medal at the '94 Winter Olympics. It was later revealed that the attack was planned by Harding's ex-husband Jeff Gillooly and her bodyguard, Shawn Eckhardt, who hired a man named Shane Stant to carry out the attack. Their goal was to make it easier for Harding to make the Olympic team, since Kerrigan was her main rival.
Gillooly, Eckhardt, Stant, and Stant's getaway driver after the attack, Derrick Smith, all went to prison as a result, according to the New York Times. As for Harding, she pled guilty to conspiring to hinder prosecution in the attack and received a $160,000 fine and three years' probation, according to the Times. Yet while she admits to knowing about the attack prior to it taking place, she has always maintained that she had no part in planning it. I, Tonya is told from Harding's viewpoint and gives an empathetic telling of her story, which is probably why the former skater has reacted positively to the film.
According to star Margot Robbie, who plays Harding in the film, the former Olympian has seen the finished film and gave it an enthusiastic endorsement. "She was so gracious, she was amazing about [seeing the film]," Robbie told IMDb. "Really, really amazing. She was very complimentary about what we pulled off, and she was really kind about my skating even though I'm nowhere near as good as I should be. Yeah, she was great."
One reason why it makes sense that Harding would approve of the film is that she was actually involved in its production. Screenwriter Steven Rogers conducted six hours worth of interviews with Harding, according to IndieWire's Kate Erbland, ensuring that her point of view would be very present in the film. "On the one side, I feel like we've done a very honest portrayal. When I set out to make the film, she's been such a villain and a punchline in our society for so long, and I loved that challenge to just change that perspective," director Craig Gillespie told IndieWire. "I really felt like it was there in Steven's script that, by the end of the movie, we should empathize with her. I know it's a tall order with such a huge public persona that we have, but I really felt it was possible with Margo's performance, with this script ... I heard [Tonya] was actually happy with it."
Apparently, Harding is a fan of I, Tonya, and it's probably because the movie took on the difficult task of including her seldom-heard point of view in telling her controversial life story.