You Need To Know What Happened In 'Murder House' Before The 'AHS: Apocalypse' Begins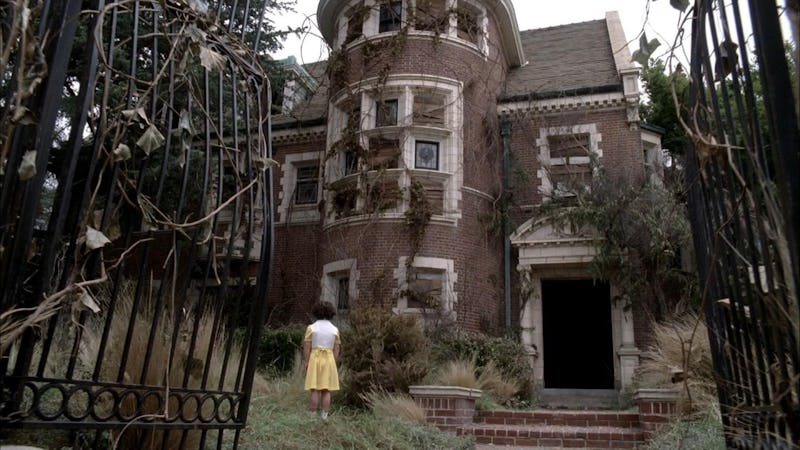 FX
The moment fans have waited for is here: the long-hyped Murder House-Coven crossover is actually happening in AHS: Apocalypse, and the end of the world has never looked so good. But if you need a reminder of what happened in AHS: Murder House before you begin your stay in Outpost 3, then I'm here to help. The inaugural season of Ryan Murphy's anthology series aired seven years ago now; not everyone has the time or the luxury to rewatch 12 episodes of television, so even some of the show's biggest fans might need a refresher on what went down in that very haunted house.
Of course, even seven years later, most fans probably remember that frightening first scene. Teen boys Troy and Bryan wander into the derelict "murder house" despite the warnings of the girl next door, young Addie Langdon. "You are going to die in there," she told them calmly. And then, "You're gonna regret it," she intoned repeatedly after they ignored her advice. Of course, they did live to regret it — but not for long, quickly killed by the monster in the basement after committing some light vandalism.
After that banger of an opening, viewers were introduced to the house's newest inhabitants, the Harmon family. What happened next?
Meet The Harmons
After the current owners died in a murder-suicide (or were both murdered by Tate Langdon, as viewers would later learn), the house was bought by the Harmons. There was husband Ben: a psychiatrist who had recently cheated on his wife with a student. There was wife Vivien: a cellist who suffered a miscarriage when she discovered Ben's infidelity. And there was daughter Violet: a disaffected youth who resented being uprooted from her life in Boston to move to too-sunny Los Angeles.
Meet The Langdons
The Harmons quickly met their intrusive next-door-neighbors, the Langdons: matriarch Constance, a faded minor film star; her daughter Addie, from the opening scene; her son Tate, a patient of Ben's; her other son Beauregard, locked in the attic; and her much younger boyfriend, Travis.
Over the course of the season, Constance would lose everything. Travis ends up murdered by the ghost of Hayden, Ben's former lover. Addie is hit by a car on Halloween and dies before Constance can drag her onto the Murder House grounds. And both Beau and Tate are revealed to already be ghosts: Beau having been mercy-killed by Constance's admirer Larry before social services could take him away; and Tate having been gunned down by police after lighting Larry on fire in retaliation for his brother's death, and then proceeding to shoot several of his classmates in a Columbine-like massacre.
A History Of Violence
The house's history of violence and bloodshed extends far back before the Harmons. Built in the 1920s by doctor-to-the-stars Charles Montgomery and his wife Nora, the couple suffered their own misfortune when the husband of one of their patients — angry that Charles helped his wife terminate her pregnancy — kidnapped the Montgomerys' infant son and dismembered him. Charles stitched young Thaddeus back together and somehow revived him, turning him into the monster that's still haunting the basement. A grief-stricken Nora then went insane, killing her husband and herself.
Beware The Rubber Man
When Vivien has sex with a man in a rubber fetish suit, believing it to be her husband, she becomes pregnant. However, the mysterious Rubber Man continues to haunt the Murder House, and it quickly becomes clear that it wasn't Ben inside the suit. Eventually, it's revealed that the Rubber Man was Tate, who felt bad for bereft, childless Nora, and became determined to give her a baby. He murdered Chad and Patrick, the inhabitants before the Harmons, after they decided not to adopt a baby, hoping that another family would move in after them and provide a child for Nora. He impregnated Vivien, whose unholy fetus grew abnormally quickly and strangled its twin (actually Ben's offspring) in the womb.
What's In The Box?
After learning of this pregnancy, Constance asks her psychic friend Billie Dean Howard what happens when a ghost and a human have a child together. Billie Dean tells Constance a story of the Box each new Pope is given, which supposedly contains the exact nature of the end of the world: the Antichrist, born of an unholy union between the spirit realm and a human host. (If you couldn't tell, this will be extremely relevant for the events of Apocalypse.)
Goodbye, Harmons; Hello, Antichrist
By the time the season ends, all the Harmons have died. Violet goes first; it's revealed towards the end of the season that the teen actually died of a suicide "attempt" earlier in the season and has unknowingly been a ghost ever since, Tate having hid her body in the crawl space under the house. Vivien dies in childbirth along with her first, natural child. And Ben dies while attempting to escape the house with Vivien's surviving son, murdered by Hayden and staged to look like a suicide. The Harmon family become benevolent presences in the house, scaring out the next inhabitants before the more evil spirits can harm them.
Three years later, Constance returns home to her grandson, Michael — the child of Tate and Vivien, now a toddler — to find that he has happily slaughtered his nanny. That can't be a good sign…
Watch as Michael ushers in the Apocalypse when American Horror Story returns for Season 8 on Wednesday, Sept. 12.