This 'BiP' Contestant Proves People Really Can Change...Maybe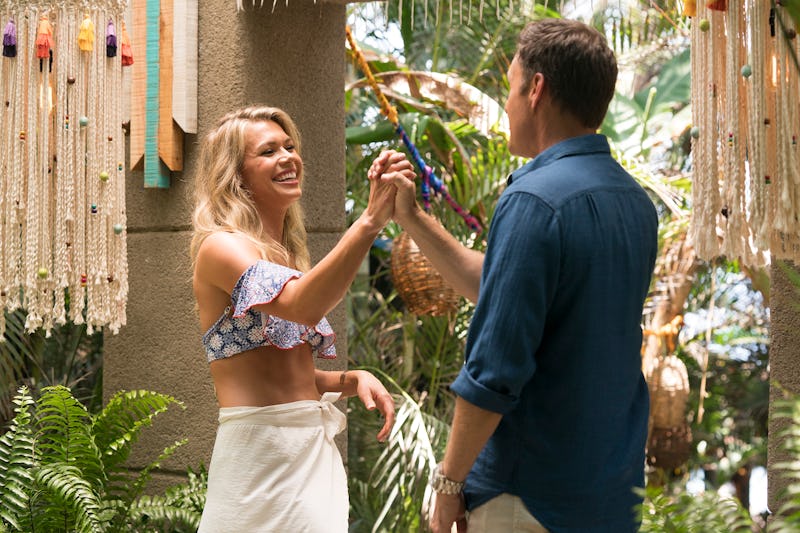 Paul Hebert/ABC
Krystal came into The Bachelor like a wrecking ball and became one of the season's most compelling suitors thanks to her unflappable self-confidence. It's only been a few months since her arrival in Bachelor Nation, but in the time since Krystal's Bachelor appearance she's been trying to instill her self-confidence in others through her work as a personal trainer. Krystal is retuning to the franchise that made her famous on Bachelor In Paradise, but she may not be as dramatic as fans remember her anymore. Or will she?
Krystal's appearance on The Bachelor may have made her look like a villain, but there's no denying that everyone could use some of the confidence that Krystal showed during her time on the series. Whether she was derailing a group date because women who were worse at bowling got to be rewarded equally or she was dropping imaginary glitter in a confessional, there's no denying that Krystal prioritized her own needs during her stint on The Bachelor. It seems like Krystal has been living a Krystal-focused life since her time on the show, leaving the drama of The Bachelor behind her and focusing on herself and her business in the months since.
She's headed to Mexico with a bunch of men who might not have even seen her antic during her season and a few women who have declared themselves her nemesis (can a person have more than one nemesis?), so there's bound to be at least one Krystal-focused "conversation." But maybe she's changed, if her activities in between Arie and the beach are are any indication.
She's Been Standing Up To Bullies
In an Instagram post following her time on The Bachelor, Krystal posted a long message about dealing with online trolls. Krystal ended by declaring "I choose to stand up and say that negative words do not have power over me. I will not be a victim and I will not bully back." her appearance on Bachelor In Paradise may also garner some negative criticism from fans, but Krystal seems to be ready to handle whatever other's have to say about her.
She's Been Enjoying Time With Her Pups
Arie's season of The Bachelor was filled with dog lovers, and Krystal was no different. Since her first visit to Bachelor Nation, Krystal has been spending time with two good boys that would never send her home during a two-on-one.
She's Been Expanding Her Personal Training
Ahead of the airing of Bachelor In Paradise, Krystal posted a call on Instagram that she was looking for new clients for her work as a personal trainer. While she's still an active part of the world of The Bachelor, Krystal is still working hard and maintaining her business — although now she has the benefit of advertising to all of Bachelor Nation.
Krystal may not have been the most popular contestant on Arie's season of The Bachelor, but there's no denying that Krystal was entirely herself during her time on the show — even if her voice may have shifted during her time on the show. While she'll likely still be herself on Bachelor In Paradise, she may manage to find what she wasn't able to have on The Bachelor : Love. Whatever happens on Paradise, it's clear that there's nothing that will stop Krystal from being completely and unapologetically herself.