The Author Of 'Love, Simon' Has A New Rom-Com — & It's Written With Another YA Superstar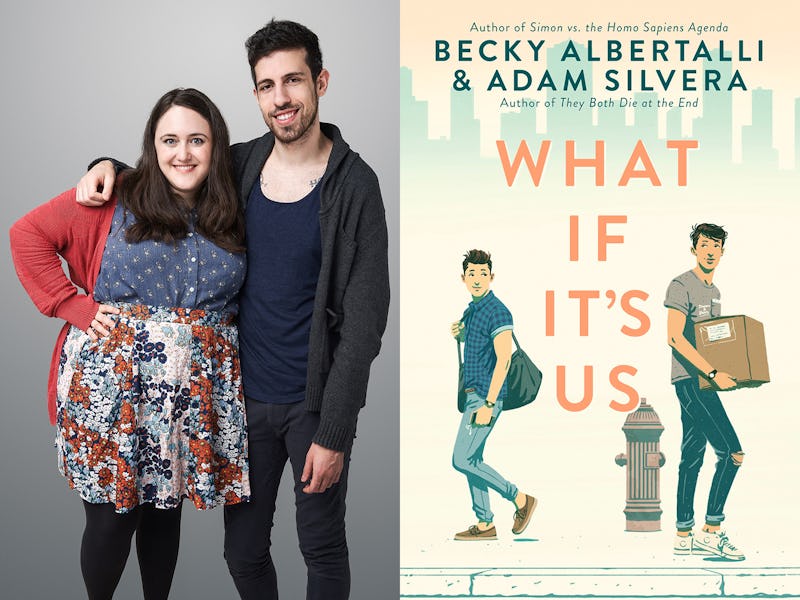 Becky Albertalli & Adam Silvera, photo courtesy of Seth Abel; HarperCollins
Authors Becky Albertalli and Adam Silvera have been planning to write a novel together pretty much since they met. The young adult novelists, who share a literary agent, first started emailing each other in 2014. They were already fans of each other's debuts — Albertalli's Simon vs. the Homo Sapiens Agenda and Silvera's More Happy Than Not — when Albertalli told Silvera about a missed connection she had experienced. Silvera was inspired, and it eventually led to What If It's Us, out now.
The rom-com follows Arthur Seuss (whose POV is written by Albertalli) and Ben Alejo (whose POV is written by Silvera.) They "meet-cute" at the post office, where Ben is sending a box of his ex-boyfriend's belongings back to him. Unfortunately, the two are separated by a flash mob, but Arthur refuses to believe it's the end of their romance. He immediately goes on a successful Ben-finding mission that brings them back together. Sparks fly, and then diminish, and then fly again as the two attempt to overcome their differences before Arthur leaves New York at the end of the summer.
It's a fitting take on the rom-com for Albertalli and Silvera, whom many fans have noted have very different approaches to love stories: Silvera is known for tear-jerkers like History Is All You Left Me and They Both Die At the End, while Albertalli is celebrated for uplifting reads like Simon and The Upside of Unrequited. But in What If It's Us, they've combined that realism and optimism for a story that is a little bit of both.
"We were never sitting down and asking ourselves 'How can we make this feel fair to the Becky readers and fair to the Adam readers?' This was always a Becky and Adam book, it was always a team effort," Silvera tells Bustle. "And I like to tell people that I could not have written the lightness and hilarity of my chapters if I hadn't been a huge fan of Becky's books. That was something that I've been able to internalize over the years and add into my own writing in a way that still feels like me."
What If It's Us by Becky Albertalli & Adam Silvera, $18.99, Amazon or Indiebound
"I find it a little weird that there are a lot of comments about how dramatically different our styles are, because I've said for a long time that I think our styles are very compatible," Albertalli says. "I think a lot of it comes from the fact that Adam's endings tend to be more ambiguous, and he does not lean toward the 'wrapped up in a bow' moment as much as I do. But also, the way [people] think about rom-coms, and the emotionality that comes with these love stories, is that they are not legitimate or weighty emotions. And I don't want to say I wish people interpreted rom-coms differently, but that's not the way I see them."
While What If It's Us is the first collaborative novel for both authors, their friendship helped shape their unique take on the classic rom-com — the book is a by-product of years of daily emails, Skype sessions, and text-message threads.
"We would write a chapter and then send it to each other and text as we were reading, so we were able to get this live feedback in the middle of a draft, which is not something you get with your independent work normally," Silvera says. "By no measure is it easy to write any book, but this one felt significantly easier than the previous books I've written. What If It's Us feels like such a glitch that way, because it was so fun and joyous [to write.]"
Albertalli says, "Our conversations would flow very organically. We'd be texting about things that were related to book, and about things that were not related to the book, and we ended up with text chains that we would love so much. And we'd be like 'Oh my god, we're so funny' and 'OK, save it, we'll put it in the book.'"
And if all goes according to plan, Albertalli and Silvera's witty texts won't be staying between the covers of the book for long. It was announced on Sept. 28 that What If It's Us has been optioned for film by the team at Anonymous Content, and will be developed by Pulitzer-Prize winner and 13 Reasons Why creator Brian Yorkey.
"We freaked out when we first heard that Brian Yorkey was interested, not just because of his experience working with young adult adaptations, but because of his Broadway background, which is perfect for this book," Silvera says. "We're so excited to move forward with this team, and we're so happy that they're taking a stab at turning this love story into the dreamy movie we always thought it could be."
What If It's Us will be the latest in a string of diverse rom-com adaptations, including Albertalli's Love, Simon, which hit theaters in March, Kevin Kwan's Crazy Rich Asians, and Jenny Han's To All the Boys I've Loved Before. Love stories are back in style, and Albertalli and Silvera's book couldn't have come at a better time.
"I think there are a lot of people who have not had a good time generally since November 2016," Albertalli says. "And particularly when we're looking at diverse rom-coms, starring people who don't usually see themselves in rom-coms, they often happen to be the same people who have not been having a good time. It's a way of escapism."
Silvera says, "So many of us have been so underserved in representation and are in such a desperate need of joy in storytelling. To see that making such huge splashes throughout the year has been incredibly heartening. We have really needed just pure joy in our hearts, and I think that's what this resurgence of rom-coms has been delivering."