What Is Jon Voight's Role At The Inauguration?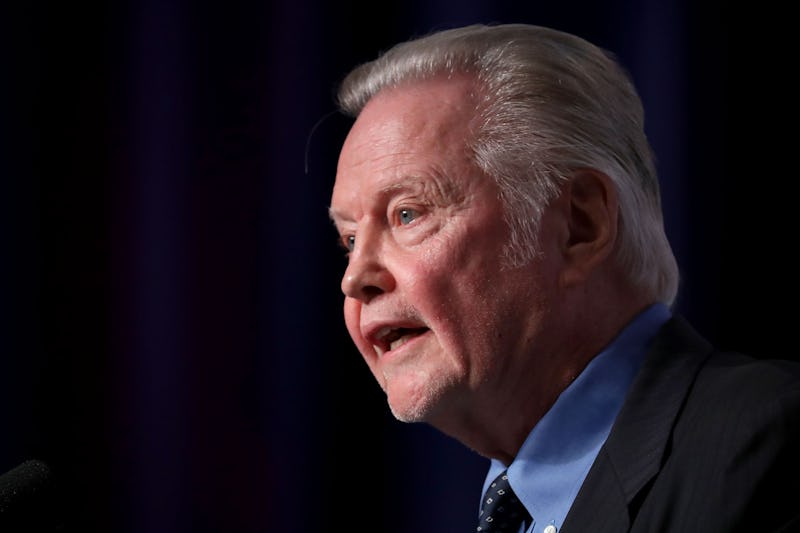 Chip Somodevilla/Getty Images News/Getty Images
Hello, I have a question for you: What is Jon Voight doing at Donald Trump's inauguration? And I don't mean why is he attending, although that's also a question that I can't answer — I mean legitimately, what is he intending to do there? I would assume that it's just his presence and implicit support that's being announced, since the team seems desperate for star power at this point, rather than an actual performance, because I can't imagine what Voight would actually do. The actor's name was on the list finally released by Trump and his team on Friday, announcing performers who will be lending their support to the president-elect at his Jan. 20 inauguration. He falls in line behind America's Got Talent's Jackie Evancho, the year 2000's 3 Doors Down, and obscurity's Toby Keith, but at least those three artists have something in common. (You know, other than their support for our incoming demagogue...)
No, but seriously, they're all musical artists, as are most of the names that Trump's Senior Adviser and Director of Communications for his Transition Committee, Boris Epshteyn, announced on Jan. 13, a week before they're set to perform. He shared his excitement in the tweet below.
There are singers like Jennifer Holliday and performers like the Rockettes, which makes sense, because as far as I know, the people who are going to be doing the bulk of the actual talking are politicians and Trump himself. (Can't wait!) It's also worth noting that Holliday's rep told The Wrap that the Broadway singer isn't confirmed as an inauguration performer. The publicist said, "Jennifer has been asked to perform but she hasn't officially agreed to do so yet. I'll let you know later this afternoon for sure if she'll be performing."
Anyway, what talents are an actor like Voight planning on lending to the ceremony? Maybe he'll recite a monologue, or do a spoken word piece? Or maybe that old act from summer camp talent shows where one kid sits behind another kid's back and pretends to be his arms. Now that I would watch.
Or maybe Voight will just use the free publicity to read an open letter to his daughter Angelina Jolie, just to let her know what's new in his life and that he's thinking of her, since their paths cross so infrequently. There's really no way to know what Voight is planning on doing for the ceremony, if anything, so we'll all have to tune in to find out. Haha, I'm kidding, no need for you to tune in. Just check back here at some point during the weekend of the inauguration and I'll let you know what happened.