How Kylie's Baby's Name Is Following In The Footsteps Of Her Famous Cousins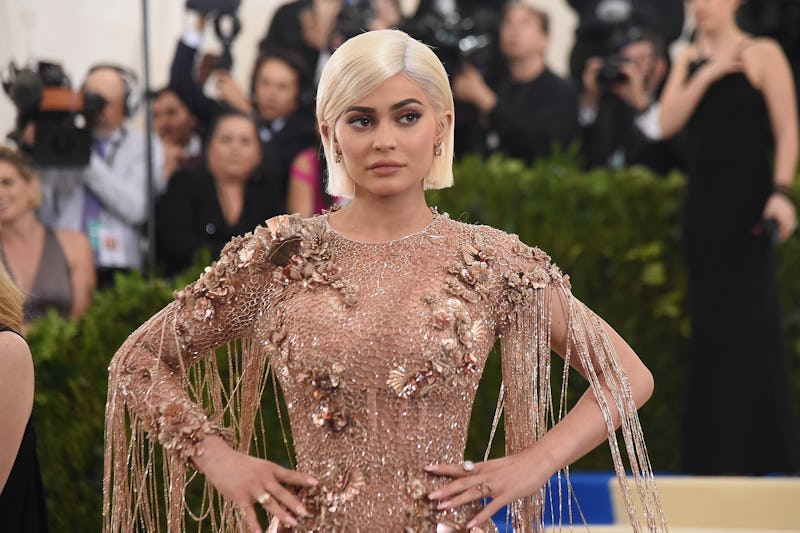 Nicholas Hunt/Getty Images Entertainment/Getty Images
Kylie Jenner might be doing things a bit differently from many new moms with her little one's moniker. And no, this isn't even about naming her "Stormi." Kylie Jenner's baby has no middle name, according to E! News and TMZ. While the lip kit mogul herself hasn't talked about this detail yet — possibly through another edit to her original baby name post — TMZ reports that the child's birth certificate does not include a middle name. As it turns out, this is actually a totally on-brand move for Jenner.
According to both publications' reports, Jenner and Travis Scott decided to forego a middle name for their little one in lieu of something simpler. The baby's full name is reportedly "Stormi Webster." In case you were wondering where the Webster came from, the surname is Scott's legal last name, with his full name being Jacques Webster.
A source told E! News, "the name had been decided on for a while now." So, it's likely that this interesting decision was in the cards for some time. As of right now, Jenner has yet to reveal the meaning behind her daughter's unique name (or an explanation behind the lack of middle name). Regardless of that explanation, the name Stormi is pretty unique in and of itself. And hey, maybe Jenner and Scott figured that the name was so interesting that there was really no need for a middle name, at all.
This whole lack of a middle name thing would actually be in line with a trend started by Jenner's sister, Kim Kardashian. Kardashian's children, North, Saint, and Chicago West, do not have middle names, according to E! News and TMZ.
It's unclear as to why Jenner and Kardashian have decided to go without middle names. All of the KarJenner siblings have middle names. The new moms' siblings, Kourtney Kardashian and Rob Kardashian, have also given their children two names. Rob's daughter, Dream, shares a middle name, "Renee," with her mother, Blac Chyna. Kourtney's children with Scott Disick — Mason Dash, Penelope Scotland, and Reign Aston — all have cool, albeit untraditional, middle names. And Jenner and Kardashian's significant others, Scott and Kanye West, respectively, also have middle names (Bermon and Omari). So, it's not as though they're keeping their partners' traditions alive.
But, who really expects the Kardashian fam to go the traditional route with anything? At this point, it would almost be weird if they did go with a normal naming situation. The famous family follows their own path, as evidenced by their interesting choice of monikers for their kids, and it's all just part of what makes them so fun to keep up with.
The news about Stormi's name only came out recently, when Jenner announced the much-anticipated reveal on social media. She posted an adorable photo on her Instagram page, which featured the first look at her newborn. The reality star captioned the photo with a simple "stormi" along with an angel emoji representing her baby. She later added "webster" to the caption, which put to rest any speculation around what her daughter's last name would be. And in a stat that will surprise no one who's aware of the KarJenner family's social media prominence, Jenner's Instagram name reveal post is now the most-liked pic on the photo-sharing app to date.
Before the Life of Kylie (senior story editor: Janelle Couture) star, revealed Stormi's name, her baby reveal on Feb. 4 ended months of speculation surrounding her reported pregnancy. Jenner posted a note to her social media pages that read, in part, "my pregnancy was one I chose not to do in front of the world. I knew for myself I needed to prepare for this role of a lifetime in the most positive, stress free, and healthy way I knew how." She also posted an emotional and beautiful video that gave fans a glimpse into the her private pregnancy journey.
There's no telling whether Jenner will release any more details about the middle name-less member of the Kardashian/Jenner family. Fans will just have to just stay tuned and keep on "keeping up."