Kylie Jenner's Baby's Last Name Isn't What You May Have Expected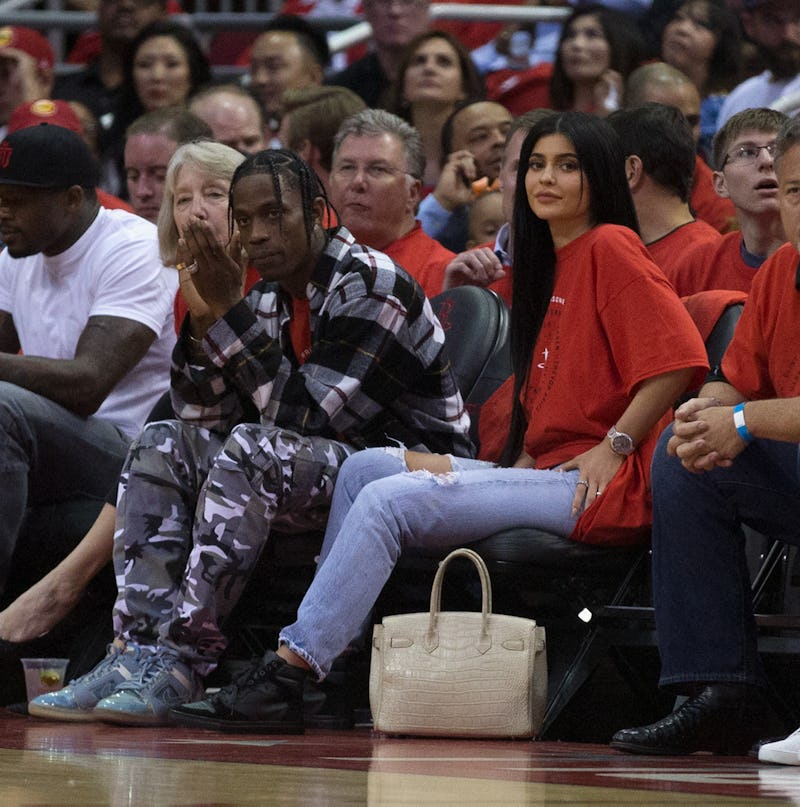 Bob Levey/Getty Images Sport/Getty Images
Even though Kylie Jenner had plenty of surname options for the choosing — Kardashian, Jenner, Kardashian-Jenner — fans had already figured that Kylie Jenner's baby's last name likely wouldn't be the same as her half sisters' last names. However, if you were thinking Stormi would have the same surname as her mom, you'd be wrong. By way of an updated Instagram post, Jenner announced that Stormi's last name is Webster. Webster is the real last name of Stormi's father and Jenner's boyfriend Travis Scott. And with this reveal, one more Kylie Jenner baby mystery has been solved.
Even though Jenner only initially included Stormi's first name (and a baby angel emoji) in her Feb. 6 name announcement post, she felt the need to clarify. Hours after the original Instagram post went up, Jenner edited the caption of the photo of Stormi holding her mom's pink manicured hand to "Stormi Webster." This speedy release of information is in stark contrast to the secretive way that Jenner handled her pregnancy. But as she explained in her Feb. 1 birth announcement on Twitter:
"I'm sorry for keeping you in the dark through all the assumptions. I understand you're used to me bringing you along on all my journeys. my pregnancy was one I chose not to do in front of the world. I knew for myself i needed to prepare for this role of a lifetime in the most positive, stress free, and healthy way i knew how."
Yet, now that her baby news is public, Jenner doesn't seem to want to withhold any information — or she is just benevolently answering the number one question that so many of her fans had asked. Because names hold a lot of weight in the Kardashian-Jenner family and because Scott and Jenner aren't married, it wouldn't have been surprising if Stormi had Jenner's last name or a hyphenated last name. But Jenner and Scott went the traditional route by giving their daughter the real last name of her father.
Fans could have seen Jenner's choice of last name coming if they had thought of the precedent set by her older sisters. Even though she never married her former partner Scott Disick, Kourtney Kardashian's three children have his last name. And while Kim Kardashian and Kanye West are married now, they weren't when they had their first daughter North West in 2013. Despite being trendsetters in so many other ways, the Kardashian-Jenner sisters have all gone with the conventional use of patrilineal surnames so far.
But what's really thrown people for a loop is the fact that Scott's real last name isn't actually Scott. Scott, who pled guilty to disorderly conduct on the day of Stormi's name announcement, isn't a Travis either: Scott's birth name is Jacques Webster. Although the name Webster may evoke visions of the '80s sitcom of the same name, Jacques is a pretty cool name. Yet, Scott told Grantland in 2014 that he chose the name Travis for his uncle. "My uncle's name is Travis. He was like my favorite uncle. My favorite relative," Scott said.
Then, in 2015, he explained to Complex that his stage surname is also from his uncle Travis. "The Scott comes from him, too, that was his nickname," Scott said. And while you still might not have adjusted to the truth that Scott's last name is Webster, Stormi Webster may be a better choice than the alliterative Stormi Scott.
Considering Jenner's level of fame, her pregnancy was about as secretive as it possibly could have been, but with Jenner taking to social media mere hours after the name announcement to clear up the confusion, the same level of extreme privacy might not be true of the rest of Stormi Webster's life. Not only is all this public sharing like a reward for the people who were patiently (and not-so-patiently) awaiting Jenner's reveal, but fans are clearly happy to have her — with her baby girl Stormi — in the spotlight again.