Starbucks' New Tea-ramisu Frappuccino Includes Super Instagrammable Matcha Swirls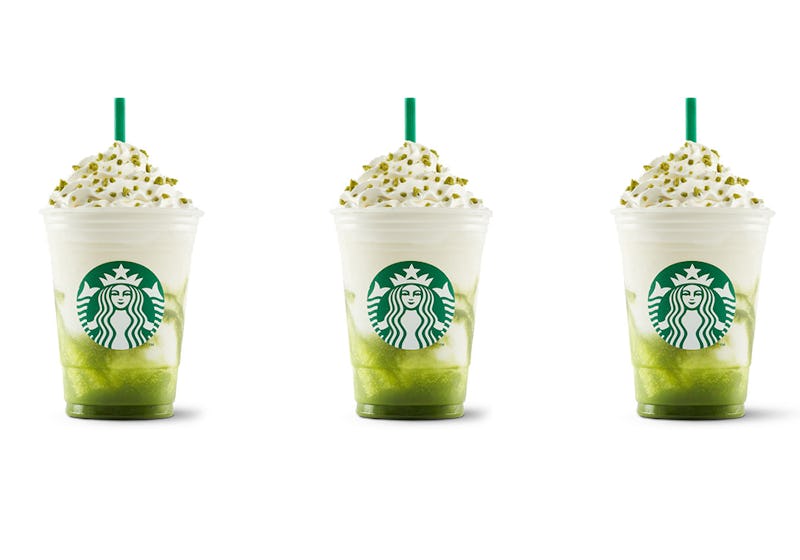 Starbucks
As the weather slowly starts to get warmer and the days get longer, our food and drink preferences change. We stop craving hearty soups and comforting hot chocolates, and we start enjoying ice cream cones and deliciously cold milkshakes. That's just how it goes! It's even true for our caffeinated beverages. It's pretty hard to enjoy a steaming hot latte on a 90 degree day, especially when there are ice cold options that are available. Starbucks, in particular, is always delivering icy goodness with their summer menu options. Most recently, Starbucks launched a new drink in their Thailand and Vietnam-based locations — and, as a result, you might be wondering what Starbucks' Tea-ramisu Frappuccino is.
The Tea-ramisu Frappuccino is the brand-new drink in Starbucks Thailand and Starbucks Vietnam locations that needs to be on your radar this summer. It's also not exactly what it sounds like. Hearing the word "Tea-ramisu," you might think of a frozen beverage that is a drinkable version of the famous Italian dessert: something mocha, with cream and maybe even some crumbled cookies on top, finished off with a black tea or something. Nope. This drink is totally different.
It's actually a twist on tiramisu, and it sounds awesome. According to Starbucks Thailand, the Tea-ramisu Frappuccino is a blend of creamy cheesecake milk and thick Japanese Matcha, topped with whipped cream and green tea cookie crumble. Does that not sound like one of the best things you've veer heard of? I mean, "creamy cheesecake milk?" Come on. That sounds out of this world! Mixing that with Matcha is unexpected in the best possible way. Plus, the green tea will keep you energized, even if it feels like it's a million degrees outside and all you want to do is lay in front of the air conditioner.
As aforementioned, though, if you're U.S.-based, buying this Frappuccino will also involve buying a plane ticket. If you want to buy a Tea-ramisu Frappuccino for yourself, you're going to have to take a trip to Asia. This summer drink seems to only be available in Asian markets, mainly Thailand and Vietnam, for a limited time only.
That's definitely a major bummer for those of us who aren't traveling to Asia any time soon and who now really want to know what cheesecake milk tastes like — but hey, it's a great excuse for a vacation, right?
In the meantime, you can fill the Tea-ramisu Frappuccino flavored void with one of the company's new Frappuccinos that are available in the U.S. There's an Ultra Caramel Frappuccino and a Triple Mocha Frappuccino, and both sound incredible. The Ultra Caramel consists of a layer of the new Sweet Cold Brew Whipped Cream, dark caramel sauce and dark caramel coffee-flavored Frappuccino, and another layer of the Sweet Cold Brew Whipped Cream. It's topped with more dark caramel sauce to finish it off.
The Triple Mocha is equally decadent. It starts with a layer of Sweet Cold Brew Whipped Cream, which is topped with dark mocha sauce, then the classic Frappuccino mix, then mocha coffee Frappuccino, and then more Sweet Cold Brew Whipped Cream with dark mocha sauce swirl on top. Are you drooling yet? Because I fully am.
Starbucks also recently announced a new limited edition item to their menu: a Salted Potato Chip Crusted Brownie. It sounds incredible, looks incredible, and supports a great cause: it was created by Dog Tag Bakery, a Washington, D.C. based bakery that aims awareness for veteran causes during Military Awareness Month. It's only available until June 4, so definitely go buy one while you can.
While all of those sound beyond delicious, I'm still kind of bummed that I won't be able to try the Tea-ramisu Frappuccino. What do we think the odds are of Starbucks bringing it to the U.S.?!