Starbucks' New Sweet Cold Brew Whipped Cream Just Turned Your Fave Summer Drink Into DESSERT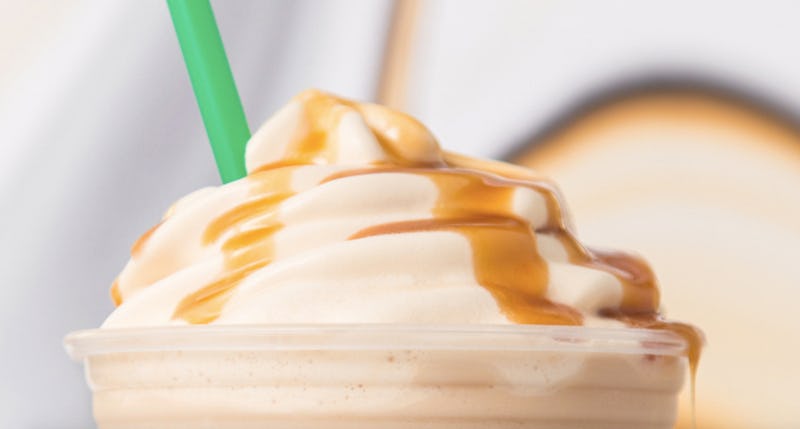 Starbucks
By now, you have undoubtedly heard that Starbucks just added two brand-new Frappuccinos to the permanent menu — but what may be flying slightly further under the radar is the fact that one of these two Frapps' core components, Sweet Cold Brew Whipped Cream, has arrived as a menu item all its own, too. What is Starbucks Sweet Cold Brew Whipped Cream, exactly? Well, it's… not your standard whipped cream, that's for sure. Available at Starbucks locations in the United States and Canada starting May 1 (also known as today), it'll add a cold brew-flavored punch to your drinks just in time for the warmer weather. If you like your coffee with a little more coffee, this treat is almost certainly going to be right up your proverbial alley.
I touched on this point briefly a little earlier today, but just to reiterate, this is far from the first time that Starbucks has amped up its whipped cream options. Typically, the standard whipped cream on offer is made of heavy cream and vanilla syrup; periodically, though, a new variety is created to add a little pizzazz to the menu, particularly when there's a new drink available. The first flavored whipped cream option that usually comes to mind for me is the raspberry-infused whipped cream that made its debut atop the first iteration of the Birthday Cake Frappuccino: Initially launched for five days only in 2015 to celebrate the Frappuccino's 20th birthday, this blended treat combined vanilla and hazelnut flavors before topping the whole thing off with the aforementioned raspberry whip. (The 2016 version, meanwhile, included what was only described as "pink whipped cream," so it's not clear whether the re-release's topping was flavored the same way the OG Birthday Cake Frapp's was.)
Then, of course, there was Pumpkin Spice Whipped Cream. Released for a brief period during the fall of 2016, this autumnal whipped option included pumpkin puree, cinnamon, ginger, nutmeg, and cloves. While it might have seemed a little like overkill to top a Pumpkin Spice Latte with even more pumpkin spice, it appealed to the most basic aspects of my soul nonetheless; I will never not love warming spices, and I am a shameless PSL devotee.
But the flavored whip trend doesn't stop there, either: In Thailand and Hong Kong, the Honey Blossom Crème Frappuccino came topped with honey-infused whipped cream; the Christmas Tree Frappuccino's distinctive look was achieved with matcha whipped cream; the Choux Cream Frappuccino available in South Korea used custard-flavored whipped cream; and on and on and on.
All of which is to say that this is not Starbucks' first whipped cream rodeo.
So: Back to our original question. What the heck is Starbucks Sweet Cold Brew Whipped Cream? Of course, it starts with your basic whipped cream — but then it adds an infusion of cold brew coffee, dark caramel sauce, and white chocolate mocha sauce to the mix. Does that sound a little, uh, sweet? Too sweet, perhaps? Maybe — but bear in mind that we're talking about whipped cream here, which means it'll be light and fluffy, rather than dense and heavy. Anecdotally, my experience with Starbucks whipped cream is that it isn't unbearably sweet; it just adds a hint of sweetness to your drink which sticks around if you're enjoying something cold or frozen, and sort of melts into the beverage if you're drinking something hot.
But while the Sweet Cold Brew Whipped Cream can certainly be enjoyed simply as a garnish — for an extra 50 cents, you can add it to any drink on the Starbucks menu, whether it's hot or cold — it's got a starring role in the composition of the two newest Frappuccinos: In the case of both the Ultra Caramel Frappuccino and the Triple Mocha Frappuccino, the drinks start with a healthy dollop of Sweet Cold Brew Whipped Cream in the bottom of the cup, to which either a swirl of dark caramel sauce or dark mocha sauce is added before the Frappuccino is poured in. Then, the drinks are both topped with more Sweet Cold Brew Whipped Cream and another swirl of caramel or mocha sauce.
The new topping is available at Starbucks locations in the United States and Canada literally right now — so, hey, why not celebrate (It's Gonna Be) May Day with a sweet treat? It brings a whole new meaning to the phrase, "But first, coffee."
Now if you'll excuse me, I have a Starbucks run to make.