How To Get On The Same Page As Your Partner If They Seem More Invested In The Relationship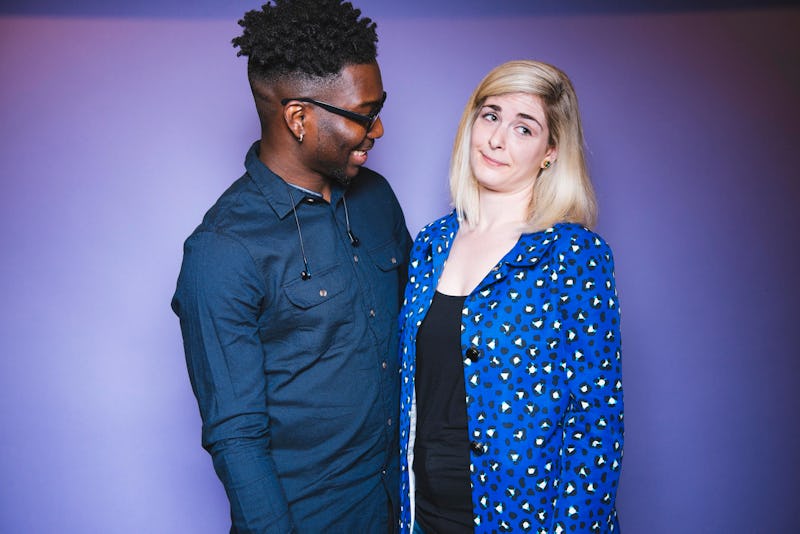 BDG Media, Inc.
Particularly if you're in the early stages of dating someone, it's normal to worry that you might not be on the exact same page as your partner when it comes to your investment in the relationship. While an imbalance in commitment level might be obvious to you if you're the one who's all-in, the signs your partner is more invested in the relationship than you are can be easier to miss, especially if you aren't looking for them. But first, what does it even mean to be "invested" in your relationship?
"I'd define relationship investment as actively participating in making the relationship healthy and happy," Jonathan Bennett, Relationship and Dating Expert at Double Trust Dating, tells Bustle. "You do the work needed to make it a success. While no relationship will ever be 'equal' in terms of investment, it's important that both partners at least have similar levels. Without similar investment one partner will start to feel burnt out as [they] begin to do all of the work in keeping the relationship healthy."
Relationships take a lot of effort to maintain, and if one person isn't willing to put in the work to keep your connection strong, inevitably, that imbalance will cause problems in the relationship down the line. So how can you tell if you're the one who could stand to put a little more effort into the relationship?
"If your partner always plans dates, events, and couples activities, you're probably not as invested in the relationship," Bennett says. "While not everyone enjoys planning and scheduling, both partners should at least make an effort to spend time together in meaningful ways."
Aside from being hands-off when it comes to planning dates, there's another, more serious red flag that you're not all that invested in your relationship — and it can have serious repercussions. "If you never want to address the problems in your relationship and resist your partner's efforts, it's a sign of low investment," Bennett says. "Not dealing with problems when they arise will damage the relationship in the long-term."
If you feel like you and your partner might have different levels of investment in your relationship, here are five expert tips for getting back on the same page as your partner — and figuring out exactly where your relationship is (or isn't) headed.