What Baby Names Could The Clooneys Choose?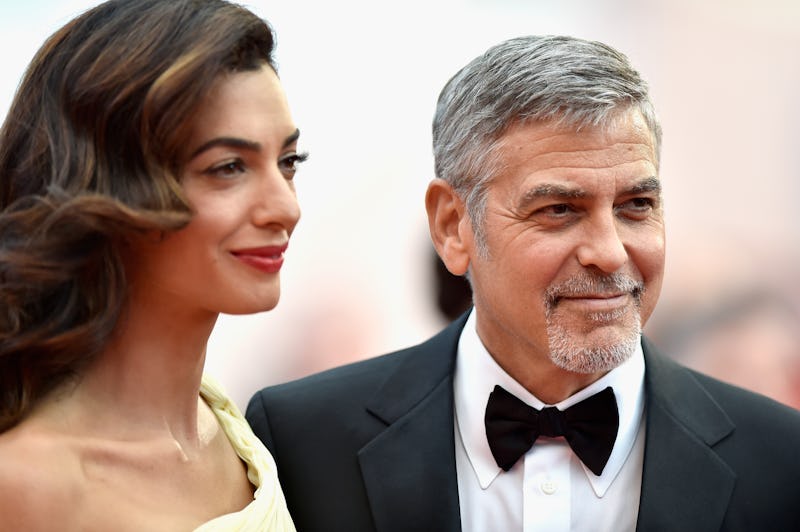 Pascal Le Segretain/Getty Images Entertainment/Getty Images
It looks like we're going through another Hollywood baby boom in the wake of this otherwise terrible world, and you won't believe the next upcoming A-lister bundles of joy. As it would turn out, Amal Clooney is reportedly pregnant, and that's not all! The news was allegedly confirmed on Thursday on The Talk when host Julie Chen announced, "Beyoncé is not the only superstar expecting twins, Congratulations are in order for George and Amal Clooney!" You guys, oh my god. There are so many questions running through people's minds right now, but you're probably wondering: What will George and Amal Clooney name their babies?
OK, maybe it's a little soon to wonder about that (as in, it's totally too soon to wonder that). If these reports are true, then the hearsay is that Amal isn't due to give birth until June, approximately four or so months away from now. (Bustle has reached out to George's rep, but has not heard back at this time. Amal's rep could not be reached.) So, even if they've started thinking of baby names, it's more than likely that haven't picked out anything substantial yet. But there is another factor that's going to make this guessing game a little harder for us. That is, the superstar couple doesn't actually have any other babies to go by.
In case you forgot George's long history as Hollywood's biggest playboy and ultimate bachelor (why does that feel forever ago?), the man has never been married before Amal, and likewise, doesn't have any kids. He's going to be a first time father at the age of 55, which is independently pretty surprising. And Amal has been busy saving the world as a top human rights barrister, so at 39, this is going to be her first child too.
As such, we don't really know what kind of parents the two are going to be... when it comes to naming. They don't have some eccentric toddler called Quinoa Rainflower wandering the universe already, nor do they have an Emma or Michael or some other infant that would play it straight with their baby name. One could speculate that the babies would be named something with an Arabic twist (Amal originally hailed from Lebanon). However, Amal's choice to take up the Clooney moniker means that she isn't necessarily chained to the idea of keeping up tradition.
Whatever the case may be, I hope that these reports are true, and that the universe will be delivering us another set of celebrity babies.