Whether Princess Eugenie's Fiancé Gets A Royal Title Depends On One Major Factor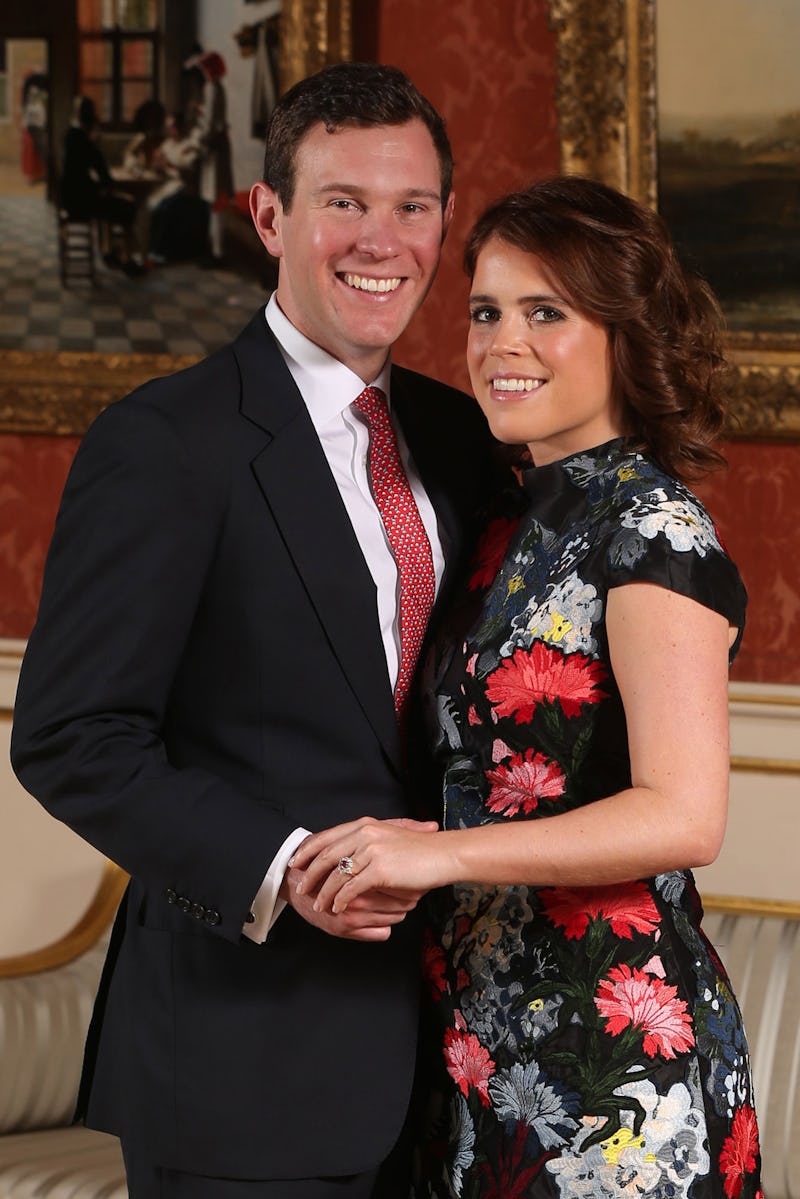 WPA Pool/Getty Images Entertainment/Getty Images
On Oct. 12, Princess Eugenie's royal wedding will officially take place, so you might be wondering what will Jack Brooksbank's royal title be? Just because he's marrying into the British Royal Family doesn't mean Brooksbank will automatically go from "Mister" to "Prince" or "Duke" or "Earl". If you follow the royal family, then you know the rules can be somewhat complicated when it comes to giving someone, especially a person marrying into the family, a royal title.
Regarding whether or not Brooksbank's will get a title is ultimately up to Queen Elizabeth II, Eugenie's grandmother, according to Town & Country magazine. She's the only one capable of bestowing a title upon someone. For example, Meghan Markle and Prince Harry became the Duke and Duchess of Sussex thanks to the Queen.
Per The Sun, it seems "unlikely" that Brooksbank will get a title. Plus, as Cosmopolitan reported, apparently Eugenie's line of succession plays a part. Unlike Harry, who is sixth in line to the throne, Eugenie is ninth in line. She will continue to be pushed further away from the crown if her cousins, Harry and Prince William, have more children. Also, because Eugenie isn't a "working royal" (she's an associate director at London art gallery Hauser & Wirth) she and Brooksbank won't be carrying out official royal duties on behalf of the royal family, so a title doesn't seem necessary.
Tradition also seems to be a factor in whether or not Brooksbank will get a title. Yes, there's a chance that the Queen could decide to give him one, but it doesn't seem likley due to history. As royal historian and writer of the Royal Musings blog Marlene Koenig told Hello! Magazine in January,
"Jack will not be getting any title from the Queen. The precedent was set by Princess Alexandra and the Hon. Mr. Angus Ogilvy in 1963. He turned down an earldom. Princess Anne and Mark Phillips also turned down an earldom from the Queen in 1973."
Koenig also told Town & Country in July about giving a man a title who is marrying a royal woman, "There is no precedent for giving a peerage to the commoner husband of a princess on the wedding day."
Granted, if the Queen decided to give Brooksbank a title, he would have to accept it. As seen in the past, after Princess Margaret married Antony Armstrong-Jones, Queen Elizabeth made him the Earl of Snowden. However, when the Queen's daughter, Princess Anne, married Mark Phillips, he did not take a title and the couple also chose not to accept titles for their children, Zara and Peter Phillips.
Furthermore, there were once reports that Prince Andrew, Eugenie's father, asked his mother, the Queen, to give his daughters' future husbands the title of Earl. Soon after, Andrew denied the rumors in an official statement.
As pointed out by Cosmopolitan in October, there are also clues that Brooksbank won't receive a title. For example, his joint monogram with Eugenie (above) doesn't have a crown, unlike Markle and Harry's monogram. Commemorative china was released in honor of Eugenie and Brooksbank's wedding, which included the design of their personal and joint monograms. Eugenie's personal monogram has a crown over the "E," whereas Brooksbank's is only his initial, "J." Their joint monogram is simply the combination of "E" and "J" without a coronet.
Whether Brooksbank ends up getting a title or not, there's no denying Eugenie is a more modern royal (she even has her own personal Instagram), so her future husband not becoming a Prince or an Earl really isn't that big of a deal. They will probably be just fine continuing to be introduced as Princess Eugenie and Mr. Jack Brooksbank.