This Old Rule About Dukedoms Could Really Screw Over Any Future Daughters Of Harry & Meghan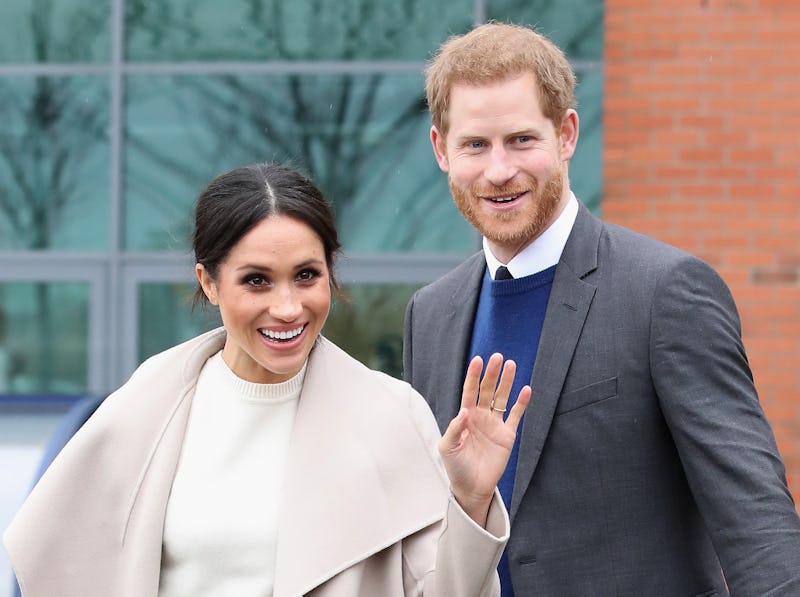 Chris Jackson/Getty Images Entertainment/Getty Images
Now that Meghan Markle and Prince Harry are married, many might be wondering if Harry and Markle's kids will be called "prince" and "princess". Figuring out the titles their possible future children would hold is not only complicated, but is also somewhat infuriating. Queen Elizabeth II bestowed the titles of the Duke and Duchess of Sussex upon her grandson and his new wife, but, according to People, if or when they ever have children, only their sons will inherit the dukedom, not their daughters. And if they were to only have girls, then this particular title would die out just like it did for nearly 200 years before it was given to Harry.
To learn Markle and Harry's daughters and sons aren't seen as equals in this way is unfortunate, to say the least. Markle has made it clear she is a proud feminist and in January she confirmed Harry is a feminist, too. The inheritance of the dukedom title is a longstanding traditional, yet archaic, rule and one that both Markle and Harry probably aren't happy about. If their future sons would receive a title when Harry dies, why wouldn't their daughters? It doesn't make much sense. This is 2018, after all. And if anyone is making the British royal family more modern, it's Markle and Harry.
All that said, there is a chance their daughters could become princesses, but it depends on a couple factors. As InStyle explains, whether or not Harry's children become princes and princesses is pretty much up to his grandmother. The Queen can step in and give her future great-grandchildren the ranking of prince or princess, just like she did with Prince William and Kate Middleton's children.
When Prince George was born in July 2013, his title and status weren't questioned, whatsoever. Seeing as he is the eldest and is a boy, he immediately inherited his official title as His Royal Highness Prince George of Cambridge and his place in line for the throne. And prior to his birth, the rule (put in place in 1917 by King George V) was only a son could become prince, but a daughter could not become a princess.
However, the Queen changed that rule when she issued a Letter Patent in January 2013 for William and Middleton's children and while the Duchess of Cambridge was pregnant with her first child, whose sex was unknown. According to the BBC, the statement announcing the new rule read: "All the children of the eldest son of the Prince of Wales should enjoy the style, title and attribute of Royal Highness with the titular dignity of Prince or Princess prefixed to their Christian names."
Then, in April 2013, before George's birth, Parliament passed a law, the Succession to the Crown Act 2013, meaning the hierarchy of the throne no longer prioritizes gender over age. For example, Prince Louis will not pass Princess Charlotte in line for the throne. She remains the fourth in line with Louis being fifth.
This act also applies to Markle and Harry's children (Harry is currently sixth in line for the throne), but in order for their kids to receive the rank of prince or princess, well, that's up to the Queen. According to Belleville-News Democrat, prince and princess titles are only given to kids of royalty (i.e. Prince Charles) and grandchildren of royalty (i.e. William and Harry). But, again, the Queen could issue a new Letter Patent for Markle and Harry's children.
As Belleville-News Democrat points out, there is also always the chance Charles could ascend the throne before Harry becomes a father. If that occurs, then his children with Markle would be grandchildren of royalty, so they would automatically become princes, princesses, and His or Her Royal Highnesses.
But, for now, and if the Queen doesn't issue a Letter Patent, Harry and Markle's future children, regardless if they're boys or girls, will be known as lords and ladies or more specifically, "Lord or Lady (forename) Mountbatten-Windsor", according to The Independent. If they end up having a boy, he (the first born son) will either be known as "lord" or "prince". Then, when Harry dies, his eldest son will inherit Harry's dukedom, meaning the land he owns and the Duke of Sussex title.
There's also the chance Markle and Harry won't want their children to become princes or princesses. As BBC News reported in June 1999, Queen Elizabeth's son, Prince Edward, chose not to give his future children with Her Royal Highness, the Countess of Wessex the titles of prince, princess, or His or Her Royal Highness. According to the BBC News, a spokesperson said the decision was "the clear personal wish of Prince Edward and Miss Rhys-Jones as being appropriate to the likely future circumstances of their children."
Who knows what will happen when Markle and Harry welcome their own children. Even though it seems possible the Queen will allow their kids to hold the title of either prince or princess, especially since she changed the rule for Middleton and William, it's still bothersome their future sons are given preferential treatment over their future daughters when it comes to the dukedom.