8 Classy Tagline Ideas For Luann's Next 'RHONY' Season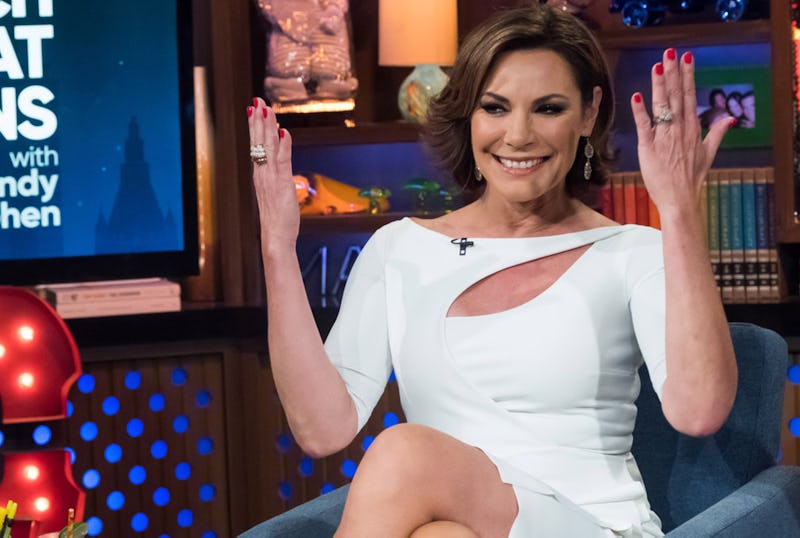 Charles Sykes/Bravo
On Thursday, The Real Housewives of New York City's Luann D'Agostino confirmed she and husband Tom filed for divorce after seven months of marriage. Of course, many are wishing Lu nothing but the best; she's a human being who's going through a very public breakup, and it can't be easy to see herself as a happy, blissed-out newlywed on RHONY Season 9. Even her snappy tagline takes on a new layer of darkness: In the Season 9 opening credits, Luann declares, "The only title I'd trade Countess for is wife." Given the recent news about Luann and Tom's marital status, it's a good thing the Real Housewives update their taglines with current references to their personal lives every season. And whatever Luann's RHONY Season 10 tagline is (assuming she sticks around for another season), it's sure to be one for the books.
If you're reading this, you're probably a Bravoholic who knows the story behind the Season 9 tagline front to back, but here's a quick rundown for good measure: In 1993, Luann married Count Alexandre de Lesseps, becoming Countess Luann de Lesseps. They divorced in 2009. Though she was permitted to hold onto her courtesy title after their split, her Countess status would vanish the moment she remarried. So, when Luann and Tom tied the knot on Dec. 31, 2016, she was no longer Countess Luann. (Well, technically. Official title or not, she will always be Countess Luann in all of our hearts.) She did just as her Season 9 tagline said she would.
Now that Season 9 is winding down, it's probably a solid time to start thinking about next season's opening credits. Here are a few ideas for Lu's Season 10 tagline, take 'em or leave 'em.
1. "Chic C'est La Single, Sa Bonne, Sa Bonne."
Who doesn't love a nod to Lu's hit "Chic C'est La Vie"?
2. "Wife Or Not, I Will Never Be All, Like, Un-Countess." ‌
As Lu has proven time and time again, "Countess" is a state of mind.
3. "Who Needs A Title When Your Necklaces Make A Statement?"
And whose statement necklaces make a bigger statement?
4. "I'm Single & Ready To Drop Another Single."
Ugh, let's hope Lu decides to put out another jam.
5. "Please Don't Let It Be About... Oh, You Know The Rest."
Sorry, Lu.
6. "I May Not Be A Wife Or A Countess, But At Least I Will Always Have Class."
Money can't buy you class, elegance is learned, and that tune is priceless.
7. "Bring On The Eggs à la Française, Because The Countess Is Back In The Place."
It rhymes enough, right?
8. "I Know You Want To Say, 'I Told You So,' But Don't Be All, Like, Uncool."
... Wait, we might have a winner. Here it is:
Beautiful. Powerful. Affecting. Classy. A tagline worthy of Countess Lu.