Your Go-To Guilty Pleasure Show Says A Lot About You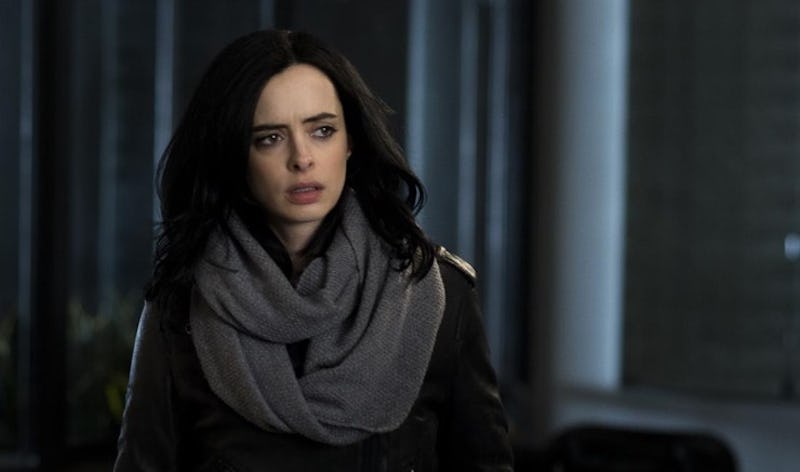 Myles Aronowitz/Netflix
Have you ever had a show that you were kind of embarrassed to tell people you watched? Don't worry, I think we've all been there at one time or another. You may be surprised to learn that what your favorite guilty pleasure TV show says about you may be more telling than you realize.
If you think you've never had a guilty pleasure, chances are you're probably wrong. It's that show you pretend to hate when your co-workers bad-mouth it. The one that secretly makes you feel a bit ashamed when people question who would ever tune in and watch such "garbage." Yet, behind closed doors, you know just about everything about every single person in the cast, because to be honest, you kinda, sorta watch it religiously. I'm talking about the guilty pleasure show that you couldn't stop watching even if you tried. Yep, that show.
Just for a moment, keep that show in your mind and then ask yourself, what does this say about me? The results may actually make you laugh... or cry, depending on the direction your thought process goes. I'm obviously joking, of course, because examining the source of your viewing pleasure will make you realize it isn't really a bad thing at all.
And while I don't exactly know what your go-to show is (and I don't claim to be an expert on the subject), I can definitely say that what you tune into like clockwork most likely piques underlying personality traits you may not have even realized existed. So, here's what your guilty pleasure TV show says about you, based on what genre you gravitate toward.
1. Comic Book-Based Shows
If you're into shows, like Supergirl or Jessica Jones, you may be satisfying your interest in superheroes and problem-solving. I mean, hey, perhaps, seeing someone "save the day" on your TV screen helps you to subconsciously solve daily issues with work or school. If this is you, rock on with your alter-ego, badass self. Because, as you already know, not all superheroes wear capes.
2. Reality Competitions
If you're a fan of competition based shows, like Dancing With The Stars, Survivor, The Bachelor, or Biggest Loser, you probably have a bit of a competitive streak that you've yet to discover and all you really want to do is win, win, win.
3. Daytime Talk Shows
Watching daytime talk shows like Dr. Phil, or even tabloid programs like Maury or Jerry Springer Show, could signal that you are tuned into others and really enjoy listening to people's problems — the good, the bad, and the ugly.
4. Reality Series
This is definitely my guilty pleasure genre. I totally live for reality TV, and I don't mean reality TV in the sense of Top Chef or America's Got Talent. My reality taste totally runs the gamut, ranging from shows like: Keeping Up With The Kardashians, Jersey Shore, and Real Housewives, all the way down to Flavor of Love, Love & Hip Hop, and Bad Girls Club — you name it. The more drama, the better.
But, what I've really come to realize is that it's a sort of a stress reliever to watch other people's drama on TV. I mean, even though we may not totally agree with all the actions involved, I think we can sometimes empathize with their feelings and at least understand where they're coming from. And perhaps, learn a little bit from some situations. You're most likely a people person, who gets invested in others' lives.
5. Animation
It's true that some of us are just big kids at heart and look to cartoons as a departure from the drama that we encounter on the daily. Oftentimes, animation can be just an interesting for adults as it is for children, particularly if it contains a bit of adult content. So there's absolutely no shame in finding joy in Family Guy, The Simpsons, Spongebob Squarepants, Bob's Burgers, or even more juvenile programs, like Fairly Oddparents or Teenage Mutant Ninja Turtles, to help you unleash a bit of frustration and let your inner child run wild.
6. Primetime Dramas
If you're into nighttime soap opera dramas like Scandal, How To Get Away With Murder, or This Is Us, you most likely enjoy a bit of suspense mixed into your everyday life. The thrill of figuring out what's coming next keeps you feeling alive, as you look on from the edge of your seat.
7. Sitcoms
Watching lighthearted situation comedies can certainly be a form of stress relief after a long day. Tuning in to programs such as Big Bang Theory, Modern Family, 2 Broke Girls, or Fresh Off The Boat that depict real-life situations with a comedic twist can mean that you're just a happy-go-lucky human, looking to take a load off and escape from reality.
8. Crime Dramas
It's no fluke that Law & Order and its many spin-offs have continuously intrigued viewers for more than 20 years. I personally think there's a little bit of detective that lives deep down inside of most of us. So it makes complete sense that there are so many police and legal dramas like True Detective, Blue Bloods, and Hawaii Five-O gracing our screens on a nightly basis. Solving issues and getting to the bottom of thing is pretty much engrained in all human beings and perhaps some more than others.
9. Game Shows
If watching Wheel of Fortune, Jeopardy, or Family Feud is your thing, you may have a bit of competitive streak when it comes to using your brain to solve puzzles and quizzes. Were you the spelling bee champ in your elementary school? You can be h-o-n-e-s-t. I won't judge.
10. Horror Series
Maybe you're more of a thrill-seeker and enjoy tuning in to watch shows like The Walking Dead, Stranger Things, American Horror Story, and Vampire Diaries to get your juices flowing. It could be that you find euphoria in the adrenaline rush experienced from the fight-or-flight sensation of a horrific drama series.
11. Fantasy Dramas
Perhaps you're intrigued by the majestical nature of an imaginary universe or the presence beings that do not exist in real life. Shows such as Emerald City, Once Upon a Time, and Game Of Thrones could possibly be your mode of escapism from everyday life. Having an extraordinary imagination could possibly be your personal, magical gift.
If you're still puzzled about what your guilty pleasure show says about you, just take a moment to examine some of your yet-to-be discovered interests and feelings. Most likely, the answer is more obvious than it seems.