11 Things That Make Me Question My 'RH' Obsession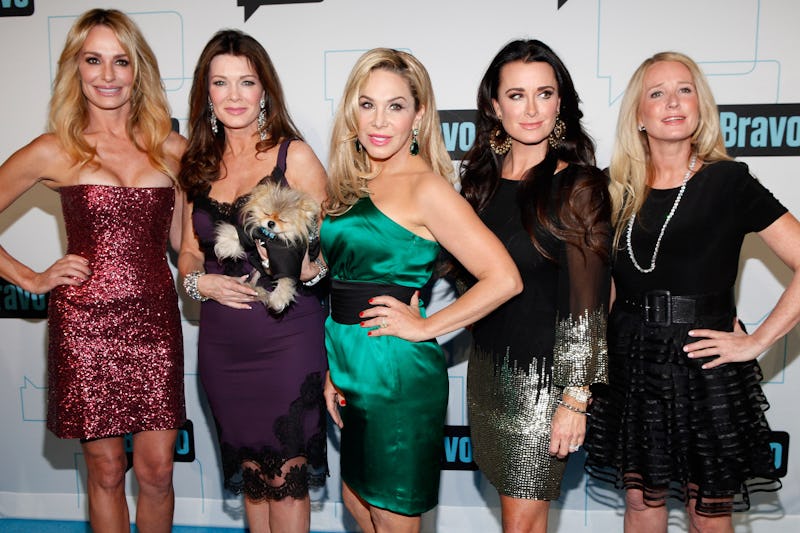 Cindy Ord/Getty Images Entertainment/Getty Images
Over the past 11 years, Real Housewives has successfully managed to creep its way into the hearts of America. There's certainly no doubt that the stars' over-the-top antics and lavish lifestyles have many of us tuning in weekly, longing for more. However, there are several things that have made me question my love for the Real Housewives. As each season of the franchise comes and goes, I often can't believe that I continue to focus my attention on some of the nonsense that these ladies participate in on a regular basis. Sometimes, it seriously seems like such a waste of brain power, but, honestly, there's just something about it that keeps drawing me back in. (I still can't quite figure out exactly what that is.)
Sure, there are many aspects I love about the show — in moderation, of course. I'll be the first to admit I enjoy getting a sneak peek into their fabulous homes. And I'm human, so I'm definitely entertained by watching those luxurious chef-prepared dinner parties they seemingly host without any effort. I mean, who wouldn't love that?
I'd be lying if I didn't mention how much I enjoy catching a glimpse of their wonderful wardrobes and all-inclusive vacations. But even with all of those positives about the show, I still sometimes judge myself for being continuously glued to my television whenever Real Housewives is on. So without feeling like a hater, I'd like to explain my reasons.
1. Drama, Drama & More Drama
These ladies sure know how to bring it. Like, seriously, non-stop drama seems to be the name of the game on many of these franchises. And while it may be entertaining from time to time, the never-ending cattiness sometimes gets a bit exhausting to watch. I really wish some of these ladies would get it together and learn to support one another, instead of tearing each other down all the time.
2. Reality Is Not A Reality
Yeah, of course, Real Housewives is a reality show about ladies living in the lap of luxury. But are these lifestyles a real representation for most women in America? I think not. Sometimes I feel that watching these women go out of their way to prove which one of them is the "richest" tends to give a false sense of what's really happening in the average person's life.
3. The Game Of Musical Friends
I seriously can't stand to watch these ladies be besties one day, only to stab each other in the back the next. I mean, what ever happened to "friends 'til the end"? Does that no longer exist? Just about every RH lady seems to have her own revolving door of friendship, and it seriously needs to stop, because it completely wears me out trying to keep it all straight.
4. Dreadful Drink Tossing
Ugh, when is this trend going to end? It's really getting old to watch reality actors not be able to have a discussion without throwing drinks in each others' faces.
5. Shady Shenanigans
As if backstabbing wasn't enough, what's up with the all shady and snide comments constantly being tossed around? I mean, I definitely don't condone ugly bickering, but I really hate watching everyone exchange indirect sarcasm. Like, half of the time I need a shade dictionary to even figure out what the hell is actually going on. Why can't everyone just say how they feel and agree to disagree without any nasty jargon or physical contact? Is that so hard?
6. The Marriage Reality Curse
It really makes me so sad to see RH couples break things off after years of what seems to be happily wedded bliss prior to joining reality television. It feels like there's at least one casualty on every franchise. I don't know exactly how things change when those TV cameras start rolling, but the "fame" just doesn't seem worth it to me.
7. Too Many Queens Of The Castle
Make it stop already. From Moore Manor to Chateau Dubrow, I've had just about enough of the over-the-top real estate development and house naming. I mean, I certainly love to see how the "rich and famous" live, but the housewives sometimes take showcasing their homes way too far.
8. Tacky Taglines
Have you ever been embarrassed by someone else's actions or words? Yeah, well, that's what happens to me every time I hear some of the cringe-worthy taglines that take place at the beginning of each Real Housewives episode. I always consider turning the channel to avoid the awkwardness, but it's kind of like a train wreck. I just can't seem look away.
9. Snobbish Behavior
OK, we get it. You're richer than most people. And I guess that's partly why we watch, but really, you don't have to rub your excessive wealth in the faces of those less fortunate. And to be frank, it's just plain-old obnoxious, to say the least.
10. It Makes Me A "Mean Girl"
Sometimes after watching hours of this Bravo series, I find that my inner mean girl begins to rear her ugly head. Like, I somehow instantly find myself feeling a tad bit snippier than I did before tuning in. The worst part is that once I get my RH shade lingo together, I'm likely to get "so nasty and so rude" to just about anyone that gets in my way.
11. Dueling Divas
Now this takes the cake for me. It goes without saying that grown women should never ever come to blows over a disagreement of any kind, especially on national TV. It's definitely a turn-off when things get so heated that the ladies can't manage to keep their hands to themselves. It's always such a disappointment.
And still, with all of these reasons considered, I will most certainly still continue to watch. Because Real Housewives is seriously just that good.