24 Great Shows To Watch By Yourself On Netflix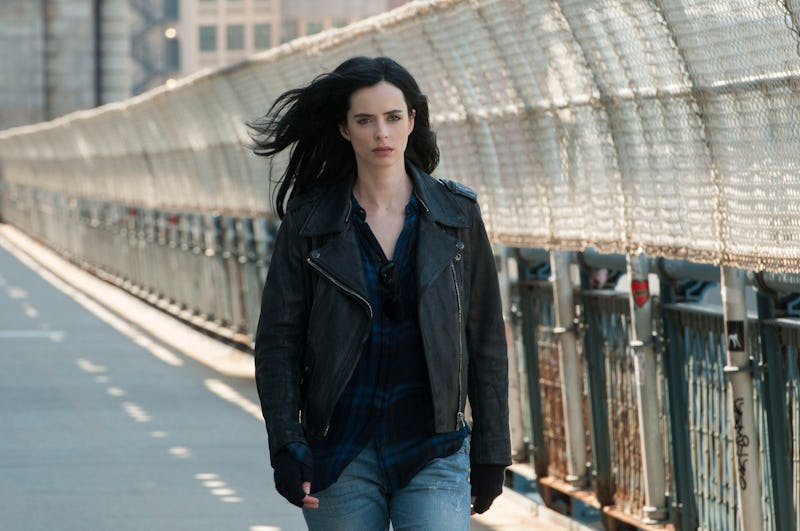 Television viewing can be a social experience. It's a chance to sit down with your significant other, your parents, or your friends, and bond over TV shows that everyone is talking about. But, sometimes, you also just want to watch TV by yourself. There are lot of reasons why you may want to make your TV watching a solo activity. Maybe it's because you're in a funk and need a certain type of show to get you through it, or you're interested in re-watching a show that no one wants to re-watch with you. Most likely, though, it's because it's a guilty pleasure that you're embarrassed to admit you watch or know no one else will appreciate. No matter the reason though, Netflix has all the shows you want to watch alone.
This list isn't about being selfish, but making the most of your alone time. There's some guilty pleasures, some shows that, after years of being off the ai,r deserve a second chance, quite a few CW series, and more than one foreign drama that is worth your precious alone time. The best part about this list, though, is that, if you watch any of these shows by yourself, you won't have to worry about marathoning and upsetting your TV watching partner because you didn't wait for them to watch the next episode. This is just about you and your TV. That's it.
1. Jessica Jones
This Marvel series goes deep into the psyche of the superhero-turned-detective Jessica Jones. It's deep, which makes it the kind of show one may prefer to watch alone and be able to really take he time to take it all in.
2. Drop Dead Diva
This Lifetime series about a model who dies only to come back to life as a high-powered lawyer is a guilty pleasure of the highest order, but it's also great. This is why you should watch it by yourself and love every moment of it. Seriously, your friends are the ones who are missing out... or are doing the exact same thing you are.
3. Unbreakable Kimmy Schmidt
With all the jokes on this show, you don't need someone else's laugh interrupting any punchlines. Watch this one alone so that you get the full effect of this comedy created by Tina Fey. Follow this up with a solo viewing of 30 Rock, if your ribs can handle it.
4. Marcella
Marcella (pronounced with a hard "ch") Backland isn't doing so well. After the devastating end of her marriage, the detective is now trying to solve the case of a serial killer who has become active again after 11 years. On your worst day, this is the show that will make you feel like maybe things aren't going so bad for you after all. Then again, you may not have time to think about it that way, since you'll be too busy trying to solve this murder.
5. Gilmore Girls
Because you only have until November to burn through your re-watch of all 153 episodes, and you don't need someone else slowing you down. Or disagreeing with who you think Rory's best boyfriend was.
6. Crazy Ex Girlfriend
One of the best shows of this recent TV season, which tackles mental illness, feminism and sexuality in musical form, deserves your full undivided attention. So, turn off your phone, and get ready to hole up in your house for a good 18 hours. Do not disturb, please.
7. Master Of None
If you're a millennial who is always over-thinking life, this is a show that is perfect for one of those days where you just want to be by yourself and watch someone else deal with those problems too. Plus, good guy Aziz Ansari makes for one great leading man.
8. Pretty Little Liars
No need to keep your love of this show a secret, but watching it alone definitely adds some extra suspense to the "who is A?" mystery. No spoilers here.
9. Black Mirror
Feeling a little dark? This suspenseful sci-fi show can mirror your mood and keep you on the edge of your seat for seven episodes. The best part is, if you still want to be alone with your TV, you follow this up with a marathon of The Twilight Zone, which is also on Netflix for your viewing pleasure. That should keep you busy until the new season of Black Mirror hits Netflix on October 21.
10. Anthony Bourdain: Parts Unknown
Watch this travel show all in a row, or just skip around and choose the episodes with locations you'd like to visit. No need to compromise, since you're in full control. The benefits of being the the only one watching this show. Nice, right?
11. Jane The Virgin
Some may think this show is some silly telenovela knock-off, but you know it's actually a sly satire of the genre that delves into immigration issues and the reality of motherhood. Because you know this, you also know that this is one of those shows that may be better when watched alone. The suspense, the romance, and the humor are heightened when you can just enjoy it on your own.
12. Call The Midwife
You've already watched all of Downton Abbey on your own, but, don't worry, this British show is the perfect complement. Focused on the story of midwives in Eastern London during the '50s, the series tackles abortion, miscarriages, birth defects, and other topics that rarely get covered on American television. It's why you should watch this one without anyone else; you don't need anyone else to tell you why this show is so good.
13. Damages
Take a page from Broad City 's book, make yourself some cashew stir fry and delve into this legal thriller starring Glenn Close and Rose Byrne that is a hidden gem for fans of Law and Order, who wish that NBC show was just a little less procedural. The twists and turns will have you hooked and wanting to watch episode after episode in a row. Sleep be damned, you've got five seasons to watch. Because you don't know if anyone else can handle that kind of life, you understand that this one is best if watched alone.
14. Buffy The Vampire Slayer
Watch this series straight through, or skip around to your favorite episodes. Either way this series will make you nostalgic for those good ol' WB days when teen dramedies were all the rage, and focused on the drama of being in high school. This show may not stand up to the dramas of this recent Golden Age of TV, but it certainly is always worth another viewing. This time on your own, so you can reminisce about your formative TV watching days.
15. Friday Night Lights
Whether you love football or Coach Taylor's passionate pep talks or just looking at Taylor Kitsch, this is a show that, when watched alone, allows you to full-on ugly cry at your own leisure. Tim Riggins forever.
16. Alias
Before Jennifer Garner was keeping us safe from credit card fraud, she was keeping us safe as secret agent Sydney Bristow. Watch this show for the awesome fight scenes, and maybe Bradley Cooper, but stay for her amazing undercover disguises. Because you'll be rifling through your closet for Sydney-inspired looks while also trying out some of her signature moves, it's best to watch this one all by your lonesome, preferably in a big room without many breakables. Those kicks are not easy.
17. Gossip Girl
Whether you know who Gossip Girl is or not, there's never a bad time to catch up with Serena, Blair, Nate, Chuck, and Dan. When done alone, though, you get to really revel in every juicy, ridiculous moment this CW show had to offer. And, oh, there was a whole lot of them. Like every moment with Bart. Just why?
18. Bomb Girls
When the men are away at war, these women get to run the bomb factory. This Canadian drama takes an "anything boys can do girls can do better" approach, while also showing how hard that can be. Watching this show is an emotional roller coaster, but one that's worth taking — preferably, by yourself.
19. Top Of The Lake
Get yourself ready for the second season of this show, starring Peggy Olsen aka Elisabeth Moss and directed by Jane Campion, by marathoning through the dense procedural that looks at the sexual assault of a young girl in a small New Zealand town. This one is definitely one you have to pay attention to, which is why it's not a bad idea to go on this TV journey alone.
20. Parks And Recreation
Make yourself a batch of waffles and sit down to watch Leslie Knope make everything seem possible. Disclaimer: this show will likely leave you laughing while also upping your general interest in your town's local politics. But, when watched alone, no one will need to know how far you take your fandom — or just how many waffles you ended up eating.
21. The L Word
Even now, there are not many shows that deal with lesbian and bisexual relationships, which is why this show still stands out. The Showtime series, which went off the air in 2009, is worth watching now in 2016 to see just how ahead of its time it really was. For those who may feel a little embarrassed by the no holds-barred sex scenes in this show, don't worry; that's just one of the reasons why you may want to watch it alone. The other is that you're going to have trouble keeping your eyes dry as the series goes on. From tears of joy to sadness, you're going to feel all the emotions with this one.
22. How To Get Away With Murder
Don't let anyone ruin any of the twists and turns of this Shondaland series, which is gearing up for its third season. Just put it on and keep watching until the episodes run out. Watching it alone makes sure no one influences your opinions on anything, which can be good when it comes to solving any mysteries the show has to offer. The just watch it alone advice works when watching any one of the Shonda Rhimes' shows — like Scandal and Grey's Anatomy — both of which are also on Netflix right now. Just sayin'.
23. Skins
This teen show makes you happy that you're an adult, but that doesn't mean you won't be bawling all the way through it. There are some very serious things going on here that I won't spoil for any first time viewers. But, since you don't need anyone else passing judgment on your decision to watch a British teen series, it's best to go it alone. Especially if you need to feel totally OK with drooling over a young Nicholas Hoult in Seasons 1 and 2.
24. Parenthood
Need a good cry? This is the perfect show to watch. I recommend keeping a tally of how many tissues you use per episode, just to make this single viewing even more fun. Or sad? You get to decide since it's just you and your TV.
While I don't condone ignoring your friends and family in the name of good television, these shows will make all that time you'll have to spend apologizing to them totally worth it.
Image: Netflix