Boohoo Have Created The Fashion Equivalent Of A 'Meal Deal' & It's Totally GENIUS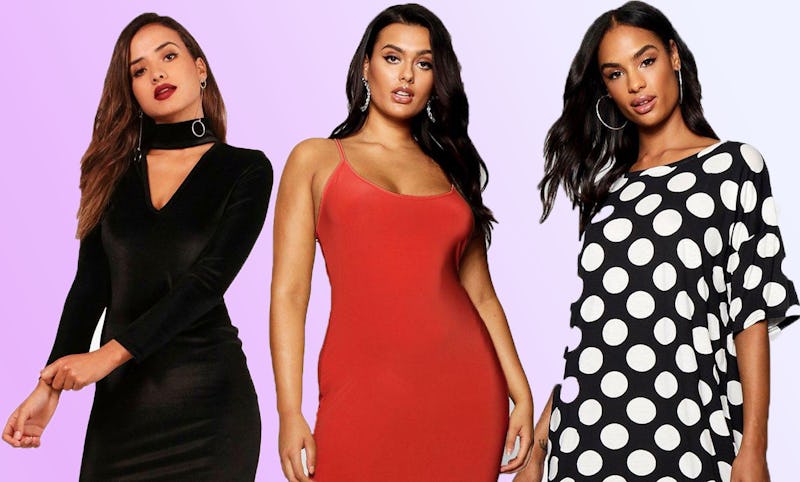 Boohoo
God, I am hungry. But, maybe not in the way you think. Honey, I am starved for fashion. Yes, 100 percent in need of a saucy as, XL portion of fabulous fashion. Hey if you are too then finally, here is your way out. A way to satiate the sartorially starved and leave you full to the brim. But what is the Boohoo outfit meal deal? And more importantly, when can I get my greedy little mitts on it?
OK, so basically, Boohoo has gone on and given you the kind of meal deal you never realised you wanted. No, not a free side with your midweek pizza from the place that you get delivery from even though it's a five minute walk away. Nope, it is a fashion meal deal. Yes, for a mere £30 you can get a dress, shoes, and bag. Whut?! Yep. This offer gives you an outfit for a cheap-as-chips price.
Too good to be true? Well, guys it's not. Real talk, this is not a con. You are offered a selection of a starter (meaning shoes), a main (meaning a dress), and dessert (meaning a bag). Somebody call the fashion police, we've been bargained.
What is also brilliant is that people are not tied to one sort of outfit. Like, if you are not the biggest fan of dresses, there are also playsuit and romper choices, as well as an actual slew of varying heel/shoe types in the starter section as well as your glitzy glam clutch to your tomboy fanny pack. Hell yes, the crew over at Bohoo really know what's up. Has this changed the face of fashion?
Well, it's certainly made it cheaper. Boohoo has long been an affordable fashion label, with a pretty generous offering of styles and a broader than most size range. An impressive feat considering how difficult it is to afford a lot of very expensive high street brands, that maybe aren't even making clothes that you actually want to wear. Ugh, what a bummer.
Recently the brand collaborated with Disney for a cool AF street wear range with bicycle shorts for comfort and style. Definitely the two most important factors IMO when choosing a lewk. They've even done a range with flipping Pepsi. Yes, with tracksuits and rip away tracksuit bottoms to die for, the design team over at Boohoo HQ really know how to keep their looks fresh.
Not satisfied enough with giving customers incredibly cool offerings from iconic brands, Boohoo also has many celebrity collaborations. To name but a few, one with Paris Hilton to satiate your inner early '00s past self, one with body positivity icon Jordyn Woods, and even UK reality star legend, the Gemma Collins.
Considering all of the options available, from leopard print bodycons, to t-shirt dresses I need in my life, to heels to get you closer to the skies, there are options for everyone.
With prices that low, you will be buying two. Uh oh, I can feel money falling out of my bank again.
Check out all the bargains and lit AF fash, here.