Blac Chyna Fires Back At Rob On Instagram Live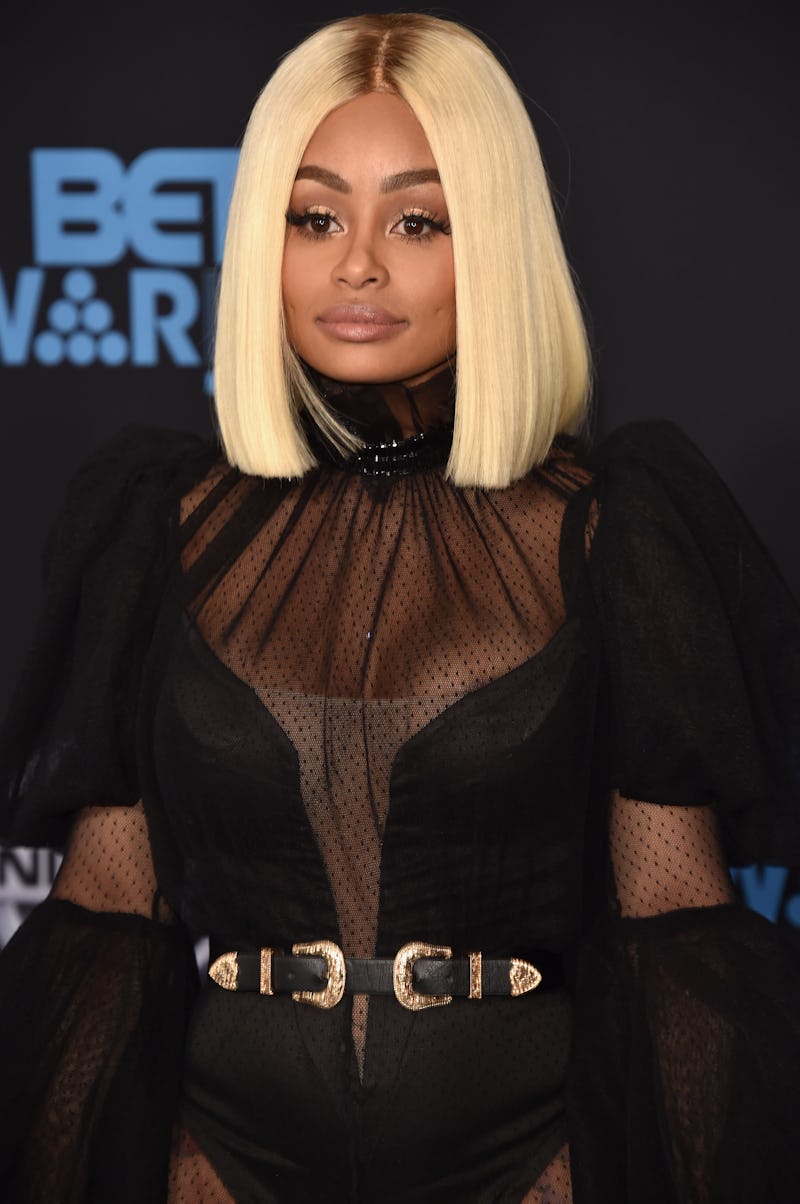 Alberto E. Rodriguez/Getty Images Entertainment/Getty Images
The social media feud between Blac Chyna and Rob Kardashian just took another twist. On Wednesday afternoon, Blac Chyna recorded an Instagram Live, which seems to be directed at her ex. And ever since she uploaded it, fans are likely wondering what the song is in Blac Chyna's Instagram Live video. The mystery has been solved: The track playing in the background is "Bodak Yellow" by Cardi B, and it's a fitting choice.
UPDATE: Blac Chyna's lawyer told ABC News in a statement "We are considering all legal options and recourses at this time." Bustle has reached out to Kardashian for comment, but did not receive a response at the time of publication.
UPDATE #2: Kardashian's lawyer told TMZ in a statement that Kardashian's actions were a "spontaneous reaction that he regrets" and that they will not be contesting the restraining order. "Rob's only concern is for the well-being of baby Dream," the statement finished.
EARLIER: According to Genius, Cardi B's lyrics make reference to her past as a stripper, and how she has changed her life and is no longer willing to be defined by her past. Blac Chyna is a former stripper as well, and she's now a model and entrepreneur. Given that some of Kardashian's Instagram posts accused Blac Chyna of being a gold digger, the lyrics have an extra layer of relevancy. It seems that using Cardi B's song is a way for the reality star to remind Kardashian and the rest of the world that she's been making her own way for a long time. This seems especially true, since it's a song about a woman who owns her past and isn't interested in what anyone else has to say.
On a day when Kardashian shared what's believed to be Chyna's phone number and alleged nude photos without her permission, it's no wonder she's fighting back through song.
Earlier on Wednesday, Blac Chyna posted on Snapchat accusing Kardashian of abusive behavior. The posts have since been deleted. Whether or not Blac Chyna's allegations are true, Kardashian's behavior on Instagram and Twitter is inexcusable. Sharing nude photos could be viewed as revenge porn. (Bustle has reached out to reps for Chyna and Kardashian for comment on the claims and posts each of them made on July 5, but did not receive an immediate response.)
At the end of the day, it doesn't matter if Kardashian's allegations of cheating are true or not; that still doesn't give him the right to violate Blac Chyna's privacy. Although it's unfortunate that the couple's fight is playing out so publicly, "Bodak Yellow" truly does seem like the perfect anthem for Chyna right now. Even as she's facing criticism from the internet and alleged attacks from her ex, she's sticking up for herself in her own way.