Everything You Need To Know About When Cardi B & Offset Are *Actually* Tying The Knot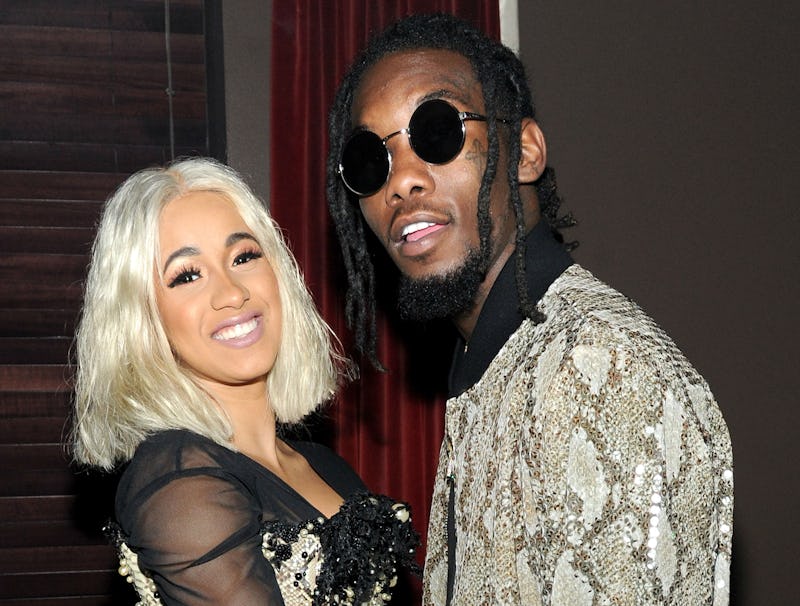 Craig Barritt/Getty Images Entertainment/Getty Images
Once the world is finally blessed with a little Bartier Baby, fans will be anxiously awaiting another momentous occasion: the wedding of Cardi B and Offset from Migos. So, when are Cardi and Offset getting married exactly? Well, the short answer is "TBD," but if Cardi decides to stick with her dream wedding plans, the couple might ended up waiting until Fall 2019.
UPDATE: On June 25, Cardi B confirmed she and Offset secretly got married last year in September. In a message on Twitter, she wrote, in part:
"There are so many moments that I share with the world and there are moments that I want to keep for myself! Getting married was one of those moments! Our relationship was so new breaking up and making up and we had a lot of growing to do but we was so in love we didn't want to lose each other"
EARLIER: The two hip-hop stars got engaged back in October 2017, and they've been dropping occasional hints about how they want their big day to go down ever since. Just one month after Offset proposed, Cardi told New York Magazine that she'd already made some style-related decisions for the ceremony. "The world is not ready for it," she said. "Everybody got to be wearing red. And my bridesmaids are gonna be wearing suits, what's good."
Cardi, on the other hand, is planning on going a little more low-key, in terms of what she'll be wearing. On Feb. 9, 2018, the rapper revealed to the New York Post that she wanted her wedding dress to be "traditional, big, and white." Hmm, you mean, something like this, perhaps? Like the gown you wore in the video for "Be Careful"? Interesting.
Cardi dropped some details about a potential wedding date in an interview with E! News in January 2018. The rapper revealed that she was set on getting married "around the fall time," but that her and Offset's upcoming schedules might not allow for them to tie the knot this year. "It's not only about the wedding date," she explained. "It's not just one day. It's gotta be a whole almost two weeks type of thing. We want a honeymoon. Do we even have time for that?"
Flash-forward three months later, and fans learned that work schedules wouldn't be the only thing keeping Cardi and Offset busy for the foreseeable future. While performing "Be Careful" as the musical guest on the April 7 episode of Saturday Night Live, the close-up camera slowly panned back to reveal that Cardi was pregnant. Fans were shocked. It was beautiful.
The Bartier Baby is reportedly due sometime this summer — it could even been as soon as the beginning of July, according to The Cut — so, it's hard to imagine that Cardi and Offset are going to be able to find the time to get a Fall 2018 wedding together. Neither one of them has had much to say about it at all as of late, but they're no doubt a little consumed with getting ready for the baby.
Case and point: this tweet from Cardi B on June 7, which just goes to show how much their priorities have changed over the last few months. "Funny how in the winter me and [Offset] was talking bout buying Lambos or Ferraris for the summer," Cardi wrote, "now we buying wagon trucks cause of the baby and the kids. It's going to be a bute family summer I'm loving it."
Cardi confirmed that she and Offset would be adding a Bartier Baby Girl to their bute little family during a May 9 interview on The Howard Stern Show (as per People). No word on what they'll be calling her yet, but Cardi did reveal that Offset had already decided on a name. "My dude named the baby," she admitted on The Ellen DeGeneres Show. "I really like the name."
No matter when Cardi and Offset finally decide to get married, the whole thing is undoubtedly going to be a scene, y'all. Name one person who doesn't wanna party with Cardi at that reception. I'll wait.