These 'Game Of Thrones' Handbags Will Have You Feeling Like A Mother Of Dragons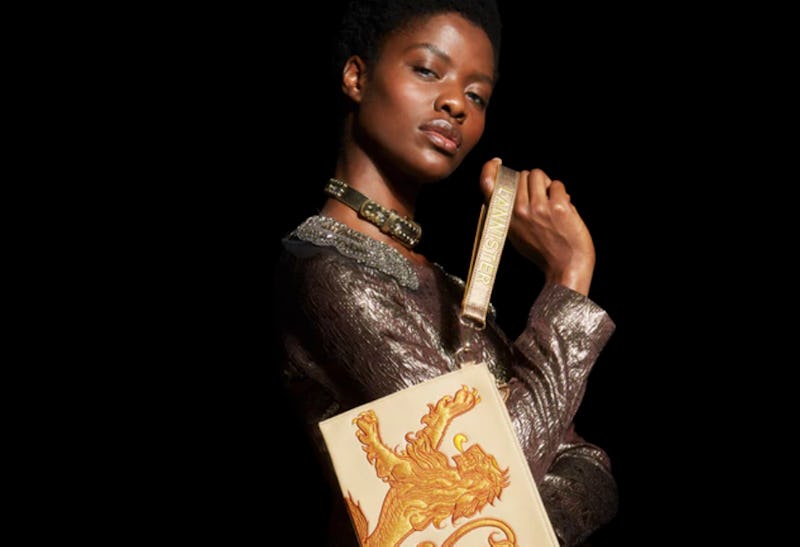 Dressing in a full length gown and wearing a rubber dragon on your shoulder isn't really the greatest way to embrace your inner Daenerys Targaryen (but to each their own). However, thanks to the new Danielle Nicole x Game of Thrones handbags, you can officially take your house pride and incorporate it into your style without looking like it's Halloween. From backpacks to clutches to wristlets, the new pieces are perfect for everyone who's ever had a Game of Thrones marathon weekend.
If the name Danielle Nicole sounds familiar, there's a good reason. The brand has long been known for their fabulous pop culture inspired pieces. Not only do the bags allow you to embrace your favorite fandom, but they're super cute to boot. From Disney personalities to Harry Potter merch and Rugrats items, Danielle Nicole's pieces are the perfect way to show off your love of a show or film in a way that's totally stylish.
Now, Danielle Nicole is branching out into yet another popular show, and these pages will have you feeling as fierce as Arya Stark wielding Needle. The multitude of new Game of Throne bags from Danielle Nicole feature symbols from everyone from House Stark to House Targaryen, and they can be yours so soon.
According to the brand, the new Game of Thrones collection will be available beginning Nov. 8 at the Boxlunch website. You've barely got any time at all to wait, and the best news is that you'll have plenty of time to rock your new bag before the upcoming final season of the show begins to air.
As for the pricing, these bags also won't break the bank. In fact, they're pretty affordable. The collection will be priced as low as $18 and won't exceed $88. Given that the new pieces range from items as small as wristlets to larger sized totes emblazoned with the Targaryen dragons, the price is definitely right when it comes to this new collaboration.
The new set of bags and accessories from the brand will have 18 pieces, and the designs are perfect for everyone thanks to their diversity. Whether you're committed to backpacks (complete with the Stark direwolf sigil) or you're more of a Lannister lion wristlet kind of person, the creations from Danielle Nicole offer a wide variety of ways to showcase your favorite house in Westeros.
Game of Thrones themed merch isn't exactly an unexpected product, though. The show has become so popular and engrained in pop culture that you can get everything from tee shirts to makeup brushes. In fact, Box Lunch, where you can snag the Danielle Nicole, had their very own collection inspired by the show. Game of Thrones mania is officially real.
If you want to snag the new Danielle Nicole x Game of Thrones collection, mark your calendar for Nov. 8 and get ready to show off your fandom style. Whether you're a member of House Lannister, House Stark, or House Targaryen, these new pieces are perfect for you.