This 'House Of Cards' Promo With Claire As Prez Will Get You So Hyped For Season 6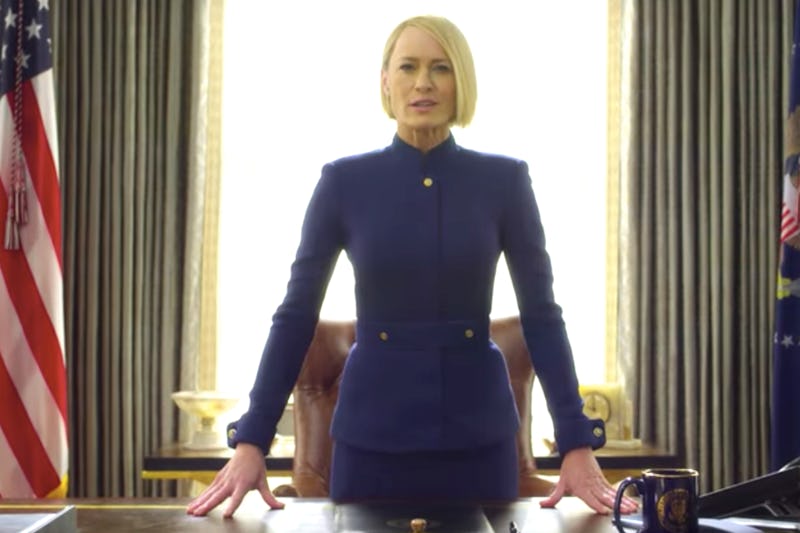 Netflix
Fans of the political Netflix drama may have been sad to find out that House of Cards Season 6 was the final season, but don't worry. It's going to be a good one. That much was proven when Netflix released a House of Cards Season 6 teaser starring Claire Underwood, one that will get you so hyped for the House of Cards Season 6 premiere that you'll forget all about the show ending once it's finished. But if you're hoping to find out exactly when that premiere will be, you're about to be disappointed. The short clip didn't give fans an air date any more specific than "Fall." And that covers a lot of time.
The clip doesn't cover a lot, though. We're taken into the White House, where busy workers are doing busy things. We then close in on a chair, which spins around to reveal Claire Underwood. She stands, gazing right at us, her hands on the desk, and says: "We're just getting started." The screen then abruptly cuts to black and the words: "Hail to the chief."
It's clear that this clip is meant to show what many fans already know: that the show may be ending, but the final season is going to be even better than any that came before it. And that's because of Claire, who's been running this show for years now anyway.
The end of the show was announced rather abruptly in the wake of sexual assault allegations against former House of Cards Kevin Spacey. Anthony Rapp accused the actor of attempting to have sex with him when he was underage, an accusation that Spacey replied to on Twitter by saying,
"I honestly don't remember the encounter, it would have been over 30 years ago. But if I did behave then as he describes, I owe him the sincerest apology for what would have been deeply inappropriate drunken behavior."
However, Rapp was only the first person who would accuse Spacey of inappropriate sexual behavior. After Rapp's interview, production on the sixth season of the show was suspended while Netflix investigated all of the claims. According to a statement from the streaming service:
"Media Rights Capital and Netflix are deeply troubled by last night's news concerning Kevin Spacey. In response to last night's revelations, executives from both of our companies arrived in Baltimore this afternoon to meet with our cast and crew to ensure that they continue to feel safe and supported. As previously scheduled, Kevin Spacey is not working on set at this time."
Spacey would later announced through a spokesperson that he was seeking treatment, and the investigation concluded with the actor being removed from the final season of House of Cards, which would focus entirely on Robin Wright's Claire Underwood instead.
In light of all of that, it's no wonder that there's no exact premiere date for the sixth and final season of the show. Honestly, it's great to just be getting a teaser clip that gives fans all the reassurance they need that the show will be both the same as it's always been but also 10 times better with Claire in control. Not that there was ever any doubt of that — seriously, have you seen Claire in action? — but it's nice to have it officially confirmed.
So, while fall may be way too far away, not to mention a completely vague time for a show to premiere, Season 6 will be worth the wait. After all, with all of the new and returning faces joining Claire for the final season, fans probably won't be thinking about Frank Underwood at all.
If you or someone you know has been sexually assaulted, call the National Sexual Assault Telephone Hotline at 800-656-HOPE (4673) or visit online.rainn.org.