This Puppy-Themed Eyeshadow Palette Is A Must-Have For All Dog Lovers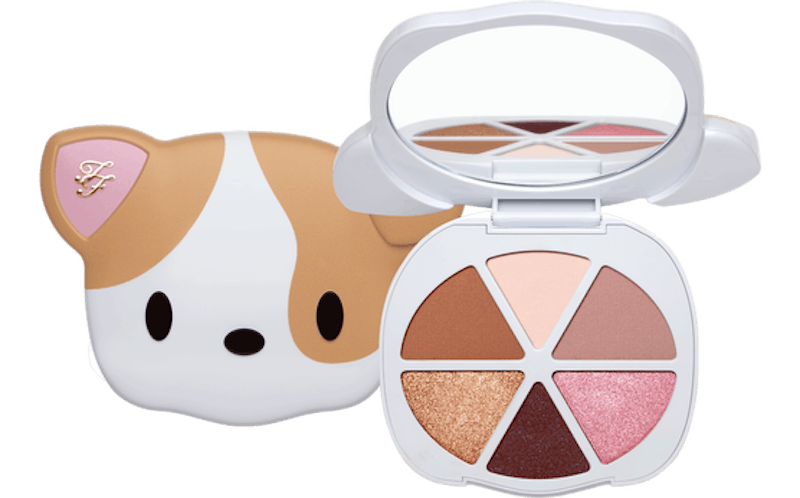 The world of dogs and the world of makeup don't often collide. While there are cat headbands or kitty-theme lip glosses, the puppers seem to get left out, but not any more. Too Faced's Pretty Puppy eyeshadow palette is the adorable, dog shaped makeup product you've been waiting for, and there's more to this adorable collection of shadows than just its perfect packaging.
If you're a fan of Too Faced, you may already know that co-founders Jerrod Blandino (who's also the Chief Creative Officer of the brand) and Jeremy Johnson are animal lovers, and there's one fluffy friend you've definitely seen on Blandino's and Too Faced's Instagram. That sweet face is Blandino and Johnson's adorable dog Clover (who, yes, has his own Instagram that you should be following). Clover is actually the inspiration for the brand's new Pretty Puppy eyeshadow palette, and it'll have you fawning all over your computer screen once you see this adorable new product.
The Pretty Puppy palette is a six-pan eyeshadow palette with wearable, every day shades that you'll definitely want to wear whether you've got a chill day with friends or a night out planned. With a mix of pink, brown, and gold, they're perfect for the novice makeup wearer and the most experienced of eyeshadow mavens. Good news, Too Faced fans. This new puppy-inspired palette is coming at you so soon.
According to the brand, the Too Faced Pretty Puppy Palette will be available tomorrow, Sept. 12. That's right, you barely even have to wait until you can get your hands on this super cute new goodie. Even better? It's totally affordable. This every day basics palette rings in at only $28. Once broken down, that's only a little over $4.50 per shade.
The packaging could just be the cutest thing that Too Faced has ever created, and the brand has a plethora of adorable products, just look at their Peaches & Cream line. Of course, the palette is designed after Blandino and Johnson's dog Clover. This isn't the first time that Clover has made an appearance, though. It is, however, the first that his face has made up an entire product. After seeing it, though, who could possibly resist?
There's one more thing you should know about the launch, though, and it actually has nothing to do with how cute Clover is. Too Faced is celebrating the launch of the Pretty Puppy palette by giving a little something back to the world. In honor of the palette, Too Faced is donating a whopping $150,000 to Best Friends Animal Society. Are you crying or is that just a little mascara flake in your eye?
If you love neutral, every day eyeshadow palettes and adorable packaging, the Too Faced Pretty Puppy Palette is about to be your new best friend (other than your doggo, obviously). Mark your calendar for tomorrow, Sept. 12, and get ready to shop this affordable launch exclusively on the brand's website. Who says it's a bad thing when everything goes to the dogs?