'This Is Us' Isn't On Netflix, But There's Still A Way To Get Your Pearson Family Fix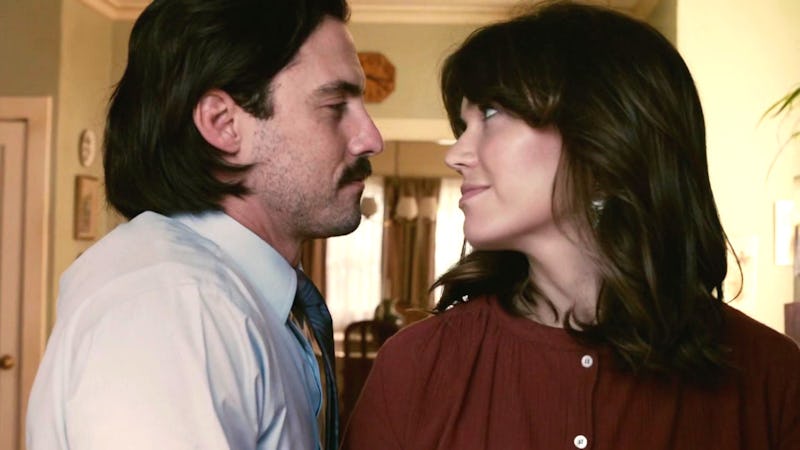 NBC
Season 2 of This is Us premieres on Tuesday, Sept. 26. So, the next logical question: When will This is Us come to Netflix? We need a heartwarming melodrama to marathon, '70s styles to ogle, and so much crying to get out of our systems. Not to mention the supernaturally attractive cast, though, of course, that counts too. The 2017 Emmy Awards air on Sunday, Sept. 17, which has fans even more eager to relive the heartbreak of Season 1. So, when will This is Us Season 1 make its way to Netflix? It has to be soon — or at least fans sure hope so.
Currently, This is Us Season 1 is available to watch online, but only on Hulu or pay-per-episode from Amazon. Netflix has dozens of former NBC primetime staples, including Emmy winners such as 30 Rock, Parks & Recreation, and The Office. It also has several back seasons of Law & Order: SVU, though Hulu has the rights to stream the most current episodes. With the 2017 Emmys so close to the premiere of Season 2 of This is Us, first-time watchers (and devoted fans) could use a swift, easy way to catch up—and see what the 10 Emmy nominations fuss is all about. Oh, and Milo Ventimiglia. Everyone deserves to look at Scruffy Dad Milo Ventimiglia.
Season 1 of This is Us has already won multiple awards in 2017, including a People's Choice Award, a Television Critics Association Award, and an NAACP Image Award. It was nominated for three Golden Globes, and has the potential to win 2017 Emmys in multiple categories. It's consistently ranked one of the best breakout shows of the last TV season. So, why is it only available to watch on Hulu? Netflix needs to make this happen.
Occasionally, some seasons of television are not made available to stream in full until the following season has aired on TV. Examples: It's Always Sunny in Philadelphia and New Girl, both of which are available on Netflix with the exception of their most recent seasons. Other times — depending on the licensing model — seasons are available to stream almost immediately after they air. Season 1 of ABC smash Scandal, for instance, was available on Netflix before Season 2 of Scandal had premiered.
In the mean time, though, there's still plenty to stream on Netflix for fans who need a This is Us actor fix. Mandy Moore stans can watch romantic comedy Love, Wedding, Marriage, which (fun fact!) was directed by Dermot Mulroney, star of rom-com classic My Best Friend's Wedding. Fans of Ventimiglia can fall in love with Jess Mariano all over again on eight seasons of Gilmore Girls. Word of caution, though: The bad boy of Stars Hollow may not age like a fine wine. Of course, Sterling K. Brown's incredible turn in American Crime Story: The People vs. O.J. Simpson earned him a 2016 Emmy award for Outstanding Actor in a Supporting Role. If there's even the slightest chance fans missed it, it's absolutely worth the watch now. The Kardashians do get more than a name-drop. The whole thing is incredible.
Don't worry, though; we know the show is more than just the Pearsons. Actor Chris Sullivan, who plays Toby Damon, guest-starred in a little Netflix original series called Stranger Things. He appeared in the first two episodes of Season 1 as Benny Hammond, the ill-fated diner owner who feeds Eleven.
So, that's two drama miniseries, a 90-minute romantic comedy, and seven seasons of a mother-daughter classic, plus the Netflix special episodes. If that can't tide over the fans, then probably nothing will. However, there are 18 full-length episodes in Season 1 of This is Us, so if NBC wants to get people (re-)hooked before Season 2 premieres, they have to get it onto Netflix — stat.