How Michael Peterson's Sons Are Moving On 14 Years After 'The Staircase' First Premiered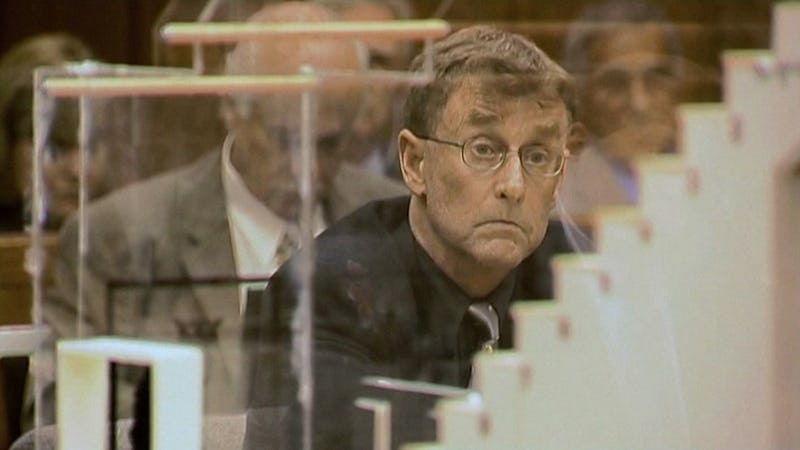 Netflix
It seems that every few months, a new true crime show takes over the conversation. But what fans of the genre might not realize is that The Staircase, premiering on June 8 on Netflix, actually preceded other renowned docuseries such as The Jinx and Making a Murderer. The Staircase (or, Soupçons) originally aired in 2004 on French television, and later came to the Sundance Channel. Directed by Jean-Xavier de Lestrade, the Netflix drop also includes three new episodes, continuing to follow Michael Peterson, a novelist who was accused of murdering his second wife, Kathleen. Alongside conversations with Michael, The Staircase also features interviews with his family, including sons Todd and Clayton Peterson. Where are they today, 14 years after the series' first premiere?
According to a report by NBC News, Kathleen Peterson was found dead on Dec. 9, 2001, at the bottom of the stairs in the couple's Durham, North Carolina mansion. Peterson was charged and ultimately convicted of murder, but was released in 2011 after Judge Orlando Hudson vacated the verdict and ordered a new trial when the testimony of blood analyst Duane Deaver was called into question, per The News & Observer.
It's been 17 years since Kathleen Peterson's death, and Michael Peterson was in prison for eight of those years, per a Daily Beast essay by The Staircase director Jean-Xavier de Lestrade. However, Peterson continues to maintain his innocence. In February 2017, rather than go through another trial, he entered an Alford plea for a charge of voluntary manslaughter, which allowed him to maintain his innocence while also acknowledging the strength of the prosecution's case, per the Associated Press.
As for the children, Clayton and Todd are Peterson's sons from his first marriage, per Salon. The two also have three sisters. Martha and Margaret are the daughters of Elizabeth Ratliff, who was a family friend when Michael Peterson and his first wife lived on Rhein-Main Air Base in Grafenhausen, Germany, according to the same NBC News report. After Ratliff's death in 1985, the Petersons adopted Martha and Margaret. Caitlin Atwater is Kathleen's daughter and Michael's stepdaughter.
Clayton and Todd both appear in the original Staircase episodes, supporting their father during his trial. The former stated in an August 2016 interview with The News & Observer that he was living in Baltimore, Maryland, and has two children, who at the time were 4 and 6. His brother Todd, on the other hand, lives in Tennessee, according to another article by The News & Observer.
However, the two men haven't shared much else about their private lives, which is understandable, since they've spent much of the last two decades in the spotlight. "It has gone on forever," Clayton told The News & Observer in the same 2016 interview outside the Durham County Courthouse. "I was quite shocked when I woke up this morning and my father showed me a picture from 15 years ago of my brother, my father and myself sitting, well, down the street. And part of me has forgotten a lot of how long it's been because we've just been trying to live in the moment and appreciate what we have." When asked what he would like the outcome of the trial to be, Clayton said, "I don't have any hopes or expectations. I'm here to support my father."
The Staircase director Jean-Xavier de Lestrade doesn't take a solid stance on Michael Peterson's innocence or guilt. "I do not know how Kathleen Peterson died," he wrote in the same Daily Beast essay. "I cannot assert with absolute certainty that Michael Peterson did not kill his wife. No one can. I am convinced, however, that Michael did not receive a fair trial in 2003. The prosecutors pulled out all the stops in order to procure a guilty verdict." This belief is alluded to in The Staircase trailer. "They lied, they cheated, they did everything to convict me," Peterson says.
That's not an opinion that everyone shares, as the documentary shows. But his sons are still standing behind Peterson in the final episodes, as the legal ordeal comes to an end.