Someone Wore A Bekah M. "Found" Shirt On 'Women Tell All' & Bachelor Nation Is Still Laughing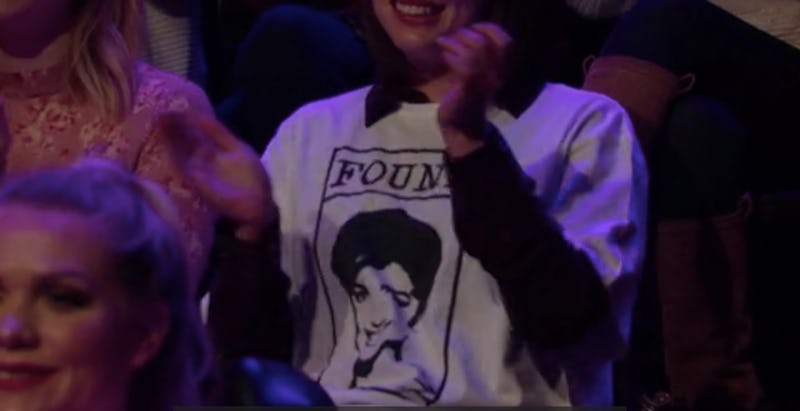 Hulu/ABC
Hometown dates, fantasy suites, and someone getting drunk on night one are staples in the Bachelor franchise. While live finales and 2-on-1 dates are a relatively new feature, the 'Women/Men Tell All' specials are constant. At the latest 'Women Tell All,' a Bekah M "Found" shirt was spotted in the audience by a savvy Twitter users, and it was a shady hit with Bachelor Nation.
If you don't keep up with Bachelor news outside of the show, you may be wondering why such a shirt has spawned laughs across the Bachelor Twitterverse. Contestant Bekah Martinez, the 22-year-old nanny from Los Angeles, quickly became a fan favorite with her pixie cut (a first ever for the franchise), bubbly personality, and seriously on point reaction gif game. All of that, however, couldn't compare to the story of Martinez ending up on a missing persons list in California. And yes, this is a true story no matter how far-fetched it may seem.
A few weeks into the first episode of Bachelor Arie Luyendyk's season, news broke that Martinez was on a missing person list. According to Buzzfeed, a Bachelor viewer spotted Martinez on the list, and the rest is a viral sensation. She'd been reporting missing by her mother in November, and had been on the list ever since. Don't worry, though, she's clearly been found as the shirt implies.
Martinez revealed on the 'Women Tell All,' that she'd been eliminated by Luyendyk and chose to depart for a marijuana farm (yes, true story) to heal her wounds. While there, she had no cell service but was finally able to contact her mother to let her know that she no longer belonged on a milk carton. All's well that ends well, right?
It certainly seems so, but fans of Bekah and the show latched on to the story. Because honestly, why wouldn't you? It could just be one of the strangest pieces of news to come out of any season of The Bachelor franchise, so of course, there needed to be apparel to commemorate it, right? If Dean Unglert can make a dog-themed fashion line, why can't fans cash in, too?
Attendees at the taping of "Women Tell All' wore Found T-shirts in honor of Martinez, and they were genius. The somewhat shady shirts could be seen on a few people, but most notably popped up on Allison Raskin, co-author of I Hate Everyone But You and co-host of YouTube comedy channel Just Between Us.
Raskin's shirt became a hit on Twitter after it was featured before Martinez's segment, and the writer should really consider making massive quantities of them because Bachelor Nation seems to be in love. Talk about a random side hustle, right?
The not-so-subtle but definitely hilarious shade of the shirt made it a major hit.
Viewers and Bachelor Nation fans were quick to request their own.
It seems that Raskin could really turn a profit here.
Maybe it's time to add a new business endeavor?
There certainly appears to be more than a passing interest. Considering Martinez's mother is no longer in the dark about her daughter being holed up on a marijuana farm, it's totally fine to look back on the situation with a bit of a chuckle.
If you're a member of Bachelor Nation, the Bekah M. Found shirt may just be the one piece of Bachelor history that you need to own. While Chris Harrison can say that this year's finale will be the most dramatic yet (and while that may be true based on contestant Caroline Lunny's fierce comments to Luyendyk), an argument can be made that Martinez's missing person saga is actually the most dramatic (and hilarious) moment from this season.