This Vans x Marvel Clothing Line Celebrates Your Inner Comic Nerd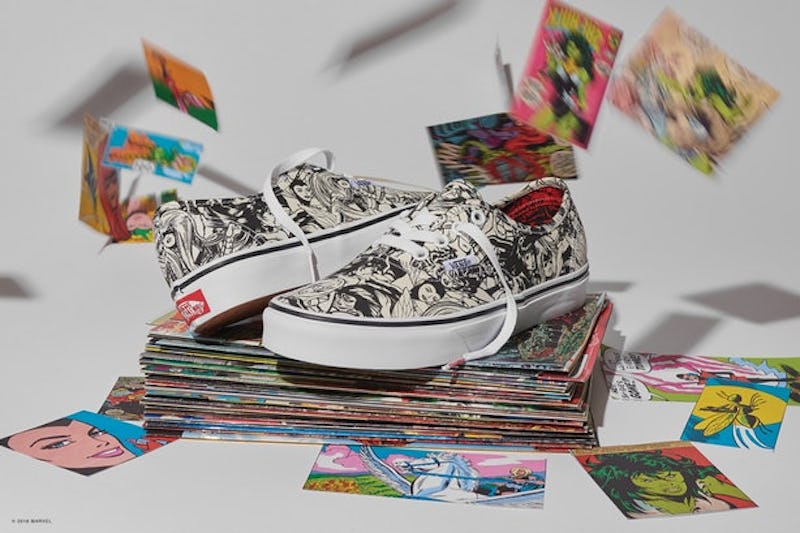 Courtesy of VANS
If the pain of Marvel's Avengers: Infinity War still stings, there may be a way to ease the ache in your heart. No, it certainly won't fix some of the moments that went down in the blockbuster, but it'll help your celebrate some of your faves. The Vans x Marvel collaboration is here (well, almost), and it'll help you rep your favorite heroes and villains from the Marvel Universe (both cinematic and not).
If you're a comic book fan, these kicks are going to right up your alley. While tons of Marvel merch exists on the market already, the Vans collaboration with the comic book giant revolves around the actual comics themselves, not just the Marvel Cinematic Universe created by Disney.
If you love all things Marvel, like X-Men or Deadpool, this Vans collection won't just be restricted to those characters you've seen on screen in the MCU. You'll get them all. Well, maybe not all because that could be excessive, but you'll get a lot, and they won't have pesky studios to separate them.
Where can you shop the collection? According to the Vans website, you can sign up to be notified of details about the collection. Those details should include all the locations you can shop the gear, but it seems very likely that it'll be available on the Vans website given the e-mail sign-up. Don't get your credit card out just yet, though. The pieces haven't launched yet. The Vans x Marvel collection drops on June 8, so you've got some time to prep for what to buy.
As for what you can expect from the collection, it's basically a smorgasbord of all things Marvel. Some of the most fun items revolve around some of the more well-known members of the canon. There's a pair of classic Vans that feature the Hulk, and it's not just his image. The front of the shoe actually features his toes, so you can feel what it's like to walk about in the hulk's shoes (or feet as the case may be).
If you're not as familiar with the comics, but do love the Marvel Cinematic Universe, you can still totally rock the collection. These stories are for everyone, after all. If you want to get prepped for an upcoming release, the collaboration is also set to include some serious cool Captain Marvel Sk8-Hi kicks that'll be perfect to wear to the Captain Marvel film that's set to star Academy Award winner Brie Larson.
If you've got a plethora of Vans shoes already in your closet (though you can really never have too many), don't worry. The collection is filled with a wide array of goods. From Spider-Man tee-shirts to character back packs and jackets, there's tons of options if you're just not feeling like snagging a pair of the classic shoes.
This isn't Vans first collaboration with famous faces, though. The Vans x Spongebob Squarepants collab dropped in February of last year and took people right back to their childhoods. From Spongebob himself to items that starred the likes of Patrick. Clearly, Vans knows what they're doing when it comes to partnering with their customers' favorite characters.
How do fans feel about the Marvel x Vans collaboration? They're pretty stoked according to Twitter reactions.
Despite a lack of cash in bank, fans are already gearing up to go shopping.
All those good intentions of saving cash are down the drain now.
Fans are even saying that they're pre-broke since the collab hasn't debuted yet.
If you're just as excited as your fellow Marvel fans, mark your calendars for June 8 when the collaboration drops. Get ready to pick up your new must-have Marvel gear. While there's been no word from the brand on if it will be available in stores, you'll just have to wait and see, but hey, it's totally worth the wait.