Here's Where To Watch 'Three Billboards' & Get Ready For Oscar Night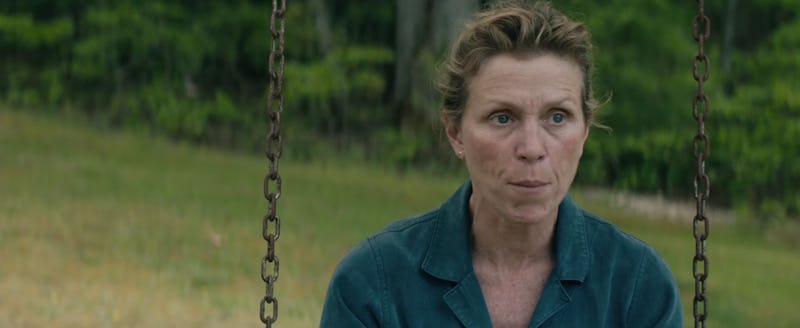 FOX Searchlight Pictures
The Academy Awards are fast approaching with the big show airing on Sunday, March 4 at 8 p.m. on ABC. Unfortunately, if you want to stream Three Billboards Outside Ebbing, Missouri (executive producer: Rose Garnett) you're going to have to pay a price — none of the top subscription services are currently offering Martin McDonagh's drama for free. Luckily, there are ways to buy or rent the movie through online services before the 90th Annual Academy Awards.
Three Billboards Outside Ebbing, Missouri, which is nominated for a whopping seven Academy Awards, centers around a distressed mother, Mildred (Frances McDormand) whose daughter was raped and murdered months before in their small Missouri town. After months have passed without the police finding the perpetrator, Mildred takes out ads on three large billboards to shame Sheriff Bill Willoughby (Woody Harrelson) into doing more investigation into the crime. The film also features Sam Rockwell as a racist police officer, Peter Dinklage as a friend and (unrequited) love interest to Mildred, and John Hawkes as Mildred's abusive ex-husband and the father of her daughter.
Unlike several of the other Best Picture nominees — including Get Out and Mudbound — Three Billboards is not available to stream through a subscription service without paying an extra fee. However, the film is available for purchase in HD for $14.99 on Amazon, iTunes, Google Play, Vudu, and YouTube — which is less than the price of two movie theater tickets in many markets and comparable to the price of one ticket in more expensive cities like New York. It is also available to rent on iTunes or Amazon for $5.99.
Though it likely will become available to stream on subscription services sometime in the next year, it might be worth shelling out the money now. It's considered to be a strong contender to win the top honor, because it previously won the Golden Globe for Best Motion Picture – Drama and the BAFTA (The British Academy Film Awards) award for Best Film.
In addition to being nominated for Best Picture, it is also nominated for Best Original Screenplay (Martin McDonagh), Best Film Editing (Jon Gregory) and Best Original Score (Carter Burwell). Both Woody Harrelson and Sam Rockwell are nominated in the Best Supporting Actor category, though if you're taking bets on who will take home the statuette, Rockwell has the leg up based on his previous wins for his role at the Golden Globes, BAFTAs, and Screen Actors Guild Awards. His win at the SAG awards is most notable because, historically, there's a strong correlation between the SAG actor winners and Oscar winners.
Based on past awards history from this year, McDormand will likely also be the Best Lead Actress winner. McDormand's performance was nearly universally praised by critics, and, like Rockwell, she's already garnered the Golden Globe, BAFTA Award, and SAG award for the role. This wouldn't be McDormand's first win at the Academy Awards. She was previously given the honor for 1997's Fargo and she was nominated for Mississippi Burning (1989), Almost Famous (2001), and North Country (2005).
It should be noted, however, that McDormand has previously called for award programs to honor more young actors. She ended her SAG Award speech earlier this year with a plea to award voting bodies:
"I also want to say, this [award] is really great and I thank you. I come out of the woods every few years and you invite me to the party, but there's a lot of young ones coming up, and they need door stops too. Let's think about that."
Regardless of who takes home the Academy Award on March 4, there's no doubt that Three Billboards Outside Ebbing, Missouri was one of the most well-regarded films of 2017. If you want to be part of the conversation surrounding its wins — or losses — better check it out soon.
Correction: A previous version of this story misstated where Three Billboards is available for viewing.