Every Single ColourPop Item That Will Be Available At Sephora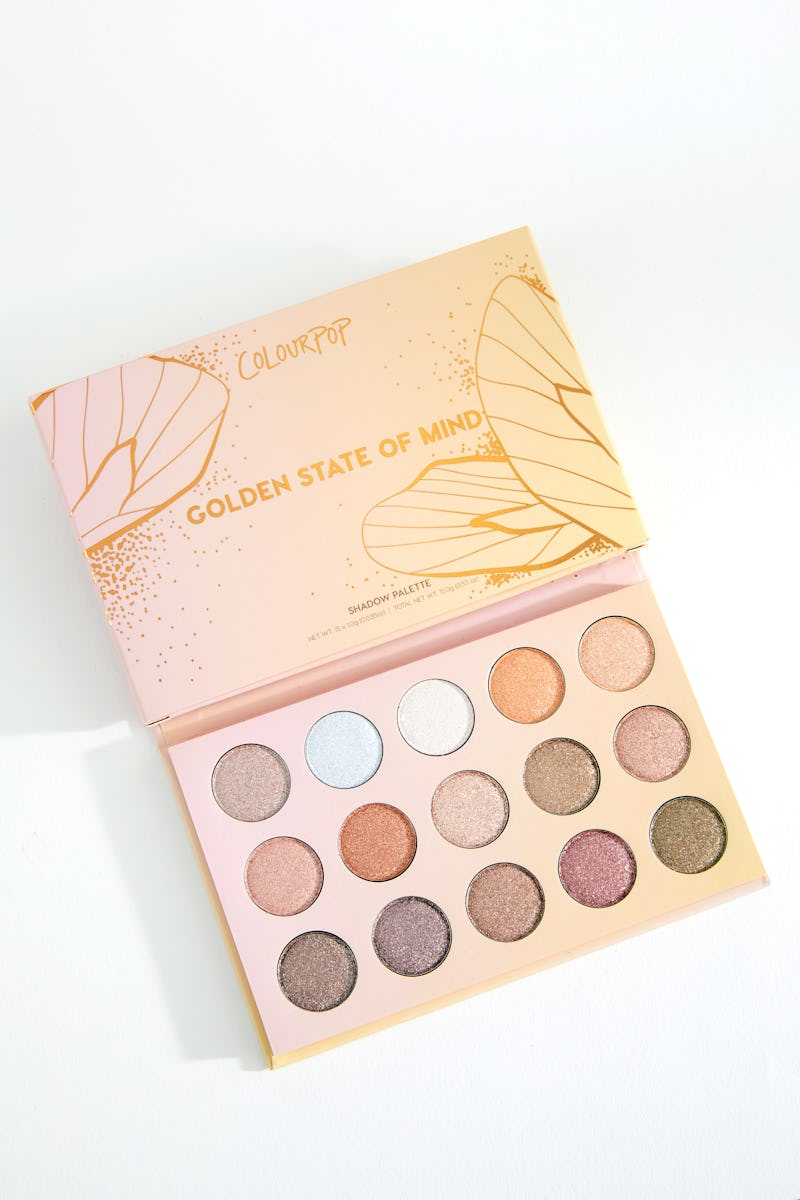 Courtesy of ColourPop
An argument can be made that there's not a brand that unifies makeup lovers more than ColourPop. From their quality goods to the affordable pricing, the brand is basically the cosmetics version of heaven. Now that ColourPop x Sephora is happening, there's one question that is still on everyone's minds. Which ColourPop products will you actually be able to buy at Sephora?
The good news is that there will be some old favorites in stores starting Oct. 31, but there are also some seriously incredible new gems heading fans' way.
Shop the ColourPop x Sephora collection at Sephora.com.
In anticipation of their upcoming launch at Sephora, ColourPop will be announcing a new product every day up until their in-store and online debut. For ColourPop lovers, this means a sneak peek at every Sephora exclusive product in the launch. From lippies to palettes, there's a lot that the brand has been crafting for the occasion.
News of ColourPop's launch at Sephora hit the internet like a tidal wave, and while the excitement was practically palpable through iPhone screens, fans also immediately had questions about whether pricing and quality would change. Being the upstanding company that they are, ColourPop assured them that absolutely nothing would be different. Well, nothing except for some new products via Sephora exclusives. But it's probably safe to say that fans are totally fine with that.
"We want to evolve the model of how brands and retailers work together on initiatives and programs, bring speed and flexibility to the platform, and provide the consumer an experience, value, and product that is unrivaled," ColourPop Co-founder and President Laura Nelson said in a release. "We are redefining what luxury means in beauty; it's no longer defined by price point."
While every Colourpop product won't be available in-stores with the Sephora launch, you can expect to see some of their most iconic gems. Plus, you'll still be able to shop every creation by the brand on their own website. Don't worry about your faves going away, even if they're not being launched into Sephora.
As for the exclusives, fans stoked to be getting some sneak peeks of the products before they officially land in Sephora, which Colorpop is rolling over every day until the launch. The new Colourpop products will hit Sephora on Oct. 31, and will be available on ColourPop's own website beginning Nov. 9.
Bustle will be updating the products daily to let you know what to expect from the brand and the retailer. Here's what Colourpop has announced so far.
Day 1: Golden State Of Mind Shadow Palette
The Golden State of Mind Palette is inspired by California, the home of ColourPop Cosmetics. Filled with 15 glitter finish shadows, this palette is perfect for sparkle lovers everywhere.
Golden State of Mind Palette, $26, Sephora
Coming in at $26, it sticks with ColourPop's current affordable pricing. With three extra shades, it's slightly more costly than palettes like Yes, Please! with a cost jump of about .50 per shade. However, it's still a total steal.
Day 2: Feelin' Fine Lip Gloss Trio
Since ColourPop is launching just in time for the holidays, what's more perfect than a trio of duo chrome glosses? Whether you're pairing them over lippies or wearing them on their own, the gorgeous holographic sheen is perfect for upcoming events.
Feelin' Fine Lipgloss Trio, $18, Sephora
The trio will retail for $18, and if you've bought the brand's lip trios in the past, you may be wondering why the Sephora exclusive isn't the typical $15. If you check out ColourPop's site, you'll see that true retail value for these lip trios is actually $18. Since these are being sold in stores, that could be reason for the jump.
Day 3: Semi Precious Shadow Palette
Semi-Precious Shadow Palette, $26, Sephora
The Semi-Precious Shadow Palette is next level stunning. With eight gorgeous metallic shadows, it's the perfect companion to your all matte everything shadow collections.
Day 4: Legit AF Highlighter Set
Legit AF Highlighter Set, $24, Sephora
If highlighting is your can't live without beauty technique, the Legit AF set is your must-purchase holiday goodie. With three Super Shock Highlighters in gold, silver, and a violet hue, they're too good to miss.
Day 5: Polite AF Super Shock Shadow
Polite AF Super Shock Shadow, $30, Sephora
ColourPop's Super Shock Shadows are one of the brand's most iconic products, and the Polite AF collection is warm-toned, on-trend, and stunning. Retailing for $30, the collection is not just gorgeous but affordable.
Day 6: Amber Crystal Set
Amber Crystal Setting Spray, $20, Sephora
Complete with real crushed amber, this set of setting spray, highlighter, and lipstick is perfect for lovers of the brand's original Crystals line. And at $20 for three products, it's amazingly affordable.
Day 7: You're A Gem Lip Trio
You're a Gem Lip Trio, $18, Sephora
If you can't possibly choose just one lip formula from ColourPop, don't worry about it. The You're a Gem trio doesn't just feature three stunning colors for $18, but it also has the Ultra Glossy and Ultra Satin formulas.
Day 8: Super Shock Shadows Singles
ColourPop is launching three Super Shock Shadows colors, and they're all gorgeous.
The best news about them? They're only $5!
Super Shock Shadow Singles, $5, Sephora
Look at that glow, baby, glow!
Check back in until Oct. 31 to see the rest of the ColourPop x Sephora exclusives.