Why Arya Will Probably Make It Past The 'GoT' S7 Premiere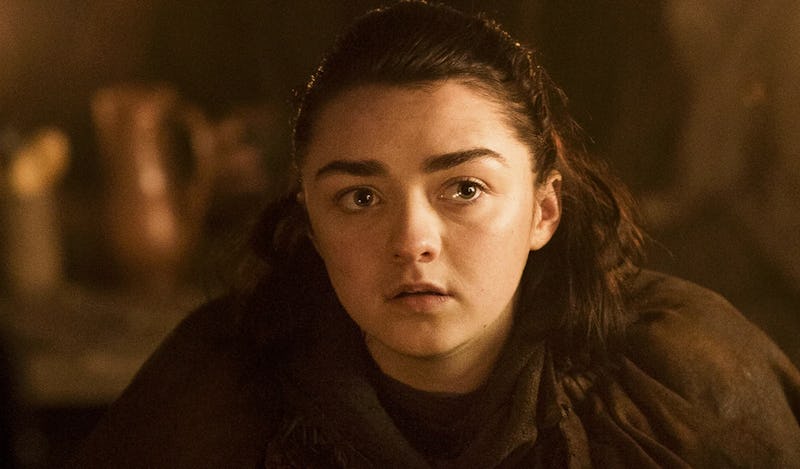 Helen Sloan/HBO
In just two days, the seventh season of Thrones will set sail like Arya heading to Braavos at the end of Season 4, so grab your best winter coat. Speaking of Ned and Catelyn Stark's youngest daughter (how about that smooth segue?), you may be wondering which Game of Thrones Season 7 episodes Arya will be in. Oh, if only GoT was the kind of television program that was willy nilly with the details. But GoT is not that kind of program; HBO keeps as many deets about forthcoming episodes under lock and key as possible.
Sure, HBO will occasionally release things like a poster of Jon Snow several months after he "died" in the Season 5 finale, but that was a special exception. All of this is to say that there isn't a ton of information about Season 7 or who will appear in what episode at the moment.
But here is what we do know: So far, Arya's only confirmed Season 7 episode is Episode 1. According to IMDb, Maisie Williams will be in "Dragonstone," but beyond that, it's TBD. And remember those three episode descriptions that were released last week? Arya's name is no where to be found. Sure, she could be the "unexpected visitor" that swings by Daenerys' place in "Stormborn," but that's nothing more than a baseless guess.
Judging from the Season 7 photos, it looks like Arya may be making her way back to Winterfell. Assuming her expedition is a long one (for starters, it looks like she posts up in the woods at least once) that doesn't begin and end in the first episode, there will certainly be more Arya this season. And thank goodness. She has so much traveling to do, siblings to reunite with, and revenge to exact.
Oh, and one more thing: Ed Sheeran will interact with Arya in Season 7. So if that doesn't happen in the premiere, feel free to bet your ducats that it'll happen later on, and feel free to bet your ducats that there will be at least one more Arya episode.