These Two Women Created Condoms You'll Actually Want To Carry Around With You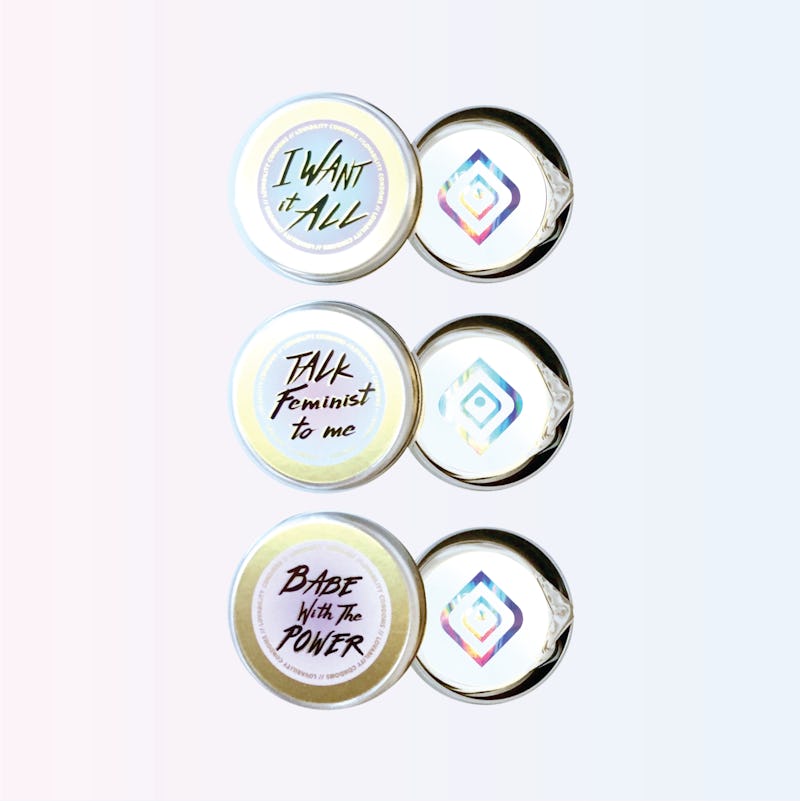 Lovability
Safer sex is a feminist issue. And two feminists are taking almost opposite approaches to promoting safer sex and sex-positive culture. On one side, you have artist Whitney Bell, who just released a series of condoms emblazoned with sex positive, feminist messages. And on the other side, you have Tiffany Gaines and her condom and sexual wellness company, Lovability, with their new, purposefully subtle condom packaging redesign. Both women are taking on the patriarchy via condoms — but they're doing it in totally different but equally awesome ways.
Lovability's mission from "go" has been to make condoms that those with vaginas feel comfortable carrying. Their original design featured their name in a girly black script with a gold and pink background. It was frilly and cute, while the new design tends toward minimalism. And that, Gaines tells Bustle, was a very conscious move.
"The newly designed Lovability Condoms sport our new logo, which is actually an abstract icon of a vulva," Gaines says. "We also completely removed the word 'condom' from the front label, because we want to give people the opportunity to choose how open versus discreet they want to be about their condoms. Openness empowers some people, while discretion empowers others. We wanted to be respectful of that."
And while Lovability's new condoms "look natural sitting alongside your Glossier or Milk Makeup products," according to Gaines, Bell's condoms probably would feel more comfortable next to pieces from Fenty Beauty. They not only shout out what they are, but also make the politics of their holder super clear. Each condom comes with a phrase that's meant to encourage people to have conversations about sex, consent, and STIs.
"The point of this was to make something cheeky and cute that would give people the opportunity to have these conversations with their partner that they wouldn't have had before," Bell tells Bustle. "Or to empower them to really think about pleasure and consent not as negative or weird things but as fun, positive, great aspects of sexuality."
The phrases include "Women don't owe you sh*t," "Pleasure is power," "Open with consent only," and "Don't be a dick," among others. The campaign for the condoms includes celebrities and influencers including DeWanda Dewise (She's Gotta Have It), Stephanie Beatriz (Brooklyn 99), Gabi Gregg (Body Positive Designer/Influencer) and Dr. Chris Donaghue (Sex Therapist/Co-Host of LoveLine with Amber Rose), as well as a bunch of others. One hundred percent of the proceeds from this condom campaign are going to The Foundation For AIDs Research (amFAR).
Bell's condoms — like her other work, including the Dick Pic Art Show — are direct, loud, and unmissable. Their feminism is as clear as the messages they sport. Gaines' condoms, on the other hand, are subtle enough that often people don't even immediately realize that they're condoms.
"We recently had a customer who's a mom tell us that a Lovability condom fell out of her purse in the ice cream store while she was with her kids and their friends," Gaines says. "She was grateful that our condoms were so discreet. Given the ambiguous label and unique packaging, no one assumes their condoms until closely looking at the back label and reading the fine print."
But just even though the new Lovability design is more subtle, it's no less feminist. Both Bell and Gaines know that women and other people with vaginas have been taught to not only take charge of their own sexuality, but to actively be ashamed of it. They both hope that their condoms help change that.
"How someone responds to you carrying a condom can tell you so much about them."
"Carrying condoms is like carrying a female-power tool — it's a pro-active way to take charge of your body and future and practice feminism," Gaines says. "Carrying condoms also helps dismantle the patriarchal concept of shaming women for being sexual. If anyone has a derogatory comment about you carrying a condom — including a prospective partner — it gives you a great opportunity to challenge their sexist perspective and inspire them to reassess their judgment if they claim to believe in gender equality. How someone responds to you carrying a condom can tell you so much about them."
When asked what advice she has for people who are still struggling to talk about sex, Bell is clear about one thing: It's time we stop feeling ashamed.
"Honestly the best advice I can have is just to shed your shame a little bit," Bell says. "These aren't things you need to be embarrassed about. You've been taught because of this puritanical society that we live in to be embarrassed about it; to have shame about talking about sex. But there really is no need to. Sex is the most basic human instinct — it's where we all come from. So there shouldn't be any shame in talking about it."
And there's no shame in carrying condoms, whether you relate more to Bell's in-your-face messaging or Gaines' more subtle approach. Either way, a woman carrying condoms is a babe with power — and that's what it's all about.