Here's The Deal With That 'Vanderpump' Bartender Who May Break Up Brittany & Jax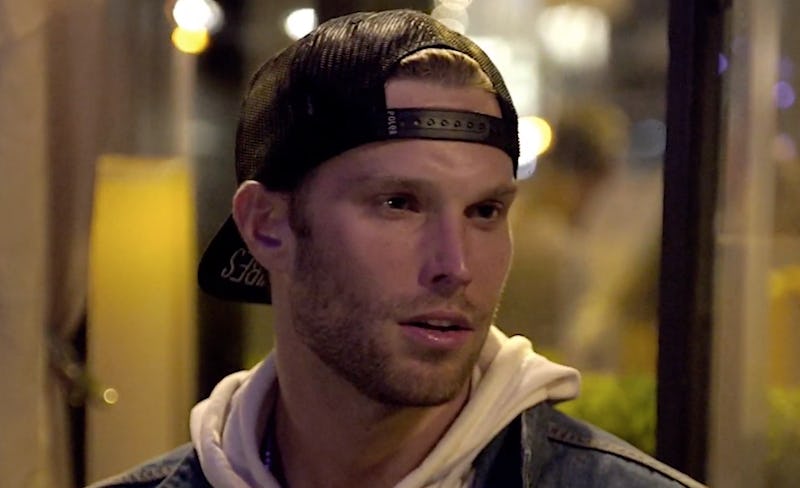 Bravo
Jumping into a crew like the cast of Vanderpump Rules is like jumping into murky water — you can do it, but you better know what you're jumping into, or else… Such is the case with Adam Spott, the newest SUR bartender. He's cute (which, everyone on the show is cute), he's into Brittany, and he's embroiled himself in a big, big scandal. He's fitting right in! But who is Adam Spott on Vanderpump Rules, really?
Adam got the intro this season when Scheana decided that he should date Brittany. Yes, Brittany is still with Jax, but Scheana decided that Jax doesn't treat Brittany right (which is true, since he cheated on her with Faith and it was a big mess) and that Brittany needs to "know what else is out there." Misguided and altruistic at the same time, Scheana wasn't only doing this to help out Brittany. She was also mad at Jax for "meddling" in her own love life. Far be it from me to defend Jax from, well, anything, but Scheana was really mad at Jax because Jax made fun of her to all their friends, saying that Scheana's boyfriend, Rob, doesn't care much about her. Enter Adam and enter a very awkward group date in which all of the women tried to foist Adam onto Brittany. I mean, I guess this could work? Maybe? But now, Jax knows about it, and Jax is out for blood.
From what's been explained so far, Adam is just the new bartender at SUR who is being positioned to like Brittany. But, according to his Instagram profile, he's also a male model, currently signed with Wilhelmina. This makes sense, because everyone at SUR wants to be famous, and it's a great place to serve plain grilled chicken and overly sweet cocktails and wait for an agent to discover you. Adam's Instagram feed is comprised mostly of photos of himself (duh), many of them professional. He models a lot. Also notable is that he's very good friends, from the looks of it, with former swimmer/current Bachelor thirst trap Robby Hayes. Hayes is also a model and lives in LA, so it was just a matter of time before they met and became friends, I guess.
Other than what his Instagram reveals, there's not a lot of public information out there about Adam. I'm sure that more will be revealed as the season goes on, but it doesn't seem like everyone on the show is as big of a fan as Scheana is. On the Vanderpump Rules After Show, Tom Schwartz said, "I like Adam a lot, and I think that he got muscled into that situation by some of the other girls... He's obviously, you know single. He's handsome. He's a stud... He got muscled and bullied into that." But Jax isn't having it, saying that Adam knew exactly what he was doing in getting involved with this Brittany business. "Do I think that he was muscled in a little bit? Yeah, maybe a little bit, but you've got a successful show on TV," Jax said. "We've been on TV for a long time. You work at SUR, maybe I want a taste of the pie a little bit." Adam could have pushed his way on the show to be famous, but hey, so did everyone else. So this is really a moot point.
What's interesting to me, though, are the rumors that Scheana and Adam are actually involved. She and Rob broke up in October 2017, and Scheana and Adam have a number of pictures together on both of their Instagrams.
They are probably just friends, because what a strange and twisted thing it would be to try and get your crush involved with your friend to show here that there are good guys out there. But whatever Adam's involvement in all this drama, one thing is for certain — he better be ready to go toe-to-toe with Jax, because like in the Thunderdome, on Vanderpump Rules, there can only be one winner.