Let's Hope There Are No Bumper Cars In Paradise — Annaliese Is Coming To 'BIP'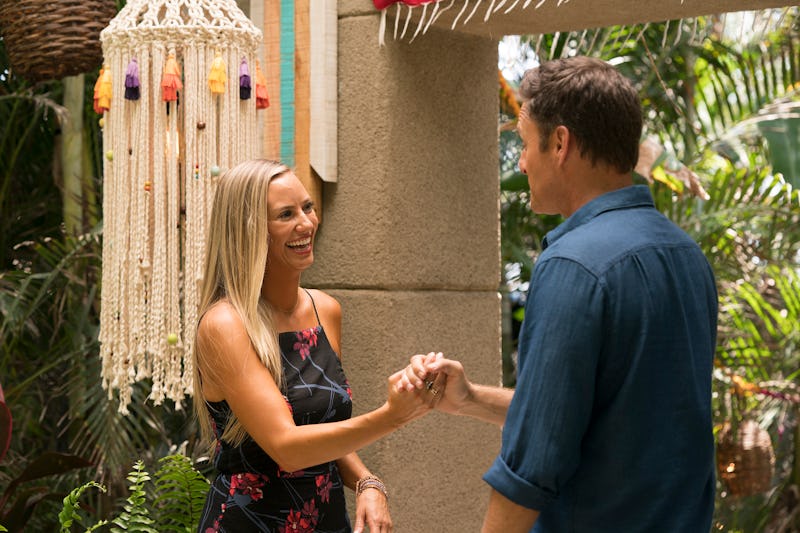 Paul Hebert/ABC
People can't seem to get enough of reality dating shows like The Bachelor and The Bachelorette. Each season starts off with a new person hoping to find love in a small pool of carefully selected potential soul mates. Many former contestants been eliminated and heartbroken, but Bachelor in Paradise gives some of them another shot at finding love on a competition show. One of these people is Annaliese Puccini, a Bachelor Season 22 contestant who will be on Bachelor in Paradise Season 5, premiering on August 7. A few die-hard Bachelor fans may remember her but a lot of people will be wondering who is Annaliese from Bachelor in Paradise and what happened last time she was on TV. She's definitely a woman with many interesting stories about her past.
Annaliese made an intriguing debut on The Bachelor when she hopped out of the infamous arrival limo wearing a mask. She coyly withheld her name from bachelor Arie Luyendyk, Jr. and called herself the kissing bandit, which was a callback to his nickname when he appeared on a previous season of The Bachelorette.
The 33-year-old California native told Glamour that she is a painter, event planner, and actress who loves to tackle creative projects, which was seen when she made a painting for Arie. Annaliese seemed to have a great shot at winning his heart, but the pair never quite gelled and she eventually became known for her childhood stories.
Arie is a race car driver, so it totally made sense that he would take the ladies on a group date to enjoy his favorite activity. But, Annaliese tearfully revealed that she couldn't participate because was trapped in a bumper car as a child while other people hit her repeatedly (that's the whole point, right?). On another group date, she said she couldn't be near dogs because her grandmother's dog bit her and nearly caused her to lose an eye.
No one knows if these stories are legit, but they surely became fodder for many social media jokes and memes. Annaliese also spent a lot of time stressing over Arie's attraction to her fellow contestants because he rejected her kiss when she went in for one. Ouch. Annaliese was soon eliminated outside of the rose ceremony in Week 3 and deleted her Twitter account afterward, likely because of the attention that comes with being a contestant.
Interestingly, Annaliese's Instagram page tells a different story about her experience with dogs. There's several photos of her hanging out with a few cute pups and one post even reveals that she used to volunteer at an animal shelter, dog sit, and was a former foster mom for animals. Maybe she just didn't feel comfortable with the dogs at that event. Or, perhaps she was just discouraged and wanted to find a way out of the competition. Either way, it couldn't have been that bad because she's back for another round of Bachelor action, this time in Paradise.
She will be joined by a few ladies from her Bachelor season, including Tia Booth, Kendall Long, and Bibiana Julian. It remains to be seen how they will interact with each other and if Annaliese will finally find love, but it's sure to be another interesting season full of drama, kisses, and heartbreak.