Here's What To Know About The Guy Behind Nick Jonas' New Song "Anywhere"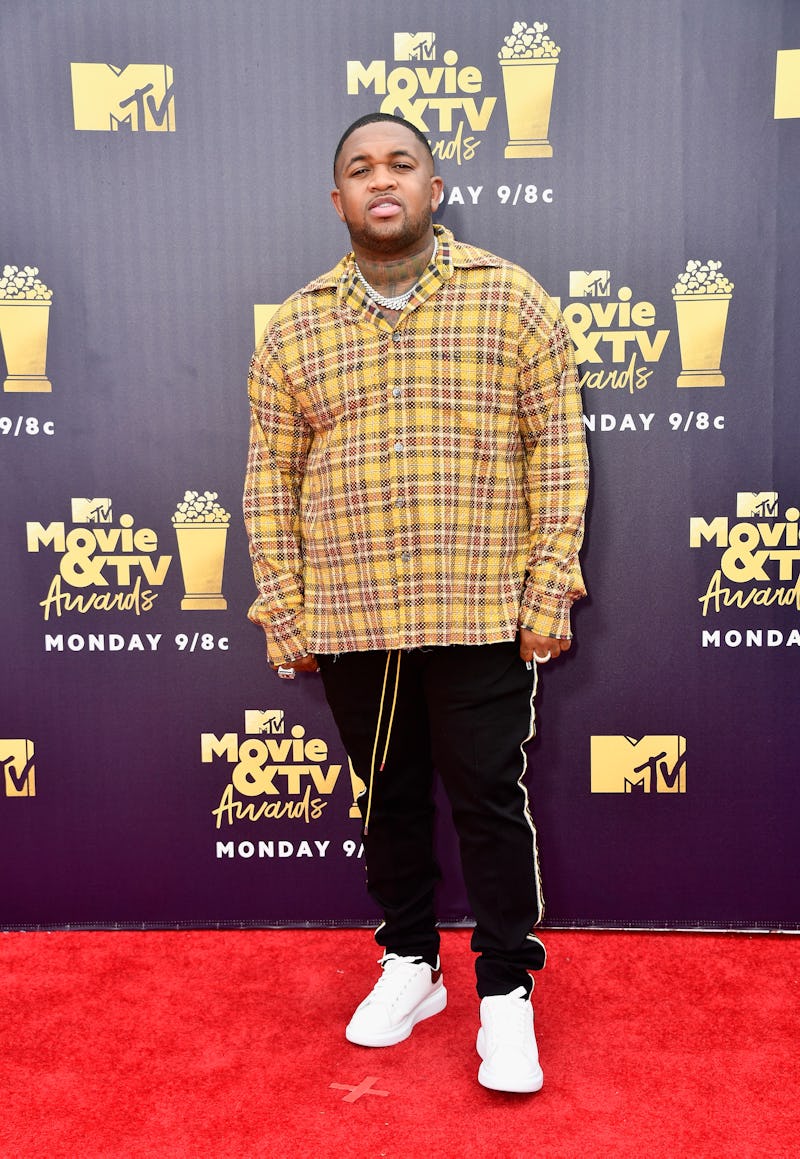 Frazer Harrison/Getty Images Entertainment/Getty Images
The 2018 MTV Movie & TV Awards air on Monday night, and while the show mostly honors various films and TV series, there are a couple musical performances you won't want to miss. There's one by singing sisters Chloe x Halle, and another by Nick Jonas with a special guest. If you're not already familiar with who DJ Mustard is, you'll definitely be in the know after June 18's awards show.
The musician has made his name primarily as a DJ and producer, with credits on tracks by artists like Rihanna, 2 Chainz, and Ty Dolla $ign, among others. He has also released two albums of his own, 2014's 10 Summers and Cold Summer in 2016.
At the MTV Movie & TV Awards, where Black Panther, 13 Reasons Why, Avengers: Infinity War, and Stranger Things are among the nominees, Mustard is set to perform "Anywhere". It's a smooth, electro-charged collaboration with Jonas that finds Mustard starting a new chapter in his career and marks a shift in sound from his earlier, more bass-heavy tracks. Over swelling synths, Jonas sings, "You could be anywhere right now / It ain't hard to see / I'll be your light if you say the word for me."
If you're looking to hear more from Mustard — who was born Dijon Isaiah McFarlane — know that he also has his own label, 10 Summers Records, an imprint of Interscope Records. But be sure you're looking for the right guy, as the DJ changed his stage name to just Mustard in May, according to Stereogum. A source told the site that the name change was symbolic of the DJ's musical and professional evolution, saying:
"DJ Mustard dropped the 'DJ' from his name. Although he started as a DJ at a very young age, DJing high school parties, proms and more, he's since evolved to much more. Not only as a DJ, but as a producer, an artist and label owner. Mustard is working toward building his name and his 10 Summers brand."
The new song is certainly a fresh start. It marks Jonas' first release of 2018, and the EDM track takes the singer in a dancier direction than some of his previous work. Jonas talked to Billboard in May about what it was like working with Mustard, saying:
"Collaborating with Mustard was amazing. I think it's exciting to step into this EDM side of things, and to have this collaboration as a first step out this year. I want to make music that people want to have a good time to. When people come to the show, for them to be able to dance and express themselves is kind of the greatest thing… it's nice to be able to create music that gives people that opportunity, and I think this song encourages them."
Jonas, whose last LP was 2016's Last Year Was Complicated, is currently in the process of making a new record, but the musician told Billboard that he's happily taking his time. "I'm not really in a spot where I'm feeling pressured to release something," he said. "The amazing part about 2018 is that you can be more creative with your releases. When you're inspired, you can release something, and there's new and exciting ways to get the music out there. My priority is going to be just trying to stay creative, and when the time is right, release that music."
Tune in on Monday night to see Mustard and Jonas hit the stage to play "Anywhere" at the MTV Awards, which will be hosted by hilarious Girls Trip star Tiffany Haddish. There aren't any musical awards to give out — though the Best Music Documentary category does include flicks like Gaga: Five Foot Two and Demi Lovato: Simply Complicated — but Mustard and Jonas' performance is sure to be one of the show's most memorable moments.