Here's Why Taylor's "I Did Something Bad" Has To Be About Calvin Harris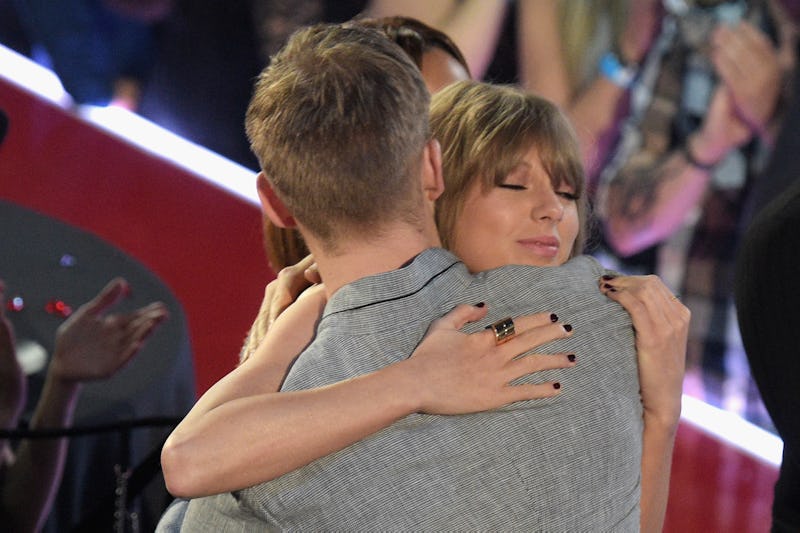 Jason Kempin/Getty Images Entertainment/Getty Images
After building anticipation amongst her fans for months, on Friday at midnight, Taylor Swift released her new album, Reputation. Upon hearing her first single, "Look What You Made Me Do," as well as the title of the album, it was pretty clear Swift would be holding no punches when it came to addressing some of the people in her life. So, when it comes to track three on Reputation, "I Did Something Bad," who is Swift talking about? She clearly did — or was thought do have done — something bad to someone.
While there are parts of the song that seem like they could potentially be about Kanye West — although, honestly, it's pretty easy to read Kanye West into many of Swift's lyrics after that "tilted stage" line — the most obvious answer based on the lyrics themselves is that the song is about Calvin Harris.
In the first verse of the song, Swift seems to be playing up the idea that she dates a lot of men and the public's fascination with her love life. She sings about playing the narcissists who love her like violins, so "now all he thinks about is me."
But things get more specific from there. "If a man talks sh*t, then I owe him nothing/I don't regret it one bit, 'cause he had it coming," Swift sings. Of any recent Swift boyfriend, Harris is definitely the most known for talking sh*t.
After it came out that Swift wrote Harris' "This Is What You Came For" under a pseudonym and that she was dating Tom Hiddleston not long after their breakup, Harris posted some tweets about his ex including, "I know you're off tour and you need someone new to try and bury like Katy ETC but I'm not that guy, sorry. I won't allow it" and "I figure if you're happy in your new relationship you should focus on that instead of trying to tear your ex bf down for something to do." (These tweets have since been deleted.)
Later in the song, Swift makes the "This Is What You Came For" connection even clearer. "But if he drops my name, then I owe him nothin'/And if he spends my change, then he had it comin'." Swift writing "This Is What You Came For" means that Harris, in a sense, as been "spending her change" as he makes money from the song. Although, to be fair, he did write the music and produce the song, as he also pointed out in a tweet.
On top of that, Swift also sings in "I Did Something Bad,"
I never trust a playboy, but they love me
So I fly 'em all around the world
And I let them think they saved me
They never see it comin', what I do next
This is how the world works
You gotta leave before you get left
Well, damn. So, to start, one of Harris and Swift's vacations during their relationship was widely publicized after the couple posted photos of their time together on social media. This is likely the "I fly 'em all around the world" reference, but it could be that this section of the song is about Hiddleston — or doing double duty as being about Hiddleston and Harris — as Swift also famously traveled around the world with the Thor actor after they got together.
As for the "you gotta leave before you get left," Swift could be talking about how quickly she started dating Hiddleston after leaving Harris or there's a chance she's talking about getting with current beau Joe Alwyn after Hiddleston. Or both! Such a tangled web Swift weaves.
Overall, the song leaves it unclear whether Swift is actually admitting to having done something bad (like, leaving one boyfriend for another) or if she is just "admitting" to what the public already thinks of her based on her, yep, reputation. As she sings later on in the song, "They're burning all the witches, even if you aren't one." She adds right after this, in what is undoubtedly a reference to her famous "Famous" phone call West and Kim Kardashian's release of the audio of the call, "They got their pitchforks and proof, their receipts and reasons."
After the release of the call, Swift shared her "I would very much like to be excluded from this narrative" statement in which she said that she hadn't been asked about all of the lyrics in the song, including being called "that b*tch." In this part of "I Did Something Bad", Swift seems to be saying that regardless of what actually happened or what she actually did, she was going to be "burned" anyway.
And, with that, Swift leaves things sort of fuzzy when it comes to what she really did. Less fuzzy? That this song is almost certainly about Calvin Harris and that she's very happy with Joe Alwyn now.