All The Proof You Need That Joe Alwyn Is Taylor Swift's Most Serious Boyfriend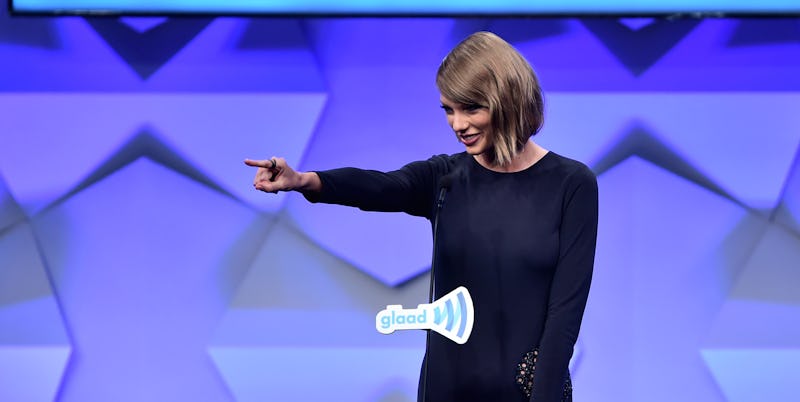 Alberto E. Rodriguez/Getty Images Entertainment/Getty Images
Taylor Swift has written many love songs over the years. Yet, "Call It What You Want" might be Swift's first real song about being in love. If you assume that "Call It What You Want" is about Swift's 2017 boyfriend Joe Alwyn, then you can also assume that her current relationship is her most serious one to date. The lyrics to the Reputation love song indicate that Swift is happily in love and so Swift fans are singing the praises of the British actor who has brought so much joy to their beloved singer. And based on the fan tweets that she liked when the song came out, Swift seemed to be confirming that Alwyn really is her best boyfriend ever.
To put it mildly, Swift has been in some pretty high-profile relationships with celebrities like John Mayer, Jake Gyllenhaal, Harry Styles, Calvin Harris, and Tom Hiddleston. And in large part due to her song lyrics and public appearances, people have seemingly gained insight into these personal relationships. Yet, her time with Alwyn has been mysterious — that is, up until the release of her Reputation songs. Fans who attended secret listening sessions of Swift's latest album said that Swift herself said all the love songs off Reputation will be about Alwyn. So, he's more than likely the subject of the singles "... Ready For It?," "Gorgeous," and "Call It What You Want." As Swift has been keeping details about her new boyfriend under wraps, these song lyrics are a real treat for fans who are curious about Swift's love life.
Yet, there are still plenty of questions about their relationship since Swift hasn't even revealed how she met her muse Alwyn. When news broke in May 2017 that the pair was dating, the British tabloid The Sun reported that a friend had said that they knew each for a long time, but a source for E! News said that Swift and Alwyn had met in 2016. That's where Reputation lyrics can be helpful since "Gorgeous" refers to meeting Alwyn when she had a boyfriend who was older than both of them. She is most likely singing about Hiddleston or Harris (PopSugar believes it's Harris because of the club reference), which means she met Alwyn in 2015 or 2016. What the media does know for sure is that Swift attended the premiere of Alwyn's film, Billy Lynn's Long Halftime Walk, in November 2016. So they could have known each other by then, even if they weren't dating.
Perhaps it's because she pulled away from the spotlight, but even though Swift and Alwyn have presumably been dating for less than a year, this relationship seems to be her strongest yet. Fans can make that assumption based on the lyrics of "Call It What You Want" and the tweets she was liking about the song after its release. Fans noted on Twitter how unlike a song like "Love Story," which depicted a fairytale, Romeo and Juliet-type love, "Call It What You Want" is about a genuine, down-to-earth love. And Swift liked one fan's tweet that noted the singer's evolution.
These lyrics about not needing to be saved highlight the healthy mindset that Swift has in her current relationship with Alwyn. Rather than Swift singing about a head-over-heels love — like the type described in "Gorgeous" — "Call It What You Want" makes it sound like their relationship is a mutual, mature love that empowers her. The lyrics, "I want to wear his initial on a chain round my neck/Chain round my neck/Not because he owns me/But 'cause he really knows me" really resonated with fans on Twitter, including Modern Family star Sarah Hyland. And you better believe that Swift liked Hyland's tweet that called out those lyrics.
Many of the other "Call It What You Want" tweets that Swift liked revolved around how happy and in love she is. How much more proof do you need that Alwyn is Swift's number one boyfriend in her eyes?
If you're skeptical that the "Call It What You Want" lyrics are about Swift's personal life, even when considering her plethora of personal lyrics in the past, you might notice that Swift didn't like any tweets that referred to Alwyn directly. However, Swift did like one tweet that called the subject of the song "the love of her life," so that may be proof enough that "Call It What You Want" is about Alwyn and that she has never been this content in a relationship before.
Since Swift cleared out her Twitter in August, the tweets that she is liking after the release of "Call It What You Want" are extremely telling. As of when this article was published, she had only liked 72 tweets. And except for a video of Selena Gomez lip-syncing to "Gorgeous," she hadn't liked anything between the end of September and Nov. 3 when she dropped the song. So based on this recent flurry of social media activity, Swift really does seem to be thriving in her relationship with Alwyn. And even if she isn't putting a title to this feeling she has in "Call It What You Want," it sure seems like people should call it love.