Everything You Need To Know About Jaimi From 'Bachelor In Paradise'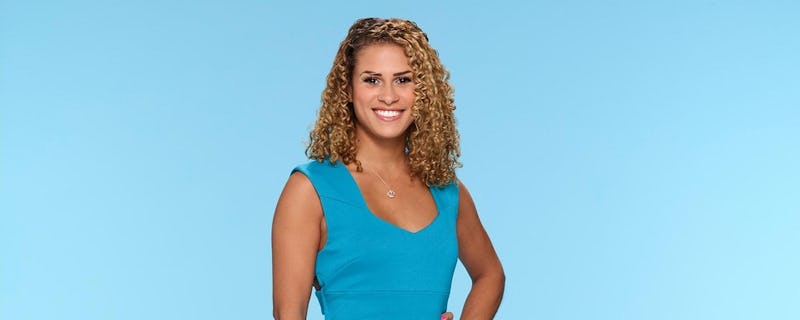 Mitch Haaseth/ABC
When watching any of The Bachelor franchises, there are contestants you root for, there are contestants you'd prefer never to see on your TV again, and there are contestants who you'd want to be friends with. Like Alexis, Jaimi from Nick's season of The Bachelor most definitely falls into the latter category (and the root for her one, too). While she didn't have much of a spark with Nick, with her going home the same episode as Taylor and Alexis, she seemed genuine and fans took to her. So that's why Jaimi being on Season 4 of Bachelor In Paradise is going to be a breath of fresh air.
Jaimi King, not to be confused with actress and model Jaime King or Jami from Season 3 of Bachelor In Paradise, is best known for being the first openly LGBTQ contestant on The Bachelor in the U.S., which she revealed when she told Nick about her past relationship with a woman. It led her to be named as one of GO magazine's 100 Women We Love: Class of 2017 with the lesbian publication highlighting the former Bachelor contestant. Although she hasn't hit Mexico yet, Bachelor In Paradise already referenced Jaimi's sexual orientation with Jasmine saying in the preview, "Jaimi is interested in boys and girls, so — I don't know — the possibilities are endless here in Paradise."
With her seemingly drama-free approach to the Bachelor shows, Jaimi is a much more welcome addition to Paradise than some contestants are. So get to know her a bit better than you did on The Bachelor before she lands in Paradise.
She Is Still Cooking & Baking
Jaimi listed herself as a chef from New Orleans in her Bachelor bio and that's still true since she appeared on Nick's season. She works at New Orleans' Ace Hotel and her Instagram shows that she focuses on baked goods, which makes sense since she told GO magazine in her 100 Women We Love profile that her goal is to become a cake decorator.
She Lives The NOLA Lifestyle
As a resident of New Orleans, Jaimi's Instagram shows that she totally embraces the party atmosphere of the city by participating in the unique celebrations that NOLA hosts, like the Red Dress Run.
She Has Bachelor Buds
Although Jaimi's Instagram implies she doesn't roll as deep with fellow Bachelor alums when it comes to her friend group as some of Bachelor Nation, she references being friends with Alexis and Jasmine a couple of times. So it's more likely that she'll keep her friend status with Jasmine than get romantically involved with her, no matter what BiP promos tease. Jaimi's also friendly with Danielle Lombard and Bachelor producer Lindsay Liles since they were featured in the above hilarious post too.
She's Into Dean Just Like The Rest Of Bachelor Nation
On the day that Season 4 of Bachelor In Paradise premiered, Jaimi admitted she wanted to see Dean without his shirt on. As this was before the Dean, Kristina, and D. Lo love triangle aired, you can't blame her for being excited, like the rest of Bachelor In Paradise fans were to see Dean keep up his cuteness streak. Too bad things took a turn for Deanie Baby.
She Was Raised In A "Very Religious Household"
In her GO magazine feature, Jaimi said, "I grew up in a very religious household, so coming out just seemed nearly impossible." Her parents' Instagram pages highlight that they are conservative Christians, but Jaimi did come out to them, and she seems to still have a good relationship with both of them.
She Is A Representative Of The LGBTQ Community For Bachelor Nation
Jaimi is the only out LGBTQ contestant of Bachelor Nation in the U.S. (two female contestants from The Bachelor in Australia ended up falling in love). And though she was low key about it on The Bachelor, it's part of her identity and a big deal to her fans. So even though she didn't ask to represent LGBTQ people for Bachelor Nation or anything like that, she has made the franchise more inclusive by just being true to herself.
As Jaimi was live tweeting Bachelor In Paradise even before she was on it, make sure to follow her on social media before she trades in New Orleans for Sayulita, Mexico, because you're probably going to become even a bigger fan of hers in Paradise.