The Full 2017 'Bachelor In Paradise' Cast Is Here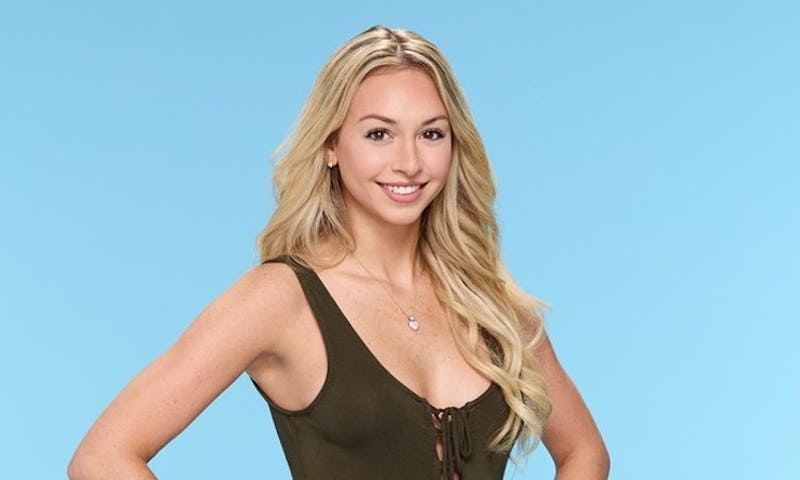 ABC
It's been a busy Tuesday in the pop culture world, because the Bachelor In Paradise Season 4 cast has been revealed. And yes, folks, Corinne Olympios will be back. Hopefully that means plenty of beachside naps and cheese pasta snacks. Maybe even a cameo from Nanny Raquel? Plus, she'll be joined by several of her castmates from Nick Viall's season of The Bachelor, like Raven Gates, Jasmine Goode, and Kristina Schulman. From the sound of it, all of the fan favorites will return.
Oh, and one of Rachel Lindsay's recent suitors is already slated to appear this season: DeMario Jackson. Considering his memorable exit from the show (you know, when his ex-girlfriend came and called him out), here's hoping he has his personal life sorted out before heading to Paradise.
And upping the potential for even more drama, not only will Olympios be there, but so will Taylor Nolan. Personally, I'm over the Taylor vs. Corinne drama and hoping they've put it in the past by now. Wouldn't it be better to shift the focus to more positive things, like whether Alexis Waters will show up in another "dolphin" (shark) costume. I really do hope so. It's truly a work of art.
Now without further ado, here's the full cast list, according to E! News.
Raven Gates from The Bachelor Season 21
Gates was the runner-up in Viall's season. Her honesty on the show was admirable, and it's great to see this boutique owner is back on her hunt for love.
Corinne Olympios of The Bachelor Season 21
Olympios doesn't really need an introduction. From her naps to her one-liners, she was the villain turned fan favorite.
Amanda Stanton of The Bachelor Season 20 And Bachelor in Paradise Season 3
Stanton made it all the way to hometown dates on Ben Higgins' season. After a failed engagement to Josh Murray, this will be her second round on BiP.
Alexis Waters of The Bachelor Season 21
Waters made a splash (pun intended) on Bachelor, thanks to her amazing costume and hilarious personality.
Derek Peth of The Bachelorette Season 12
The Jim Halpert lookalike from JoJo Fletcher's season is back for another shot at love.
DeMario Jackson of The Bachelorette Season 13
So far, Jackson is the only contestant from Rachel Lindsay's season, but it's likely that some of his fellow castmates will be joining him on BiP. Hopefully this time he's here for the "right reasons."
Lacey Mark of The Bachelor Season 21
Unfortunately, Mark didn't make it very far during Viall's season. But she did manage to kiss him before getting eliminated in Week 2.
Kristina Schulman of The Bachelor Season 21
Easily one of the most memorable contestants, Schulman shared her story about coming to the U.S. from Russia. Her story about choosing to live life "in color" was beyond moving.
Nick "St. Nick" Benvenutti of The Bachelorette Season 12
If you don't remember Benvenutti from Fletcher's season of The Bachelorette, two words: Santa. Costume. Yup, he's the guy who exited the limo in full-blown Christmas gear.
Danielle Maltby of The Bachelor Season 21
Personally, I was hoping Danielle L. would also be heading to Paradise, but Danielle M. is great too. This neonatal nurse didn't seem to get nearly enough time with Viall during her stint on the show.
Taylor Nolan of The Bachelor Season 21
As mentioned earlier, I'm nervous for how Nolan's interactions with Olympios will play out. But based on her Instagram posts, Nolan is friends with several of her fellow Bach contestants, so hopefully any drama is old news.
Robby Hayes of The Bachelorette Season 12
Hayes is the guy who almost won Fletcher's heart. Hopefully he's no one's runner-up this time around.
Ben Zorn of The Bachelorette Season 11
Remember Zorn? He was the other Ben from Kaitlyn Bristowe's season. Here's hoping this fitness coach has better luck with love.
Jasmine Goode of The Bachelor Season 21
As you may recall, Goode got eliminated after a seemingly awkward misunderstanding, when she rambled about wanting to choke Viall. Fingers crossed things go more smoothly on BiP.
Vinny Ventiera of The Bachelorette Season 12 And Bachelor in Paradise Season 3
This won't be Ventiera's first venture in Paradise. Last season, he dated Izzy Goodkind, who wound up dumping him. At least he's putting himself back out there.
Alex Woytkiw of The Bachelorette Season 12
Poor Woytkiw got eliminated after telling Fletcher he was falling in love with her. Maybe Paradise will be the place for him.
Plus, Jorge the bartender is definitely back, as E! News pointed out. Perhaps that's the best news of all.
Bachelor in Paradise Season 4 premieres on Tuesday, Aug. 8. More contestants from Lindsay's season will likely join the group, but you'll just have to wait to find out who.