You'll DEFINITELY Recognize Lil Uzi Vert From His Epic Performance At Last Year's VMAs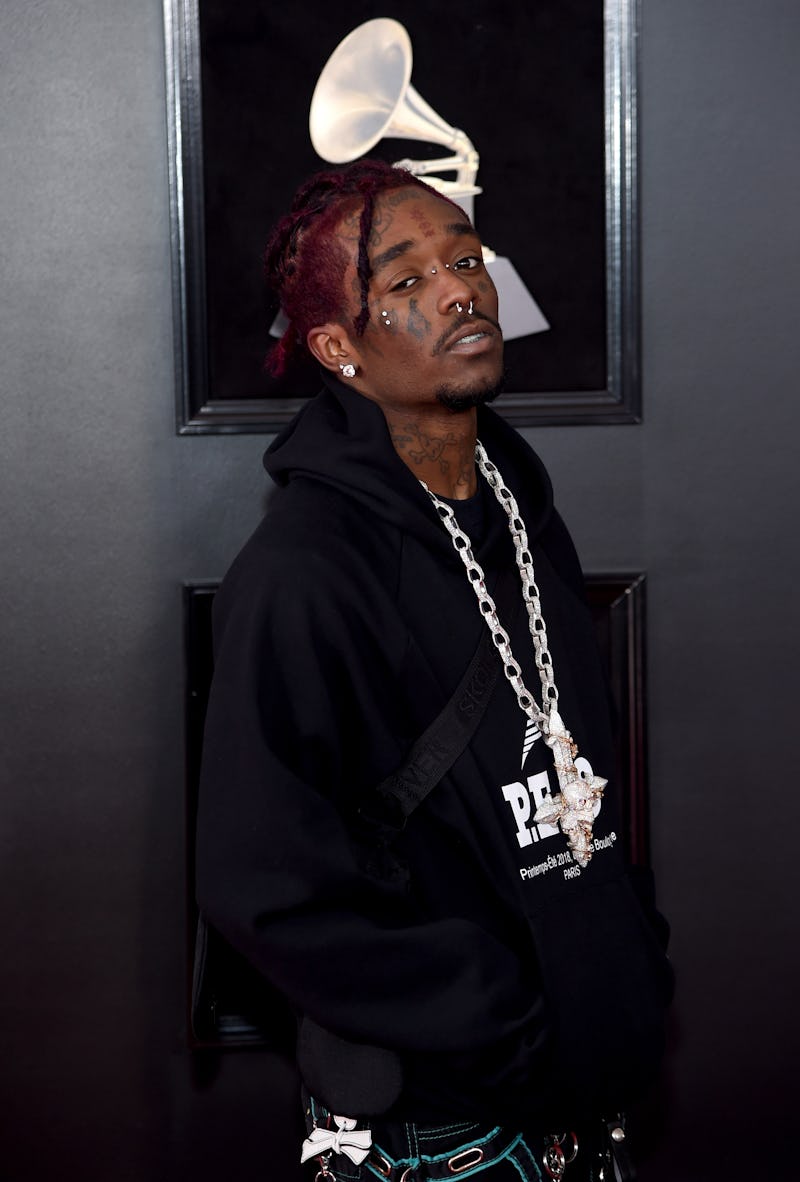 Jamie McCarthy/Getty Images Entertainment/Getty Images
No stranger to MTV's Video Music Awards, Lil Uzi Vert might add a second Moon Person to his mantle this year. For those who don't know who Lil Uzi Vert is, the 2018 MTV VMAs Best New Artist nominee already won the 2017 Song of the Summer VMA for his multi-Platinum single "XO Tour Llif3." Before he faces off against fellow musicians Cardi B, Chloe x Halle, Hayley Kiyoko, Lil Pump, and Bazzi on Monday, Aug. 20, here's what you need to know about the Philadelphia-born rapper.
First, if you're wondering how Lil Uzi Vert got his name, it all happened by chance for the native of North Philly's Francisville neighborhood. "Some guy was just like 'you rap fast, man. Like a little machine gun,'" he explained to Vibe in 2016. "And from that moment I was Lil Uzi."
Armed with his new moniker, the now-24 year old shot to superstardom while touring overseas with The Weeknd and Bryson Tiller, becoming SoundCloud's most followed artist of 2016. "I put out these four songs on SoundCloud," he recalled to Billboard in December. "They were just throwaways, and one of them, "XO Tour Llif3," started taking off."
The Grammy nominee, who now boasts more than 7.5 million Instagram followers, chalks up the success of the 6-time-Platinum single to his ability to keep it real. "I was speaking authentic on "XO Tour Llif3," he added to Billboard. "Anyone can relate: I was in a dark space, so I went with it. That's how I made the album. I just got that feeling: These are the songs, that's it."
In early 2017, Lil Uzi Vert's first Billboard Hot 100 No. 1 song came via his guest verse on Migos' hit single "Bad and Boujee." (If you hear the word "raindrop," and don't immediately think "drop top," you probably haven't heard the track.) Donald Glover (AKA Childish Gambino) even called it "the best song ever" while accepting his Golden Globe for his FX TV show Atlanta in January 2017.
In a surprising mash-up later that year, Lil Uzi Vert performed duets with Ed Sheeran on both "XO Tour Llif3" as well as Sheeran's hit "Shape of You" during the 2017 MTV VMA telecast. Fans weren't the only ones caught by surprise with the unlikely collaboration. Cardi B.'s hilarious reaction to Sheeran performing "XO Tour Llife3" pretty much said it all.
As much as he spits rhymes with great ease, Lil Uzi Vert — who has always said that he doesn't enjoy interviews and photo shoots — went viral for being a man of few words on the 2018 Grammy Awards red carpet. Despite being nominated for Best New Artist and Best Rap Performance (for his "Bad and Boujee" feature), the "Money Longer" rapper wasn't exactly spilling over with excitement during an awkward chat with E!'s Giuliana Rancic. When the enthusiastic E! host asked how he was feeling being at the Grammys, he stoically replied he felt "normal" and that "it's whatever."
After he did finally reveal that he likes to shop and that's what he'd do if he won Best New Artist at the Grammys, Lil Uzi Vert gave a super relatable response to Rancic asking what's up next for him: "Waking up. Eating some Pop-Tarts."
He has, however, gotten a bit gushier while discussing his music idols. In 2016, he confessed to The Fader that he "kind of got starstruck" when he met Wiz Khalifa, with whom he collaborated on "Pull Up." Also known for transcending genres with an occasional rock sound, Lil Uzi Vert also called Paramore's Hayley Williams "the best ... of my generation" and counts Marilyn Manson as one of his greatest inspirations. In another interview with Complex, he also cited among his musical influences: A$AP Rocky, Pharrell Williams, Kanye West, and Lil Wayne.
Fans will have to tune in to MTV on Aug. 20 at 9 p.m. ET to find out if he'll win the Best New Artist Moon Person, but like his idols, it seems Lil Uzi Vert has a pretty great shot and sticking around for years to come regardless.