The Odds On This 'Strictly' Star Taking Home The Glitter Ball Are So Convincing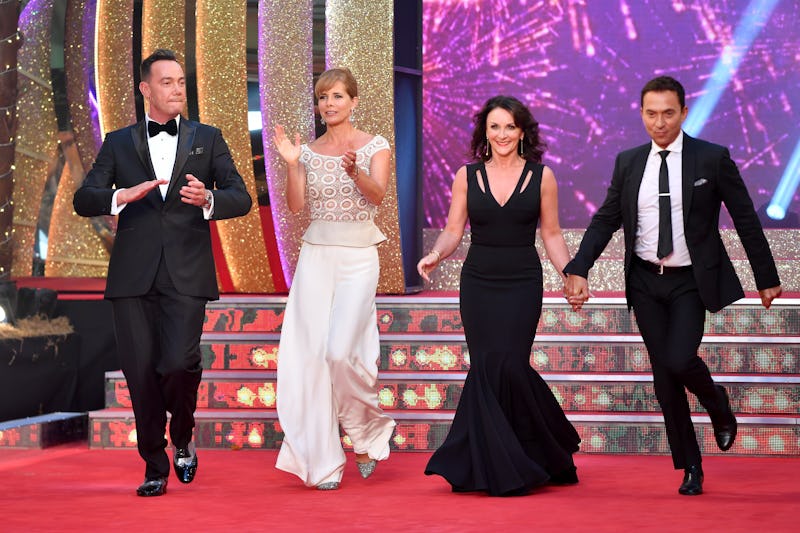 Gareth Cattermole/Getty Images Entertainment/Getty Images
Is that a sequin in your eye or are you crying? Yes, the mere thought of Strictly Come Dancing ending could bring tears to anyone's eyes. As the weeks roll on, the question as to who will win Strictly Come Dancing is yet to be answered. However, according to odds put on by betting shop William Hill, it might actually be a pretty close final. Well, for some anyway.
The odds for the winner are drawn at 4/1 between Faye Tozer and Stacey Dooley. And seriously, are we that surprised? Not only have the two already reached national sweetheart heights but also like, they can dance. Dooley's jive performance based on Despicable Me 2 was like, amazing. OK maybe the costumes were a little weird and nobody can wear yellow like Widdy, but still, incredible.
Not to mention Tozer's redonk on point Sandy from Grease look which was only outshone by her quick as a whip quick-step. Could you see her feet moving? Yeah, me neither.
Coming in second and third respectively are Joe Sugg and Ashley Roberts, who have both also wowed the audience, as well as being super charming to watch. I mean what kind of Pussycat Doll can't dance?
This season has been pretty plain sailing, on screen anyway, and has seen some real stand out stars. From the very beginning of the show, the girls have been smashing it. Tozer, Dooley, and Roberts seem to be making it clear that this year, it will be a female taking home that trophy and dancing into the sunset.
IMHO, the music alone is worth tuning in for with Season 15 kicking off with Nile Rogers and Chic hailing in another dose of dance, and more over another dose of drama.
The elephant in this article's room is, well, the lowest of the odds. Now I am sure you don't fancy yourself psychic or an expert detective and you definitely have to be neither to guess who's odds have plummeted over the last week, like a very heavy boulder down a very, very steep hill. Yes, comedian Seann Walsh is bookies' least favourite to win with a pretty stunningly low 40/1. Yikes. And guys, I have a feeling it is not relating to his dancing abilities. Nope. In fact, him and partner Katya Jones actually came in fifth on the score board in the first week.
Now maybe you have been hanging out under a very heavy boulder and don't know the heck is going on regarding Walsh. Well, basically, he was photographed kissing his dance partner, which was unfortunate as both he and Jones have, well, partners IRL. Hey they could have open relationships right? Well no.
According to Walsh's (now former) girlfriend, Rebecca Humphries, this is not the case. After he made a very public apology, she chose to take to her Twitter account and tell her side of the story. Her dignity, honesty, pride, and outright style has meant that she has become a low-key icon for women who have ever been/are being/will be treated bad by their partner.
Drama aside, this season has plenty of space for some more great dancing, great music, and of course, sequins.
Strictly Come Dancing is on BBC One, Saturdays at