Why The 'Legion' Mutants Are Teaming Up With The Enemy In Season 2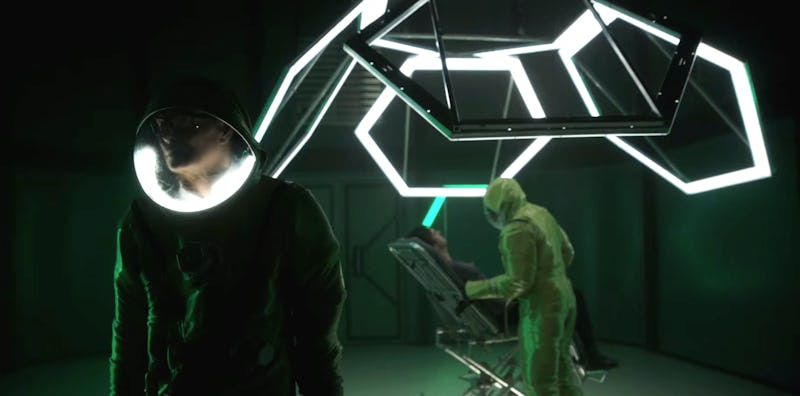 FX
As if Legion isn't delightfully confusing enough, Season 2 of the FX series will introduce new players when it premieres on April 3. One of these new Legion characters is Dr. Orwell. Not much has been revealed about Christine Horn's role, but you'll meet Dr. Orwell in the Season 2 premiere. And it's most likely that she has something to do with Division III — the group that Summerland formerly wanted no part of.
When Season 1 ended, Dan Stevens' David Haller had been sucked up into an orb after getting the parasitic Shadow King removed from his brain. For Season 2, David will return to his mutant friends of Syd, Cary, Kerry, and Ptonomy only to discover that they and Melanie Bird have unexpectedly joined forces with the formerly evil group of Division III. Because while David thinks he has only been gone for a day, he really disappeared in the orb for an entire year — and a lot has changed.
In Season 1, Division III was trying to capture David by pretty nefarious means and the people at Summerland helped David escape their grasp. But for Season 2, Entertainment Weekly reported that Summerland has formed an alliance with the government organization because they have a similar enemy — Amahl Farouk, the Shadow King's true form. Farouk has taken control of Aubrey Plaza's Lenny and (far more importantly to Melanie) Jermaine Clement's Oliver Bird, so joining up with Division III seems to be a slightly desperate move on the part of Summerland. Instead of hanging at Summerland's peaceful and retro aesthetic, the gang has moved to Division III's headquarters and it seems like Dr. Orwell may be a doctor with Division III.
Summerland scientist and mutant Cary Loudermilk often ran tests on David in Season 1 to understand his capabilities. And in photos shared by EW, it appears that Dr. Orwell will be working alongside Cary to figure out what's going on with David (uh, good luck with that). That might mean that Dr. Orwell will also get to know Kerry Loudermilk, the female mutant that shares bodies with Cary and is far less science-minded.
While Jean Smart's Melanie Bird is in charge of Summerland, Clark (Hamish Linklater) is the leader of Division III in Season 2. During a Legion press junket in October 2017, Collider reported that Stevens noted that there was a "sympathetic connection" between David and Clark in Season 1. Stevens added, "The alliance with someone like Clark is not so surprising, but there are some other characters that are attached to Division III that we meet, that are a bit more out there." So it's possible that Dr. Orwell is one of those Division III people who is a "bit more out there."
As for the actor portraying Dr. Orwell, Horn has been popping up all over the place on TV in 2018. She was an FBI agent in Season 2 of another FX series, American Crime Story. She portrayed Sheila in the third episode of Good Girls and managed to antagonize Retta's character Ruby. And she'll also be in an upcoming Season 2 episode of Timeless as Harriet Tubman. Now, you'll see her as she and Cary presumably try to uncover what exactly happened to David in the past year.
Of course, because this is Legion, don't expect her role to be straightforward. And showrunner and creator Noah Hawley has already promised drama when it comes to this Summerland and Division III alliance. "The interests of our heroes and of Division III are aligned at this moment," Hawley told TVLine. "But that doesn't necessarily mean they always will be. We're going to explore that." So while Dr. Orwell and Cary may both have the same goal of figuring out David's awesomely powerful mind, it won't be smooth sailing for the scientists of Summerland and Division III as Season 2 progresses.