Ariana Grande Skipped This Year's Emmys For A Super Valid Reason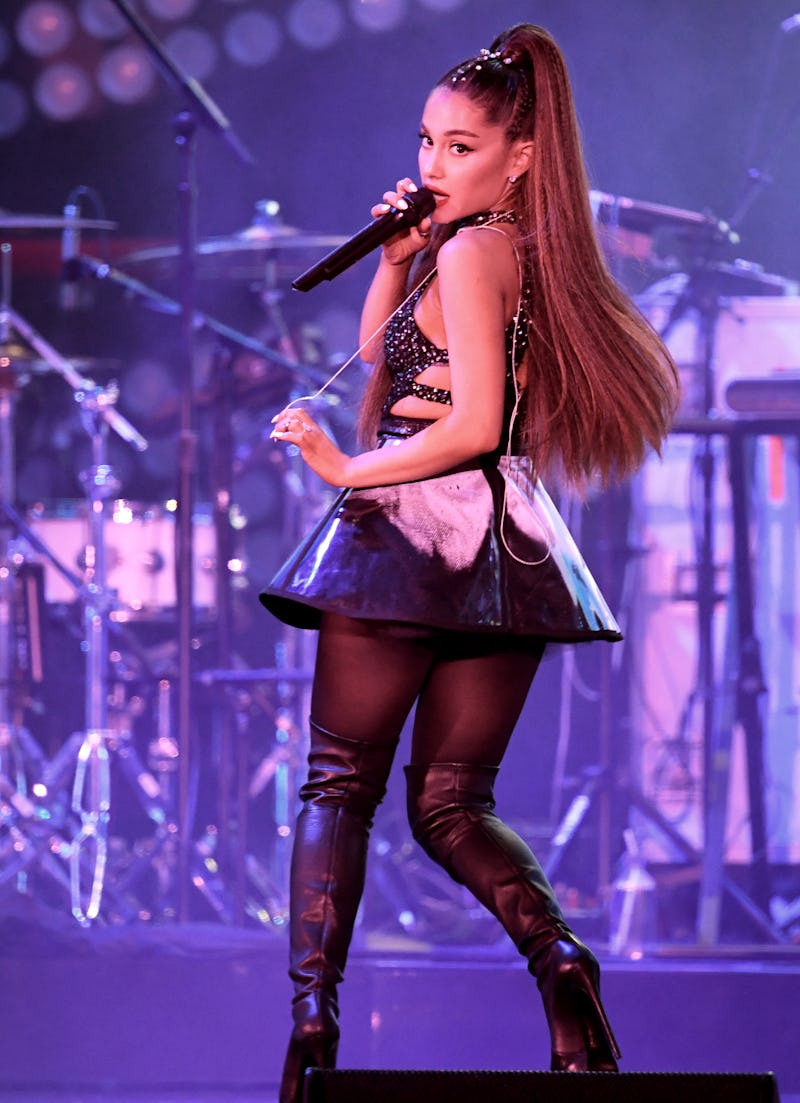 Kevin Winter/Getty Images Entertainment/Getty Images
In case you were wondering why Ariana Grande wasn't at the 2018 Emmy Awards, wonder no longer. According to People, the reason Ariana Grande missed the Emmys was to take time to heal after "the events of the past couple of years." This news comes a little over a week after the singer's ex and close friend Mac Miller tragically passed away.
Grande's team told People regarding the Sept. 17 ceremony, "Contrary to reports, Ariana will not be attending the Emmys tonight." They continued to explain her fiancé Pete Davidson, who appears on Saturday Night Live (which won an Emmy for Best Variety Sketch Series during the show), "has also opted to not attend to be with her in New York."
Grande's team's statement continued to detail that the "God Is A woman" singer isn't just taking a step away from the Emmys, she's taking some time off in general in order to focus on her own well-being. They told People:
"Given the events of the past couple of years, Ariana is going to take some much needed time to heal and mend. She will be staying close to home and using this period to spend time with her loved ones and work on new music without deadline. She thanks her fans for their understanding."
(Bustle reached out to Grande's rep for comment on this news, but did not receive an immediate response.) As mentioned, this announcement comes on the heels of Miller passing away recently. On Sept. 7, TMZ reported that the "Self Care" rapper had died at the age of 26. A few days after his passing, Grande posted a tribute to him on Instagram on Sept. 8. While her post was caption-less, her black-and-white photo of Miller really said it all.
That wasn't the only way that she honored Miller. On Sept. 14, Grande made another Instagram post that served as a tribute. This time, she not only posted a sweet video of one of the pair's adorable moments, but she also included a moving caption along with it. She wrote:
"i adored you from the day i met you when i was nineteen and i always will. i can't believe you aren't here anymore. i really can't wrap my head around it. we talked about this. so many times. i'm so mad, i'm so sad i don't know what to do. you were my dearest friend. for so long. above anything else. i'm so sorry i couldn't fix or take your pain away. i really wanted to. the kindest, sweetest soul with demons he never deserved. i hope you're okay now. rest."
Her statement is bound to make anyone reading it a little emotional. Based on this post, it's incredibly clear that Miller will always have a place in Grande's heart.
In their statement to People, Grande's team touched upon the somber events in the singer's life from the past couple of years. Not only does that seem to be in reference to Miller's untimely passing, but it may also tie back to the Manchester bombing, which occurred in May 2017. People previously reported that the "Dangerous Woman" singer still copes with anxiety and PTSD after the attack. In an interview on Beats 1 on Aug. 17, she got emotional as she talked about her track "Get Well Soon."
"It's just about being there for each other and helping each other through scary times and anxiety," Grande said, "You know, there's some dark sh*t out there, man. And we just have to be there for each other as much as we can. Because you never f*cking know, you know. So I wanted to do something to make people feel good and less alone."
These recent tragic events have understandably have had a major impact on the singer. So, it's good to see that Grande is taking some much-needed time away from the spotlight in order to really heal.