Body Shaming Lady Gaga's Super Bowl Look Is Absurd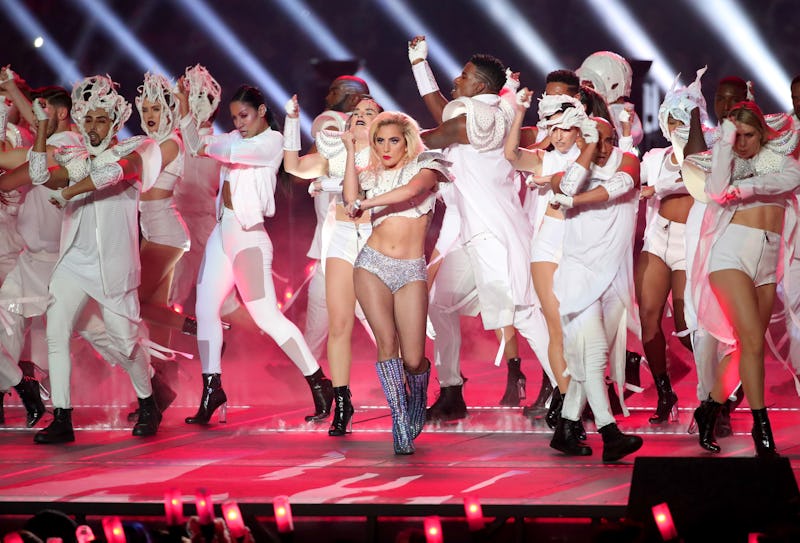 Christopher Polk/Getty Images Entertainment/Getty Images
In true Mother Monster fashion, Lady Gaga's Super Bowl halftime show was nothing short of epic, from her insane trust fall from the roof of the stadium to that literal mic drop. It felt like the fastest 13-ish minutes ever, but of course no crazy Gaga performance is complete without a quick outfit change. Her second Versace costume featured sparkly hot pants and a stomach-baring crop top inspired by football pads, which started some conversation — positive and negative.
Let me start here by acknowledging the fact that Lady Gaga is thin by any person's definition. A performance as active as hers requires some serious prep work in the gym, and Gaga clearly puts in time and effort to give her shows a ton of energy, including the halftime performance. But people were quick to call out a teeny, tiny stomach roll visible in the ensemble.
At the Super Bowl party I was at, this feedback was super positive. To me and the other people I was with (who all have very different body types), it was nice to see a little softness — because no matter what kind of stomach you have, throwing on a pair of tight costume shorts and dancing around in them will probably create some roll-age on most people, and that's just the way it is. Lady Gaga opting not to cover it up with tricks of the trade was nice to see, and not particularly common when it comes to performers. That said, Gaga gave us way better things to focus on, because Bad Romance > a totally normal stomach roll. We moved on.
Other feedback was less positive and/or indifferent, though. Style blogger and body positivity activist Katie Sturino (aka @the12ishstyle on Instagram) wrote, "A guy at my SuperBowl party said Lady Gaga should have lost those extra five lbs to really fit her costume tonight. It made my blood boil." Teen Vogue pointed out that one body shamer posted a photo of Pillsbury biscuits coming out of the package and labeled it a picture of Gaga's stomach, and another told her to "get a bigger size."
Commenting on her body during a phenomenal performance is a) very, very disturbing and b) absolutely absurd. What mattered was that she delivered an unreal halftime performance that felt powerful, inclusive, and totally mind-blowing. And if she had the slightest roll while she was busy bringing down the house in Houston, It. Doesn't. Matter. And if it does matter to someone, that sounds like a personal problem, IMO.
Where there are internet trolls, though, there are people who fight back, too. Lady Gaga fans and, y'know, good humans came to the pop star's defense, reminding shamers that making rude comments is not only holding her to a ridiculous standard, but it's also just plain unacceptable.
While some of this defense was a little misguided (saying Gaga was "representing normal bodies" implies that there are some bodies that aren't "normal," which simply isn't the case), there are good intentions behind it. At the end of the day, the resounding statement is that saying anything negative about Gaga's Super Bowl body is absolutely irrelevant.
It's also worth noting here that Lady Gaga has been incredibly open about her struggles with eating disorders and body image in the past. When body shamers came after her for "gaining weight" in 2012, she posted a photo in her bra and underwear on Instagram and captioned it "bulimia and anorexia since I was 15." And in 2014, she said that she'd struggled with eating disorders for over 10 years. Self-love is a core value in Gaga's art, but she's not afraid to admit that she's had trouble with it too, particularly when it comes to body image.
So, while it's never OK to body shame anyone, it feels particularly insensitive to make rude comments toward someone who's bravely expressed their own issues with their body and eating disorders. She's a human being who works hard on her physical and, arguably more important, mental health. It's nobody's place to tell her how she should or shouldn't look while she's doing what she does best: crushing it on stage. Mmk? Mmk.
Now, back to discussing Gaga's heart-exploding rendition of Million Reasons, the subtle but noticeable political statements she made, and/or the Joanne World Tour.